Alumni
CBD products made with integrity and creativity.
"We're here to help people. That's always been our goal."
---
SUMMARY: Pure Shenandoah is a true seed-to-sale company of CBD products. Customers can enjoy a variety of lab-tested products. This innovative company was founded by the Johnson brothers, who just like their hemp, were born and raised in the Shenandoah Valley.
---
A life-changing internship out in Oregon opened the doors to the cannabis and hemp industry for Jacob Johnson ('16). With the help of fellow movers-and-shakers, Jacob was able to launch his newfound passion into a business after the passing of the 2018 US Farm Bill. He brought his ambitious ideas to start a hemp farm to his older brother, Tanner Johnson ('15).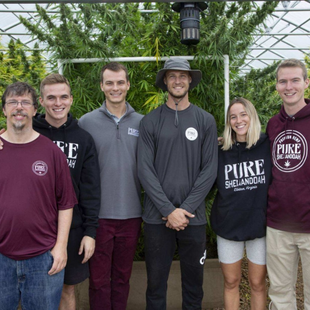 It all started in 2018 with one acre of hemp under the name 'Shenandoah Valley Hemp'. Since then, the company rebranded as Pure Shenandoah and underwent tremendous changes by implementing state-of-the-art farming processes following strict guidelines. Customers looking for the benefits of CBD can enjoy a wide selection of products that are compliant with federal law and are third-party lab tested. It is important to understand that the chemical composition of hemp is different from marijuana.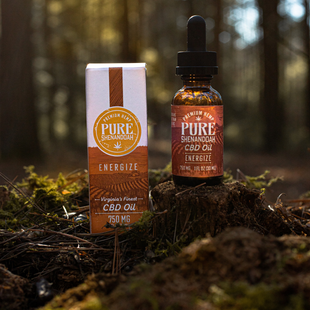 Jacob shares how "as a company, our main value is integrity as we go above and beyond to make sure we deliver the best hemp-derived products." As a result, Pure Shenandoah is a dietary supplement certified facility through the Virginia Department of Agriculture and Consumer Services.
"As a company, our main value is integrity as we go above and beyond to make sure we deliver the best hemp-derived products"
Jacob Johnson ('16)
This company is fueled by research-based decision-making and a passion to deliver products that can alleviate nausea, reduce anxiety, and ease pain. Jacob reflects on his own motivation behind this business and shares how "this company is on a mission to deliver good medicine with no side effects! When you hear a customer thank you for helping them with their illnesses, that's just the wind in our sails!"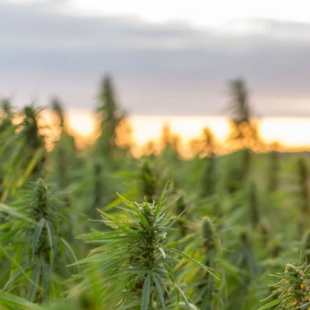 One of the next steps of Pure Shenandoah is to push education around hemp and cannabinoids. This is a health and wellness company that specializes in cannabis but also takes full advantage of the entire plant, such as harvesting fiber from the male plants. From cultivation to processing, the Johnson brothers are pushing the limits of this plant and exploring regenerative methods for the betterment of the earth's climate by pushing a fully sustainable line of products. Pure Shenandoah is a trailblazer in the hemp industry as they are also collecting plant data to verify carbon credits from hemp farming since "hemp is one of the best products out there to reduce our overall carbon footprint."
In order to fully appreciate the effort and love poured into this company, one must give homage to the people who raised and inspired the Johnson brothers. They attribute their attitudes and work ethic to their family whose veins course with purple and gold. The spirit of JMU is strongly present and not going anywhere as over ten family members proudly call themselves Dukes. A fun fact is that Johnson's mother and uncle opened the beloved University Outpost Bookstore. The Shenandoah Valley is important to these folks! Tanner reminisces how "JMU was our whole life, my earliest memories are of us wearing misprinted JMU shirts that my mom couldn't sell. We would run around the bookstore helping college kids shop."
"What is your passion, what do you love and how can you find a way of making a living doing that?"
Tanner Johnson ('15)
The influence of their mom as a business owner is evident in how the brothers run their business today. "My mom was pregnant for seven years of her life while running a successful business with our uncle", shared Jacob. Therefore, Pure Shenandoah's mission is to deliver the cleanest and most effective CBD products with an environmentally conscious sustainable model. 
The main service provided by Pure Shenandoah is being a genetics provider by selling seeds to other parties. They work with about 20 local farmers in the Shenandoah Valley. In addition, the company also offers consultation services to share their knowledge with others. What separates this company is "we do not have secrets! We want this industry to grow so we need to share this knowledge." Individuals are able to bring their own hemp flowers to Pure Shenandoah's facilities to be processed into oil or made into a final product such as tinctures. Competitive discounts are offered to those who may want to be wholesale customers.
The needs of their consumers come first which is why this company has developed a host of creative lines specialized in providing energy or relieving anxiety. Customers can select from a range of products such as topicals, smokables, edibles to oils.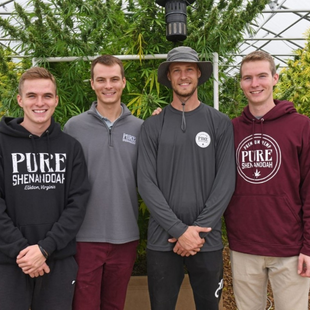 The Johnson brothers want to feed back into the community that raised and inspired them by becoming representatives of the Shenandoah Valley in the industrial hemp industry. Pure Shenandoah is determined to explore the unlimited possibilities of the hemp plant.
Tanner credits his education at James Madison University for the skillsets of being the CEO of the company and for Jacob it was the internship opportunity provided through his major, sports and recreation management. The founders reflect on their journey as business owners and found that it truly comes down to "what is your passion, what do you love and how can you find a way of making a living doing that?" Jacob wants to encourage entrepreneurs to "not take no for an answer when it comes to your purpose and passion. You will want to fold and give up at multiple points, it will not be easy but it will be worth it."
Explore Pure Shenandoah's story and review their products, here.