Alumni
A Grandfather's Love
Separated by distance, but close at heart
---
SUMMARY: Bud Grey ('80) is also known fondly as "baba" by his granddaughter, Cece, who lives far away. Missing her deeply inspired Grey to illustrate a story for her called "The Buddy Bridge."
---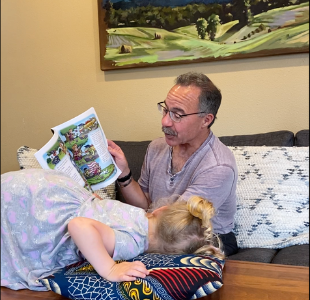 Written by Bud Grey ('80) and illustrated by fellow Duke, Tom Arvis ('80), this book was a special gift for Grey's granddaughter, Cece. The Buddy Bridge is a wildly imaginative tale, lushly illustrated, of a little girl's fantastical journey to visit her grandparents, "Baba and Yaya." Along the way she meets a cast of colorful characters, animals, and friends, who help her form a "Buddy Bridge".  
Grey grew up in Virginia Beach, Virginia, and was a communications art major with a radio/TV film concentration. The inspiration for this book is his granddaughter who was born in the United Kingdom, far away from where her grandfather was. "When COVID hit, I was completely out of control like everyone else and this was something I could control...something I could do for her.
Grey was inspired as a grandparent who misses his grandchild and is unable to spend time with her as often as he hoped for. Grey loves being a grandfather and cherishes the moments he can spend with Cece. "To just see that little face on a regular basis, whether it's over video chat or in person, it makes the planets align and it is the most amazing thing I've ever experienced." 
You may purchase The Buddy Bridge, here.