Alumni
A Journey Well-Written
---
SUMMARY: JMU alumnus and former football player Vad Lee ('15) shares his journey of transitioning away from the sport through books and motivational speaking in the hopes to help others.
---
By: Brittany Bell ('21), student writing assistant, Office of Alumni Relations
When Lavaedeay "Vad" Monlique Lee ('15) graduated from JMU, he was granted the opportunity to continue playing football professionally. After years of playing the game, he was faced with the decision every athlete must make at some point in their career: Do I continue chasing the game, or do I find a more stable career? His journey through the decision became an inspiration, leading him to become a motivational writer and mentor for all.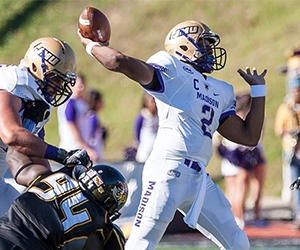 Football has always been a passion for Lee throughout his life. At JMU, Lee was the starter quarterback. He took JMU to the FCS playoffs in 2014, setting JMU's single-game passing, completion percentage, single-season touchdown, passing, and total-offense records, in addition to receiving the 2014 Dudley award and being named 2014 Associated Press Third team FCS All-American. His senior year was just as successful, until an injury took him off the field for the rest of the season.
After graduating, Lee continued to play football on-and-off throughout the years. His transition from a professional football career to a more normalized career has helped him realize and foster his other passions in life. Lee had always loved writing, but it wasn't until he had the chance to sit down and plan a book that he really got to explore his talents. Now, he has two published books under his belt, with the desire to continue writing more. 
"I never had dreams to become an author, never thought that I would be capable. I didn't think that I would ever do that, but some things that you don't think you'll do you end up doing it," Lee said. "That's the beautiful thing about life, you discover passions in your transition."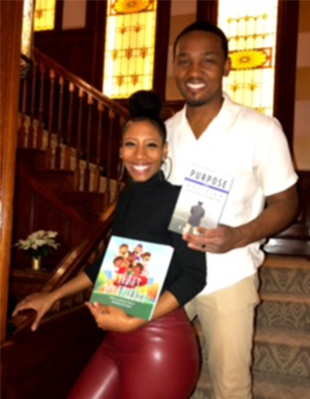 His first book, titled "That's My Friend," is a chidlren's book based off of his oldest daughter Saraiah and her friendly and outgoing spirit that likes to meet new people. It tackles diversity and inclusion, encouraging unity among people and supporting different cultures. The book was his and his wife, Khayla's, response to the Black Lives Matter protests of last year, written in the hope to help others process their emotions and fears. Despite being a children's book, it has received a lot of positive feedback from people of all ages.
"I think that is an appropriate message for us to receive, even as adults," Lee said. "To be able to encourage one another and love one another despite our differences, despite our background and our upbringings. If we approach situations where we can love first and figure out later, then I think we'll be a lot better off."
Lee's second book, "Purpose Over Passion," tackles a different theme. As a faith-based inspirational and motivational book, it aims to help athletes and anyone else going through a huge transition in their life find purpose beyond their original life plan or passion. 
Lee uses his own journey as an inspiration for the book. When he got injured his senior year at JMU, Lee had to switch roles from being a player to a motivational speaker. He began giving speeches to his teammates before games to encourage them. "That was the greater purpose behind it," Lee said. "Even though my position as an athlete is no longer available, my purpose as a motivator and inspiration was still there."
"Purpose Over Passion" follows his journey throughout his football career and goes into his injury and transition into the real world aside from playing professionally. The book deals with finding a new purpose beyond your original passion, and being happy with your path in life. Lee originally started writing the book in 2017, and after four years of hard work, he was finally able to see it in print this year.
Lee has several plans to write more books. With the success of "That's My Friend," Lee wants to write another children's book based on his younger daughter. He is also currently writing another inspirational book that's geared specifically toward athletes who are transitioning out of their sport. He's taking his own experiences with the struggle in order to help others with theirs.
"Sports has given me a platform to be able to share messages of encouragement," Lee said. "I want to encourage people to move beyond just the jersey, and more walk into the heart of the person with the jersey."
When he isn't busy writing books, Lee works as a Campus Director for Young Life at the University of Maryland. He's also a motivational speaker and life coach that mentors middle and high school athletes in his free time. Lee enjoys helping others along their journey, whether it's sports related or professional. His own transition has been a huge inspiration, propelling him to help others find their own personal achievement and happiness.
"I've been able to kind of redefine success in my life, and it's been a journey, a journey worth living."
You can check out his books and work as a life coach on his website.