Alumni
Alumni Chapter Spotlight: NC Triangle Dukes
---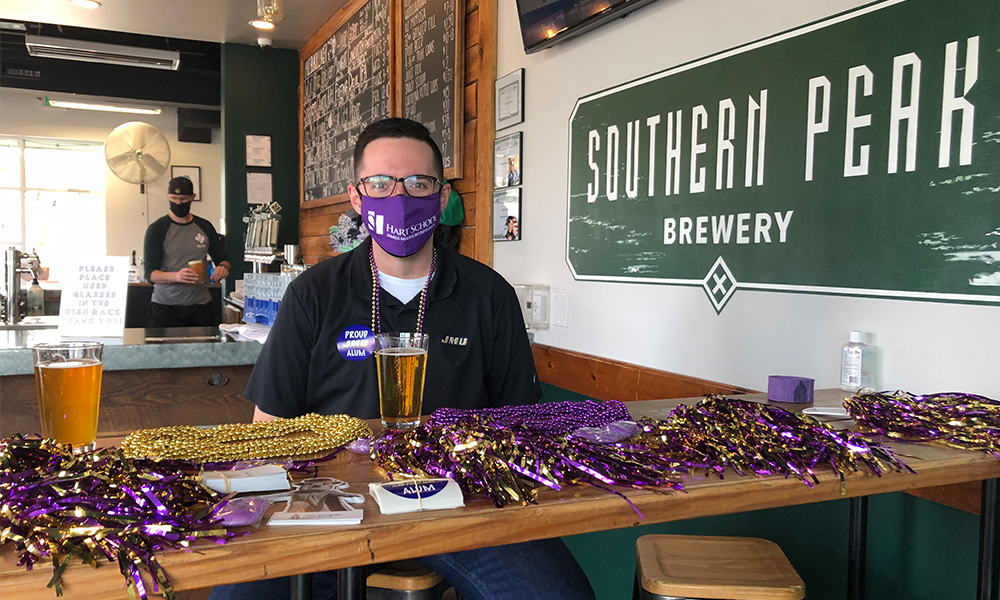 SUMMARY: JMU's North Carolina Triangle alumni chapter has become one of the most active chapters for the school during the pandemic thanks to Patrick Gotimer ('14) and the rest of its new leadership team.
---
By: Brittany Bell ('21), student writing assistant, Office of Alumni Relations
North Carolina's triangle area is large, starting at Durham, Raleigh, and Chapel Hill, and encompassing other cities within. These large cities are home to many JMU alumni, who can all come together with the Triangle Dukes, the alumni chapter of the area. The chapter spreads out to include anyone within the triangle and some of the neighboring regions.
When Patrick Gotimer ('14) first moved down to the triangle area last year, there were only four active members in the chapter. Having come from the MetroDukes, he was determined to help the chapter increase its involvement. 
Working alongside Heather Holston ('13), Corey Davis ('07), Chad Hanna ('12), and Taylor Gustafson ('14), Gotimer has helped the North Carolina Triangle Chapter grow. According to Gotimer, there have been 94 alumni active with the chapter in the past 100 days. Despite COVID-19, the new leadership team has been able to maximize involvement and get more members to join.
One of the keys reasons why the chapter has been able to stay active during the pandemic is their individual approach with their members. The chapter hosts monthly coffee hour Zoom calls, where the leadership team gets the chance to talk with their members and figure out their needs. Their goal is to help every member with their personal needs while also finding ways to get them more involved.
"By being personal with them and offering love and support and making sure that simple stuff is known, we've been able to build out this network that says, 'hey, we're here,'" Gotimer said.
This personal connection with their members has been crucial in bringing them back, but has also made a huge positive impact. In a time where COVID-19 is separating people, the chapter is finding ways to bring them together. One of the many things they do is facilitate conversations between members so they can help each other out. By connecting people with one another, they are able to help more people individually.
"We have to care about each person as a person, rather than trying to mass market to the masses," Gotimer said. "I think that's played just this amazing factor in the relationships. The relationships have been the cornerstone of the engagement levels we've seen."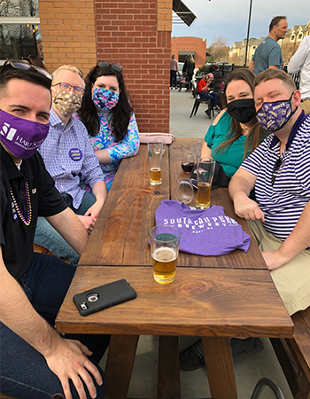 Another one of the chapter's approaches is to cater to the diverse demographic of its members. Many alumni in the area are in different parts of life, so they must find a happy medium for all. According to Gotimer, many of the alumni have children, so they are trying to cater to that generation by hosting kid-friendly events. COVID-19 has spurred a lot of virtual events, which are more accessible to parents with little ones or those who might have to travel far for in-person events. They also host a variety of events for people of all ages, including beer tastings and watch parties. In April, there was a strawberry picking event scheduled, which can be for anyone and promotes social distancing. 
As of now, the chapter plans to continue with their individual approach while also offering fun events. Beyond helping their own members, Gotimer has expressed wanting to help other chapters as well. "We're not just here to help our chapter, as far as the chapter title itself, we've got to help each of our individual alumni." 
The leadership team has created generic Google files based off of the work they are doing. Right now, each leader picks events or projects to facilitate and manage on their own, and the others jump in when needed. Once they solidify a process, they hope to share their work with any struggling chapter to help them boost their own engagement. The goal is to provide resources for anyone, or any chapter, who needs it.
Despite the uncertainty of the times, the Triangle Dukes are finding ways to keep the ball rolling. Thanks to the initiative of Gotimer and the leadership team, more members are able to participate in a variety of events. They hope to keep this trend up as the pandemic lessens and sporting events draw more people to the area.
"When we finally get to a position when we're able to host people again for events, we want to be the chapter that is welcoming people to the triangle area," Gotimer said.