Alumni
Teaching Spanish to Make A Difference
---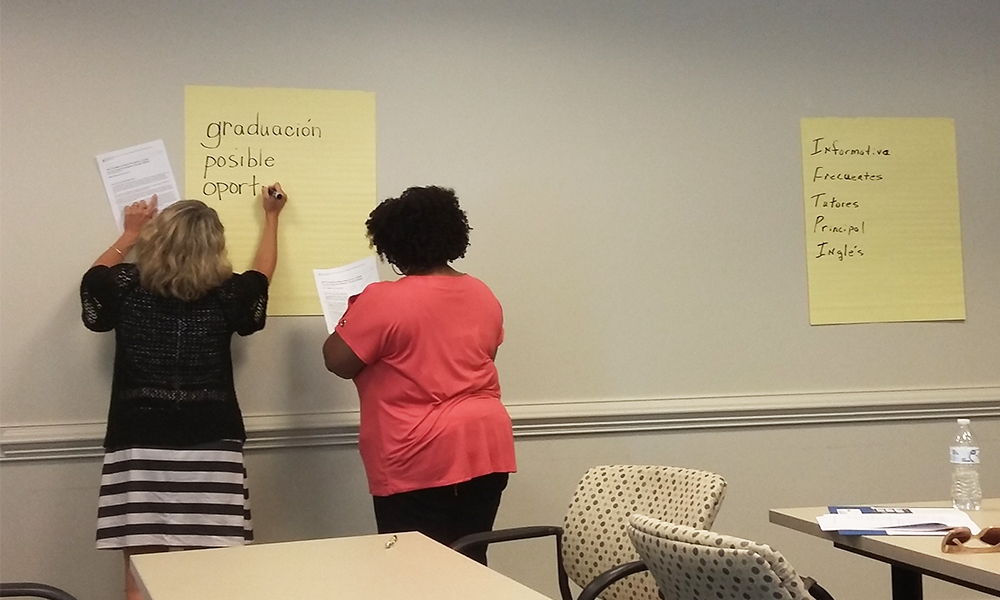 SUMMARY: Alumna Thea Paul ('93) is the founder of Language Institute of Virginia, a business that teaches Spanish to service professionals to help them communicate better with their clients.
---
By: Brittany Bell ('21), student writing assistant, Office of Alumni Relations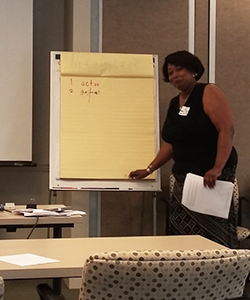 When Thea Paul ('93) graduated from James Madison University, she had no plans to be a business owner. After spending several years working, she returned to graduate school and needed another source of income. With her skills as a Spanish major, teaching the language was a simple solution. Many of her health professional friends prompted her to teach them Spanish to help them in their industry. Paul took this idea and ran with it, creating what is now called the Language Institute of Virginia.
The idea behind the Language Institute of Virginia is to teach the Spanish language to a variety of professionals in different service industries. As a teacher, Paul recognized a need for professionals to be able to speak Spanish and communicate with the people they work with on a day-to-day basis. 
"I work in Chesterfield County, and we have a lot of Spanish-speaking students, and some of the teachers would have trouble communicating with their students," explained Paul. "I've worked in Henrico, Richmond, and Chesterfield, and I know that there's a high need for that type of professional development." 
So far, Paul has created a curriculum for education, social work, and health professionals. Instead of teaching Spanish in a broad manner, each class is tailored to a specific profession, teaching basic lay terms that are often used in the field. Paul decides the content based on what professionals in the field say is more common or needed, and then she structures the curriculum based on those topics and corresponding grammar concepts.
"It's not really designed to make somebody completely fluent," Paul said. "What I do is, I give them just enough so they can still accomplish and use it; at their professional discretion, they can use it in the workplace and make a difference in people's lives."
Her hope is that these professionals take their new language skills and use them in the field to better understand their clients and give them the help they need. "Even when you're taking this little bit of knowledge, you don't know when a little bit of knowledge may save somebody's life, may turn an F student into an A student, or you might intervene in somebody's home when they're on the brink of starvation." By getting rid of a language barrier, it's easier to help.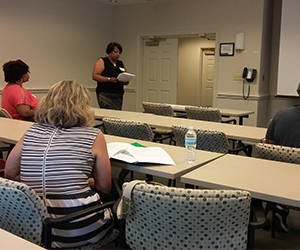 While many different professions have asked Paul for classes, it is her passion to teach the service professionals who help others. Most of her work for the Language Institute of Virginia involves an actual class, though she has offered private tutoring on occasion.
On top of owning and running her own business, Paul is a full-time teacher and has limited availability. Most of her classes for Language Institute of Virginia take place over the summer when she can devote more time to the business. She has no plan to give up her teaching job and wants to continue doing both. 
One of Paul's goals for the future to is expand her courses virtually. COVID-19 has kickstarted an era of digital learning, and Paul wants to use her newly acquired skills to set up virtual classes that can reach a larger audience. By putting some of her courses online, she hopes to help professionals across the country. Another plan of hers is to create products and sell her curriculum to other teachers who are trying to do the same thing in their areas.
Paul prides herself in how open-minded and available she has managed to stay for herself and her business. She is constantly finding new ways to market her business and creating more opportunities for clients and curriculums. Paul believes that it is important to keep your options open and continue putting yourself out there for any available opportunity.
"Even when you start small, even though it takes a long time, even if you don't have resources, you never shortchange yourself," Paul said. "Keep trying and stay open because you never know at what moment the universe is going to turn things in your favor."