Alumni
From Player to Trainer
---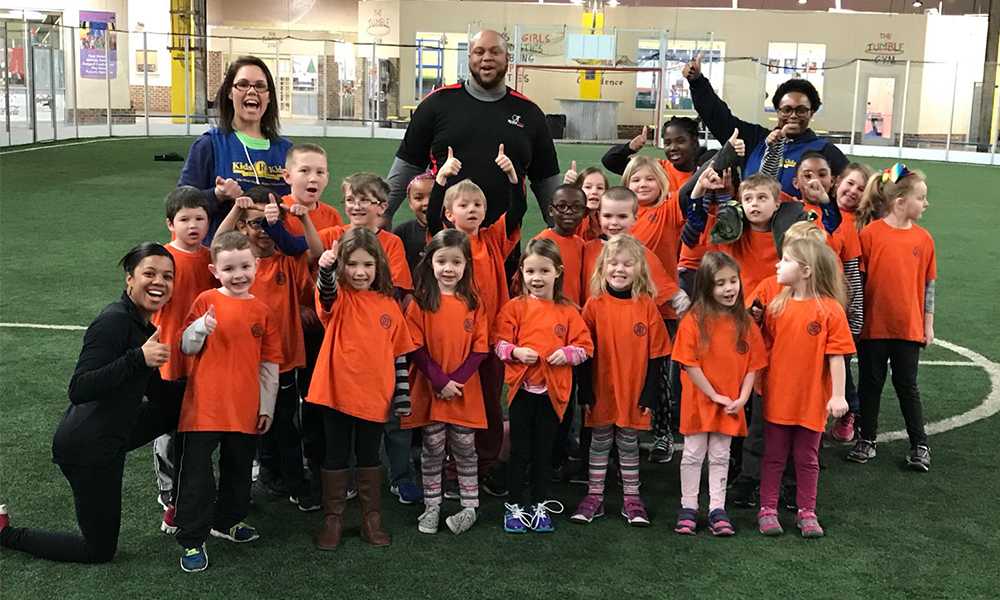 SUMMARY: Former JMU football player Corey Davis ('07) takes his passion for sports to a new level with his own business, OT Grindtime, that offers personal training and sports performance programs to children and adults.
---
By: Brittany Bell, student writing assistant, Office of Alumni Relations
Ever since he was little, sports played a huge role in Corey Davis's ('07) life. After retiring from his professional football career, he decided to take his passion and turn it into a way to help others. Davis is now the owner of his own company, OT Grindtime, and spends his days helping young children and adults in the Raleigh, NC area train for their own sport.
Growing up, Davis was always playing something. In high school, Davis played tennis, threw in track and field and went on to win All-State Offensive Lineman in football. Because of his skills, Davis came to JMU on a full scholarship to play on the football team. He played when JMU won the 2004 Championship and was awarded All-American Offensive Lineman his senior year. Once he graduated, Davis signed as an undrafted player with the Buffalo Bills. After spending a couple of years playing with the AFL, Davis finally put his professional football career to rest and started a new career in customer service.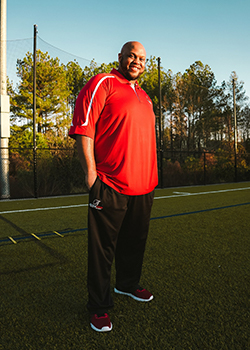 Davis worked in customer service for a few years, but came to realize that he missed football. With some deliberation, he decided to get back into the athletic scene and create a business that reflects his true passions. In 2017, he started OT Grindtime, a company that offers personal training and teaches sports performance to help children and adults grow with their training.
"I wanted to help people," Davis said. "I didn't have somebody like that when I was growing up to really teach me the game and teach me certain tricks on how to do certain things the right way and what to expect going up to the next level."
In the beginning, Davis ran OT Grindtime while still working his customer service job. His original plan was to focus on football and teaching children the game. At the time he started the business, there wasn't a large need for personal trainers in the area, and the football season had already started. After watching his two-year-old daughter constantly stumble around while trying to walk, it hit him: Davis decided to create a daycare program that would teach agility skills to young children instead. He visited several different daycares and after school programs with his pitch, and some of them liked his idea enough to let him try it out.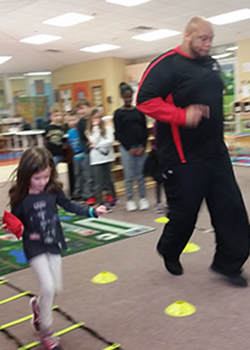 Since starting his business, OT Grindtime has hit the ground running. Davis teaches at five different daycares and after school programs, along with a partnership with a private school system. Outside of schools, he also offers speed and agility workouts and lessons to the Boys and Girls Club and the local community center.
"I thank [the daycares] every morning; every morning I pray for them that they gave me that shot because we grew from having two kids to all the way up to 20-30 kids a class at a school or after school program because they want to work out with Coach Corey."
While his largest market is with the childcare programs, Davis offers personal training for adults getting in shape who need an extra push. As for his sports performance training, many middle, high school and college-level athletes come to Coach Corey to improve their skills, grow, and succeed in a specific sport.
"I always say I work from age four to 100," Davis said. "I'm going to help you. Whatever you need, we're going to work toward it."
Unfortunately, due to COVID-19, many of Davis's operations have been put on hold. Schools are no longer meeting in person, so many of his daycare and after school programs cannot host his program. Thankfully, Davis has been able to focus on a new partnership with Camp Gladiator, collaborating with their trainers to offer outdoor and virtual sessions.  
When the pandemic lightens up, Davis hopes to bring the daycare programs back and even expand them. His five-year business plan is for OT Grindtime to have its own facility with a team of trainers. Right now, Davis himself visits the various different schools with his equipment, but he hopes to one day have a physical space with more trainers to teach the programs.
Looking back at his success, Davis credits JMU, his family, and his community for getting him where he is today. As a business management major, Davis has been able to apply his studies to his growing business. "I didn't know it at the time going through COB 300 and developing products and trying to get people to buy a product and market and sell it, that it was prepping me for now," Davis said. "I still have business ethics slides saved to a folder on my Gmail account from those classes."
As a family man, Davis brings his commitment to love and support others to his business ethics. His late mother continues to be an inspiration for Davis, driving his desire to care for and support clients and anyone else he works with. It was his desire to help others in the first place that brought about starting OT Grindtime, and now it continues with all of his practices.
"Once you're in my family, you're in my family," Davis said. "If you've worked out with me once, 20 times, 100 times, 500 times, I'm going to treat you the same way because you're in my family, in the Grindtime family. You're going to get the same sort of care and support no matter what."