Alumni
Mission From the Heart
---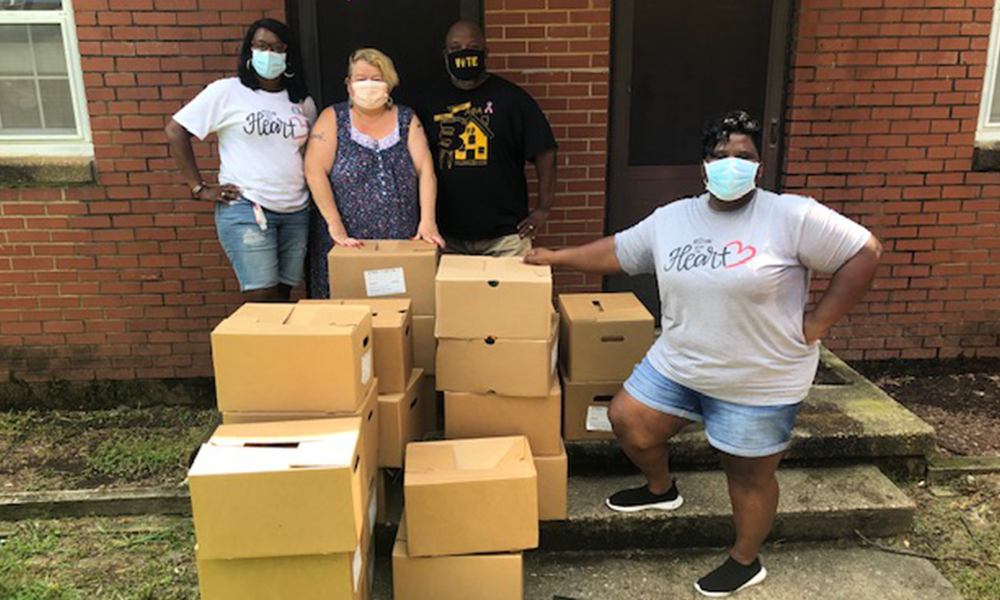 SUMMARY: JMU alumna Shelby Brown ('93) makes it her mission to give to students and families in need, spreading love with her organization, Mission from the Heart.
---
By: Shayla Brown, graduate assistant, Office of Alumni Relations
James Madison University is often recognized for its supportive community and journeys that students begin the first day they step on campus. One student's journey led her to becoming a successful broadcast journalist for WTVR CBS 6 Richmond. Reporter Shelby Brown ('93) has witnessed and reported on the lives of so many in need. When the camera turns off, most reporters go back to their lives, but instead, Brown's job as a reporter inspired her to start a non-profit organization, Mission from the Heart (MFTH). 
Brown recalls, "It grew out of that. Working as a journalist, reporting on the poverty and homelessness, the people around me that I had to cover have always stuck with me. I found myself covering a story and I can't get the family out of my mind."
Brown always found herself returning to the scene of her segments with gifts and essentials ready for the families in need. At the encouragement of her husband, Brown founded Mission from the Heart in 2019.
"My husband would say you're already doing this, you're already buying food, clothes, coats and gloves. They see the work" Brown said.
Working for WTVR, Brown's accomplishments and dedication are remarkable. The station has a unit called Problem Solvers where she works every day. "It's an outreach. People email and call when they have some sort of problem or issue they can't resolve. Their last-ditch effort is calling us...because they don't know where else to turn," Brown said.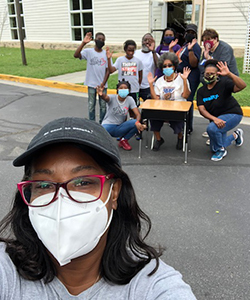 Brown's journalism coincides beautifully with her humanitarianism as her volunteers, supporters, and allies are right there with her, and her job allows her schedule to be as flexible as she needs. "I was lucky enough to be surrounded by people who pointed me in the right direction at the right time." Her time at JMU gave her a lifelong connection to the university and the surrounding community as well.
"Yes, I'm a reporter at channel 6 news, that's been a blessing; my general manager and news director, they've been over the moon excited to see us immerse ourselves in the community... people know and trust me from TV and I get volunteers, and I bleed purple so my JMU family, every time we do a volunteer event, there's always a JMU print in there."
MFTH's volunteerism and donations include food, clothing, travel essentials, school items, rent relief and more. The organization also has Community Care Closets where they work with school principals and teachers who talk to Brown about some of their homeless students, "Some of them sleep outside. Some of them sleep in shelters or on a sofa in their cousin's house."
In order to respect their privacy, teachers will provide MFTH with a list of the students' initials and their sizes and volunteers go out and shop for new items. "They always get stuff that's hand-me-down and we want to give them stuff they're proud to wear," Brown added. Each bag is personalized for the kids with their favorite teams, colors, and characters.
Contact information is left in each bag so the students and their parents are able to get in touch with Brown and the organization, but other than that, there is no contact between the students and MFTH. "If they ever need help with anything; if they reach out that's how we know who they are."
Fellow JMU alumna, Monyette Martin ('93), who works as a JMU administrator, also helps Brown out with her organization. "I sort of just joined right in to help with creating supplies and collecting toiletries for the homeless. And that grew to having donations for things to start back at school," Martin said.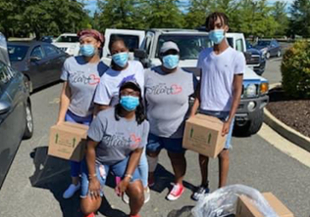 Martin got in touch with Brown last fall right before Thanksgiving break and asked her if she'd ever thought about helping a college student. Martin said, "There's a JMU student who's homeless. She was homeless throughout her high school years. Her dorm room is her first stable home, but she doesn't have anywhere to go for breaks," Brown explained.
The student didn't even own a coat. Brown got her sizes and bought her new clothes and a coat, "I was like 'excuse me?!' You can't live in Harrisonburg without a coat." The grateful Duke contacted Brown through the financial aid office where she works to say thank you and that she and her co-workers at the financial aid office wanted to contribute to MFTH for Christmas. "I sent her a list with 18 kids on it…and every person in the financial aid office, they went nuts. Everyone got coats, boots, toys. They went bananas," Brown exclaimed. The financial aid workers drove three cars full of supplies from Harrisonburg to Richmond.
"She's in need, and she went back; she just spread it and they just paid it forward," Brown said in amazement.   
One of her most recent services is a drive for school desks. Brown makes sure her kids get into the giving spirit as they are her most dedicated volunteers, she says. "I'm most proud of my kids and the kids that come on board because they know what they're doing it for."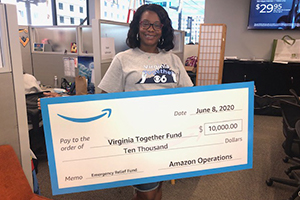 Brown's dedication to her community is just as important to the communities' dedication to MFTH. "She's always looking for grants, things of that nature to try to expand what we do," said Martin. All of MFTH's donations are turned right back around and given to the community.
Brown's goal is to one day only work for MFTH. "One day God is going to bless me to completely run it. I'd love to get up and be like 'who am I going to help today?'"