Alumni
Alumni Chapter Spotlight: Atlanta Dukes
---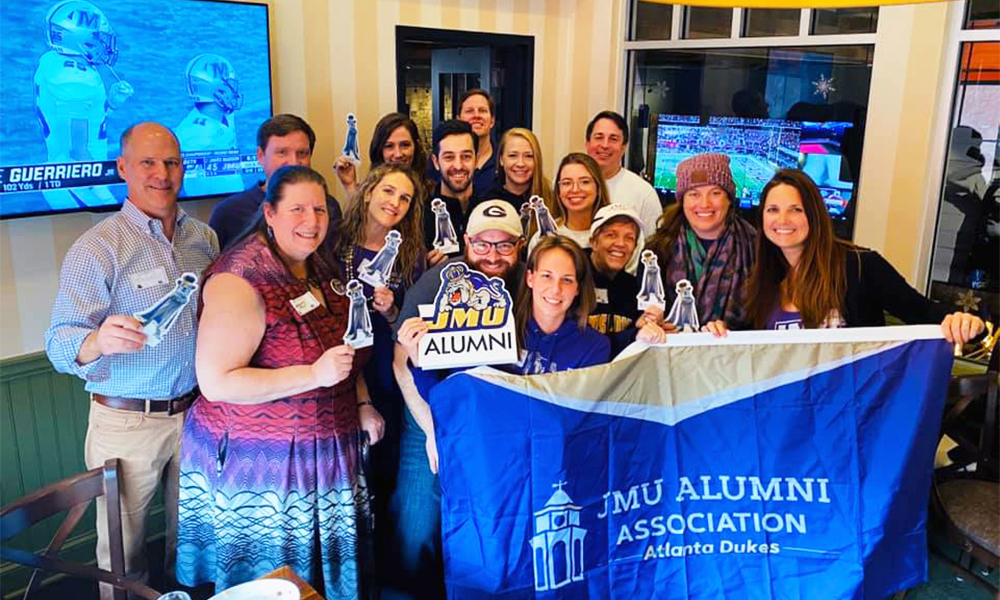 SUMMARY: Sarah Hogan ('04) is chapter president of the Atlanta Dukes, the local alumni chapter for Dukes in the city area. Together with Charlene Baker ('04) and other alumni on the leadership team, she plans to create more events and opportunities for members to get involved.
---
By: Brittany Bell, student writing assistant, Office of Alumni Relations
Despite being over 500 miles away from JMU's campus, the Atlanta alumni chapter brings together Dukes from all over the city to bond and celebrate the school. Even though it's so far away from its alma mater, the chapter continues to connect alumni and support JMU and their community with their multitude of events.
Chapter president Sarah Hogan ('04) has been leading the Atlanta Dukes since 2012. Originally, she joined the chapter while attending graduate school in the area. After leaving to establish a career and returning to the area for work in 2010, Hogan decided to rejoin the chapter. At that point in time, the chapter was starting to fade, so JMU reached out to Hogan and several others to form a committee and keep it going.
Over the years, the leadership team has ebbed and flowed, but Hogan has remained a constant for the team. Today, she is joined by Charlene Baker ('04), Gwendolyn Brantley ('07), Jessica Rice ('08), Katy Yanks ('12), and Chris Haynes ('16) on the Atlanta Dukes leadership team. Together, they are planning more and more events, expanding the chapter and providing more opportunities to get involved. 
"I don't think it was too challenging [leading on her own], but I know we wanted to make the group better, so that's why having the other guys on the team to help has been a game-changer for our chapter," Hogan said.
"I think our leadership team has done an amazing job in taking what was once kind of dead or dying down and being able to really blow life back into it," Charlene Baker continued.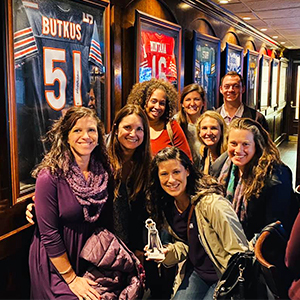 The chapter now has several events for alumni of all ages. They have watch parties for sporting events, several community service events and their annual Dukes Braves game, where the chapter will go to watch a Braves game together. Last year, they had the opportunity to host JMU's Unleashed tour while it was in the area. Before, they only had a handful of events a year, but now they're hoping to have them monthly. 
One of the leadership team's main goals is to provide more events on a more consistent basis. The Atlanta Dukes have found a knack for community service events, and many of their members have requested doing more to complement the social events. They enjoy being the change and helping their community prosper. 
So far, the chapter has done food packing events, food pantries, and were even planning to participate in a walk that raises money for Multiple Sclerosis. While some of these events had to be canceled due to COVID-19, they're now looking into ways to create socially distanced community service events.
"We're finding that with the community events, people just have a desire to give back," Baker said. "They may not have the time to do it, but if we put it on the calendar, then it gives them an avenue to help the community while bringing everyone together."
Even though they are located in Georgia, the Atlanta Dukes are still just as passionate about JMU. Hogan admits that the distance makes it a little bit harder to boost morale and host events, but the members are still eager to show their support.
"I do think that because of the proximity it does make it more difficult for us to get stuff going," Hogan said. "It is what it is, but I think that we will always continue to promote homecoming and any events of the school that people may want to go up for."
Baker continued, "It's a bit challenging, but you know, I graduated years and years ago, so it's just great to have a good community of alum here, even though we're hundreds of miles away."
Like every other chapter, the Atlanta Dukes aspires to bring its alumni base together for networking, socializing, and most importantly, showing their JMU spirit. Even with COVID putting their events on hold, Hogan and Baker are confident that the chapter will continue to revitalize as members get more involved.
"I think the experiences that everyone gets from being a student at JMU goes far beyond those four years," Hogan said. "They always say anytime you meet a JMU alum you hear nothing but 'I love that school,' and so, for us to be able to keep everyone involved, it's great."