Alumni
On the road again
---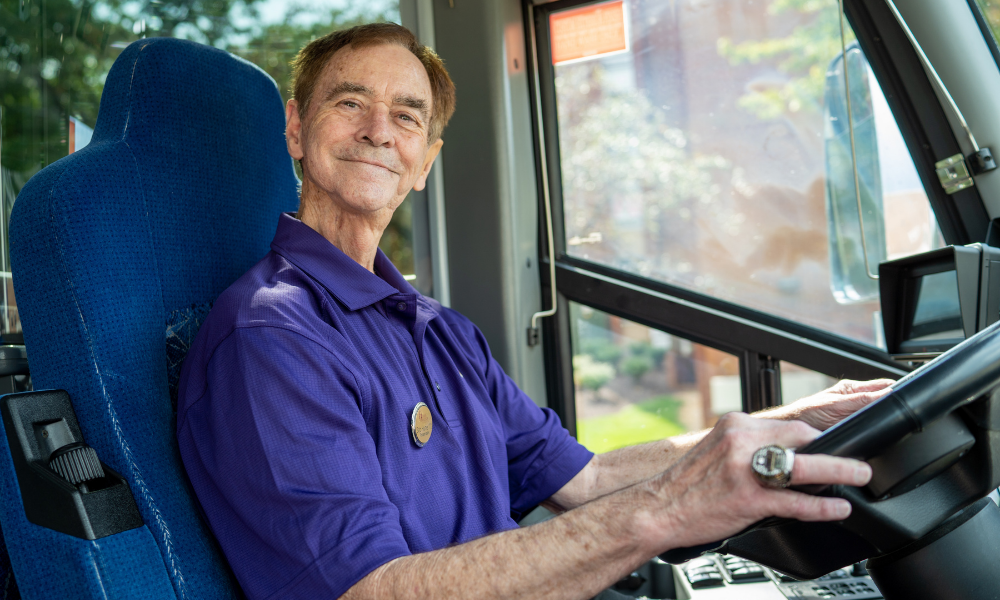 SUMMARY: Bob Hume ('72) made his mark on Madison by chauffeuring everyone from JMU presidents to celebrity guest speakers to sports teams.
---
By Shayla Brown ('20,'22M), graduate assistant, Office of Alumni Relations
Bob Hume ('72) started his Madison career as a student and went on to work at the university as a driver. After making his mark in Harrisonburg, he's heading back for his 50th Bluestone Reunion.
As a student at Madison College, Hume majored in political science and originally wanted to be a school principal in Virginia Beach, Virginia.
His first job out of college was with JMU Buildings and Grounds. It was during this time that he was assigned as a driver for President G. Tyler Miller—before there was even an official transportation department at the college.
Since then, Hume has chauffeured four of JMU's six presidents, including Jonathan R. Alger, whom Hume admits was his favorite. "He always interacted with me more as a person than an object."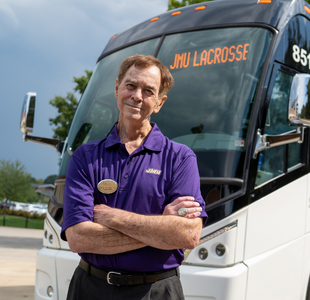 Hume has stayed connected to the university throughout his life. In 1980, he and his wife-to-be put together a few bus trips to make some extra money. They drove groups to Busch Gardens, King's Dominion, churches and schools, and led bus tours all over the country. They eventually expanded their motorcoach business and opened Travel Mates of Virginia Inc. in 1980, which lasted 28 years.
Hume officially started driving for JMU part-time in 2009 after men's head basketball coach Charles G. "Lefty" Driesell convinced the school to buy buses for the athletics department. Travel Mates was asked to provide most of the transportation for the university until it hired its own bus system.
Over his career, Hume has driven for every JMU sports team. "I could be sitting on a bus in front of Godwin Hall and Jeff Bourne, the athletic director, or Charlie King or President Jon Alger would come by, and they'd always stop and say, 'Hi, how you doing?'" His relationships with the student-athletes and the coaches are something he holds dear, and that goes both ways.
"You could tell he loved his work," Bourne said. "His personality was just so engaging."
After his retirement from the motorcoach industry in 2008, Hume was hired at JMU as a part-time driver and then went full time in 2016. Hume chauffeured such big names as the Rev. Jesse Jackson, author John Grisham and musician Peter Yarrow from the airport to campus.
Once, after picking up Virginia Supreme Court Justice William E. Mims, Mims wanted to practice a speech that he was going to give. "I had a minor suggestion that made it relevant to something that had just happened on campus," Hume said. "He listened and incorporated that into his speech, and that was kind of fun!"
"It's not just a school; it's a family. People make connections on this campus that you don't see at a lot of large universities."
Hume mentored many fellow transportation employees, and his impact is still evident on campus today. "Bob is just one of those unique individuals who loves to talk to people, and they love to talk to him," said Charlie King, senior vice president of administration and finance. "We need more ambassadors like Bob. I'm real proud I had a chance to work with him and that he remembered me."
Hume has driven for countless JMU events. One year, while driving the ADA bus during CHOICES, Hume came across a mother and daughter who were torn between JMU and another university. "When people came to CHOICES and the open houses, if they were riding the accessible bus, I would always recommend that they eat at the East Campus dining hall." Hume's kindness helped sway them in JMU's direction. 
His recommendation was so appreciated that day that the parent wrote to President Alger about the experience. For his efforts, Hume was recognized with the Caught in the ACT award. ACT stands for faculty and staff accountability, customer service, and teamwork throughout JMU's campus. He received this award twice.
"It's not just a school; it's a family," Hume said of his alma mater. "People make connections on this campus that you don't see at a lot of large universities."
Hume said his proudest moment at JMU was driving the bus for the lacrosse team when it won the 2018 national championship. Hume got to celebrate with the team, which showed its appreciation by granting him his very own championship team ring with his name on it.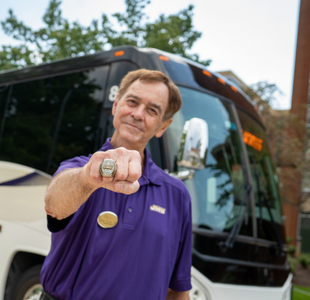 "We would get requests in the transportation office from athletics teams that Bob would specifically be the one to drive the bus that takes the teams to different competitions," King said.
Now retired and living in Georgia, Hume has a plethora of hobbies, including volunteering as a medic with the Louisa Rescue Squad and Towns County Fire Department, as well as amateur radio. "It doesn't surprise me that Bob's still doing lots of good things out there in his retirement," King said.
Hume will be back in Harrisonburg for his 50-year class reunion in April and is excited to be inducted into the Bluestone Society.
 "I'm very excited to be riding a bus as a passenger and not the driver," he said. "When I started driving the Bluestone Reunions in 2008 … I don't think I ever saw ahead to 'One of these days I'll be there.'"