Alumni
Gamifying Exercise: One Fun Run At A Time
---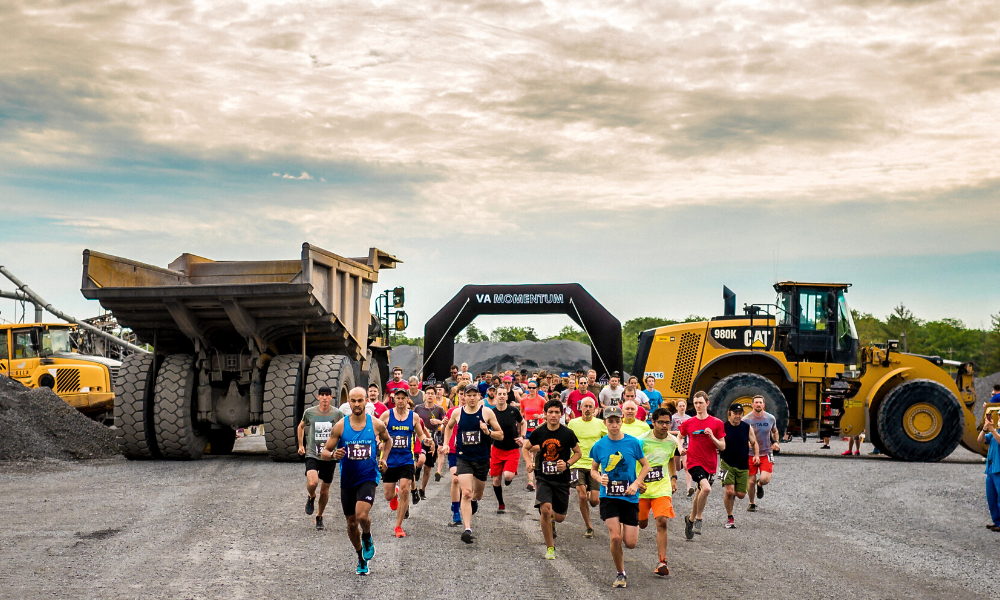 SUMMARY: VA Momentum is focused on hosting running and walking fun-focused events to promote fitness. Some of their signature events include: Run, Sweat, and Beers; Mud Mile for Kids; Crusher Run 5K; and their most popular event that started it all; The Valley 4th RUN. The goal at VA Momentum is to gamify exercising and making it a social experience for people of all ages and abilities.
---
Exercising can be daunting! Working out and maintaining a healthy lifestyle can sometimes feel difficult or even near impossible. The easy choice may be to tell yourself, "no, that is too challenging. It is not for me. I have a family and no time to exercise!" Fortunately, a local Harrisonburg organization, VA Momentum, is running to save you with fun events and support to lead a healthier lifestyle.
Kevin Gibson ('05) started the business in 2012 with fellow Duke, Alan Maynard ('06). The two met as colleagues in The Office of Alumni Relations where a friendship quickly developed. The pair bonded over their ambitions for owning a business and the entrepreneurial freedom that came with building 'something' that relied on personal drive and hustle. With their passionate and adventurous spirits united, VA Momentum was created.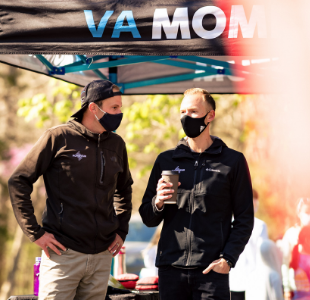 Surprisingly the co-founders have not always been fans of running or living active lifestyles. Gibson admits, "we don't consider ourselves to be runners" but they shared the same sentiment that they would've appreciated exercising more if it felt more accessible and social. Gibson and Maynard both realized how they experienced unhealthy childhoods where they were "not interested and not motivated by exercise!"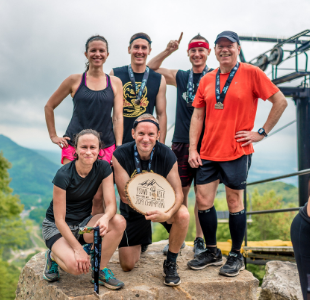 At the inception of the company the conversation begun by asking how to motivate the community and bring something energizing and fun. After running a race in Richmond, the pair realized, "Harrisonburg needs that! Something that is community-focused and dialed in on health and wellness and making exercise accessible." Thus, with that passionate realization, they began to build a health-focused community where people can point at it and say "that's for me! I can do it!"
What sets VA Momentum apart from others is the thoughtful strategizing from Gibson and Maynard. They refer to these strategies as "plus ones". At a Turkey Trot run hosted by VA Momentum, a participant can anticipate a 5K course and look forward to stations handing out spoonsful of pumpkin pie.
"Harrisonburg needs that! Something that is community-focused and dialed in on health and wellness and making exercise accessible."
Kevin Gibson
"Our mission is welcoming people from all backgrounds and all skill levels," Gibson explains. This team does not only focus on the racing aspect of these runs but celebrates those who cross the finish line first and last with the same amount of gusto. Gibson found his drive to do his best work by aiming high and focusing on the local community.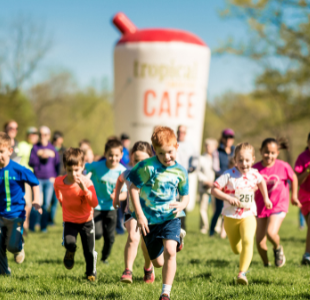 VA Momentum is unique in the way they think about community. At each event, the team focuses on increasing the fun factor by implementing innovative programming, such as unlocking surprises at certain mileage points during their virtual Valley 4th RUN in 2020. Even former football linebacker for the Buffalo Bills, Arthur Moats ('12) joined in on the fun and sent in videos to motivate people to "keep running!"
Although this is a for-profit company, the founders are true to their commitments to the community. It is no secret VA Momentum is a "for-profit, for-purpose" enterprise - where the top priority is to support local non-profits. Ever since this company started, VA Momentum has donated about $125,000 to local charities. The core purpose of this company is to give back. Even during the pandemic, the company was cognizant about supporting the community in the best way possible.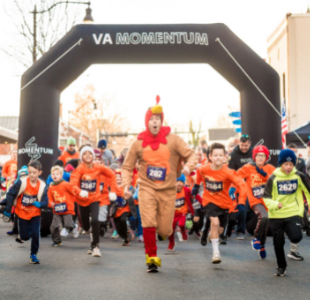 The main tenant of VA Momentum is to encourage the community to get active in a fun yet non-threatening way and find value in health and wellness.
"My life changed so much when I came to JMU. I became a person who believed in myself!"
Kevin Gibson
Gibson's passion for health and love for his community was cultivated by his experience as a JMU student. "My life changed so much when I came to JMU. I became a person who believed in myself!" Gibson expresses that his Madison Experience is essential to what he does now, and "there is no doubt about it!" His time in student organizations is where he learned the core foundations of leadership, "specifically more so, servant-leadership." From being involved as a student to meeting his wife Kristin ('06), to serving as an employee, it is fair to say that Gibson bleeds purple through and through. 
Finally, Gibson offers some genuine advice on pursuing your passion and making it your job:
Trust Your Own Instincts: "There is a lot of literature and advice out there on how to be successful as a business owner. While learning is important, I am a huge believer in trusting your instincts and realize your experience will be different than others."
Find Something That You Care About: "You will always look for greener grass on the other side if you don't find something that you love and you're passionate about. That's something I learned during my time at JMU. You really have to be passionate about your piece of the puzzle. Run your ideas through a few filters; Is this something I care about? Is this something I am passionate about? Can I be good at it? Can I learn enough to be good at it?
Gibson invites anyone who would like to talk about starting a business to reach out to him at: kevin@vamomentum.com