Alumni
Alumni Spotlight: Bettina Mason
Alumna gives back to JMU in whatever ways she can
---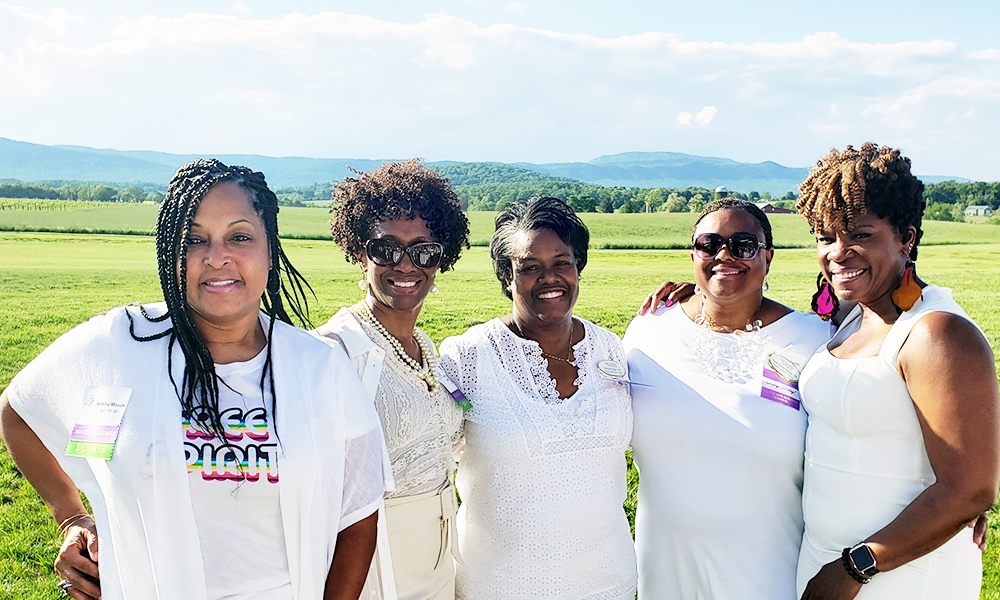 SUMMARY: Alumna Bettina Mason ('87, '95M) continuously gives back to the JMU community through attending events, volunteering and helping in whatever ways she can.
---
By: Brittany Bell, alumni relations, student writing assistant

For Bettina Mason ('87, '95M), giving back has always been a key proponent in her life. Her mother, Peggy Sue Mason, taught both her and her sister Kelly Mason from an early age the importance of helping others and showing kindness. That's why, 25 years after graduation, Mason continues to give back to the university through her involvement in organizations and campus events.  
Mason came to JMU in 1983 with financial assistance from the Virginia War Orphans Education Program and pursued a major in communications. After graduation, she began working as a substitute teacher and found a passion in helping children succeed. Mason came back to JMU in 1995 to receive a master's degree in human resource training and development to further develop her career in education. Since then, she has balanced teaching jobs in Roanoke, Chesterfield and Richmond City, Virginia, as well as various other jobs.
"I tend to do things that will, you know, spread the net, so that I can be a resource to as many people as possible," Mason said. Her mission is to help as many as she can with the knowledge and skills she has acquired over the years.
Bettina Mason ('87, '95M) (second from left) with Furious Flower Poetry Center staff volunteers at the 2019 poetry camp.
Mason's own company, Mason Education Solutions Group LLC, is an embodiment of her giving mindset. As an educational consultant, she hopes to instill change and improve the Virginia education system for students and professionals alike – all while continuing to help the JMU community in her free time.
As an undergraduate at JMU, Mason assisted with minority recruitment efforts. As a graduate student, she developed a mentorship program called Pathways to Success that received grant funding and supported minority students.
Now, as an active member in the Black Alumni Chapter and the Richmond Alumni Chapter, Mason continues to give her time and effort to JMU. In May 2019, Mason attended the Women for Madison Summit and met with other  alumna in various career industries to discuss topics of empowerment. That summer, she also instructed a mindfulness and poetry course, "Kaleidoscope Eyes" for the Furious Flower Poetry Camp that JMU holds for children in the area. Mason has attended Diversity Day and made a presence at the Unleashed: The Campaign for James Madison University event in Washingotn, D.C.
Mason with Katherine Wintsch ('99) at a Women for Madison event in Richmond, Virginia, in May 2019.
"I'm a proponent of JMU, all the way; I always have been," Mason said. "I love that school because I love what it brought me and I love what it gave me. It gave me the opportunity to meet some of the best people I have ever met in my entire life and continue to meet."
Currently, she is working with JMU's new Task Force on Racial Equity and other JMU alumni to create a mentorship program for minority students that connects them with members of the Black Alumni Chapter. Even though COVID-19 has put some JMU events on hold, Mason intends to continue visiting and helping out with events when they resume.
One of Mason's strongest beliefs is that people should give back to places and individuals that helped them along their path to success, whether through monetary means, time or effort. "In order for something to continuously be successful, you have to be a part of that success and do whatever you can and give back," Mason said. She plans to continue offering her expertise and labor to JMU in whatever ways are necessary.