Alumni
Make Way for the Federal Dukes
---
SUMMARY: JMU's newest alumni chapter, the Federal Dukes, seeks to connect alumni working within the federal government market and create a networking opportunity that pays it forward.
---
By: Brittany Bell, student writing assistant, Office of Alumni Relations
Six years ago, Ann-Marie Johnson ('87) had a vision: to connect the JMU alumni working within the federal government market. She was not the only one. After years of networking and developing a plan, Johnson is now the interim president working alongside five other JMU alumni for a new alumni chapter with JMU's Alumni Association. The Federal Dukes Alumni Chapter was launched in September 2020.
The Federal Duke's mission is to create networking opportunities between alumni working in the federal government market. The chapter also wants to help prepare students who are interested in a federal government career path. It is the first alumni chapter at JMU dedicated to professional development in a specific field.
"We want to build on the tradition of JMU helping each other," Johnson said. "We believe that the alumni who work in the federal government could be a great help to each other if only we knew each other. We want to establish an alumni affinity group that's targeted for the professional development and networking as part of the maturation of the university." 
The six alumni who co-founded the Federal Dukes are Johnson, Mike Battle ('81, '83), David Grant ('83), Tim Hartman ('00), James Hanson ('01) and Jamie Jones Miller ('99). All had previously been working toward the same goal when they teamed up to make something bigger. 
Battle laid the foundation for the Federal Dukes a couple years ago with his formation of "DHS Dukes," a smaller LinkedIn group for alumni working in the homeland security field. Although the group was needed, it was very niche and had trouble gaining momentum. DHS Dukes helped kickstart the process, bringing the core group together to think about expanding the concept into what is now Federal Dukes.
"As a team, we started to think through getting beyond just DHS, but more broadly, the whole federal government," Battle reflected. "We started to really brainstorm all the different aspects that JMU alums are involved in relative to the public sector. Because this is such a significant employer in the area, why aren't we working more closely with the university to give more visibility to the opportunities that exist in the federal government marketplace?"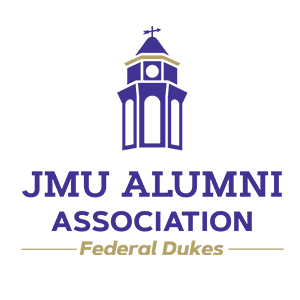 After meeting with the JMU Alumni Association, the core six set their sights on something bigger than a LinkedIn group: creating an entire chapter dedicated to professional development and networking within the federal government market. With their hard work and dedication, the dream became a reality.
The Federal Dukes have many aspirations for what it wants to do as a chapter. Its biggest goal is to create connections between students and alumni and foster a professional community. The specific priorities for accomplishing this involve raising awareness for the federal government's mission and available job opportunities; preparing future professionals for the federal government through the university; and creating a robust workforce of people in all various stages of their career life who are all interconnected.
By preparing JMU students for the workforce, the Federal Dukes hope to help JMU branding within government employment. Employers will know to expect great things from JMU graduates. With new employees coming into the field with prior knowledge of the government's mission and core values, it is a field guaranteed for success.
Johnson's biggest aspiration is to create a virtuous circle where, "everyone is benefitting and everyone is helping each other out in different ways, at different times in the career cycle, at different times in our lives." By having a network of communication, alumni will be able to pay it forward and help other Dukes, who can then turn back and help more.
Already, the Federal Dukes have hit the ground running. Its website has stories featuring prominent JMU alumni in the federal government, all written by student interns who work with the chapter. It also plans on hosting its first program in November, where the core six will introduce the chapter to those interested and explain their mission statement and vision. In the future, they hope to have many programs and opportunities for alumni to get together or hear from successful alumni in the industry. 
So far, the Federal Dukes has received positive feedback. Beyond the encouragement of JMU, many alumni in the federal government have reached out with interest. "The support from the university has been fantastic," Battle said. "The early impact of going from zero to 800 folks that are now interested and a part of this community on LinkedIn is truly impressive. And we're just getting started."
Both Johnson and Battle agree that Federal Dukes was a team effort. The core six worked seamlessly together to create the chapter. "If this core group had not come together and worked so tirelessly, and so generously, and so creatively, we couldn't have accomplished what we did," Johnson said.
Now that Federal Dukes is up and running, the next step is to create a more formal organizational structure. It plans to create an executive board and assign leadership positions to other alumni who are just as passionate as the core six. As for new members: the more engagement, the better. As of now, they have 800 members on their LinkedIn, and they hope to quadruple that.
"We've got a lot ahead of us, but we're making it happen. And we're going to get more people on board," Johnson said.