Alumni
Standing Room Only
---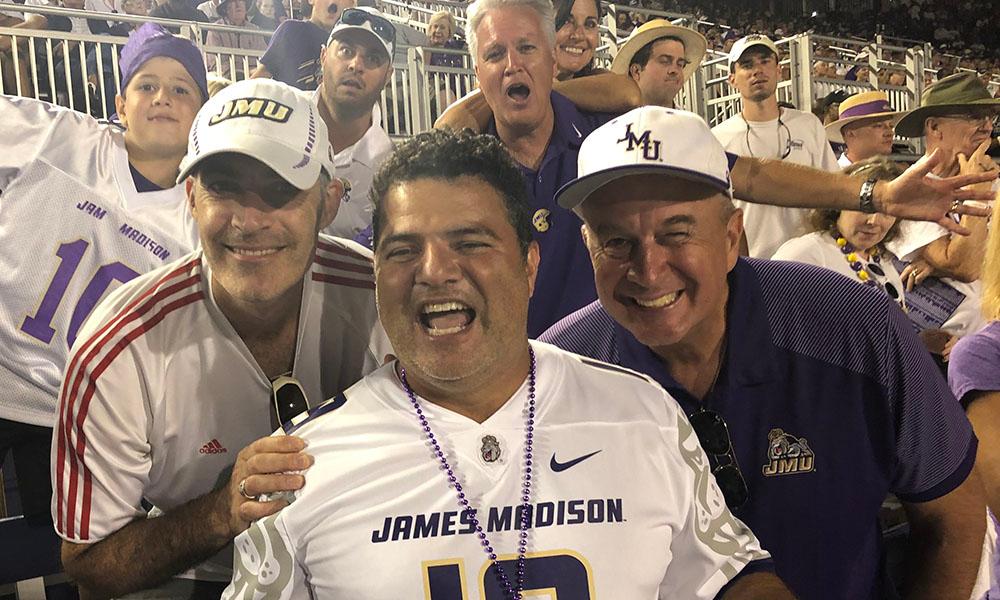 By Jacob Neff, alumni relations communications coordinator
"Hey you, down in front!" If you've ever blocked the view of fans seated behind you at a sporting event, you are likely familiar with this expression. You won't hear it uttered by anyone in Section 109 of Bridgeforth Stadium, however. Why? With the exception of halftime, those who "sit" in this section stand through every Dukes home game. Now some 16 years later, what began as a way for JMU alumni to see each other more frequently has become one of the rowdiest spots in Bridgeforth. The story of Section 109, its massive growth and impressive potential to connect Dukes with one another, is best told by unofficial JMU athletics statistician Barry Saadatmand ('94).

Even before the Dukes' first national championship win in 2004, Saadatmand saw the recent successes of JMU Football as an opportunity to reconnect with old friends. However, to bring his fellow alumni to town 12 or more times each fall, coordination was needed.

In the beginning, Saadatmand and season ticket-holders Brian Dixon ('95), Brad Pennington ('96), Chuck Waddy ('95), Eric Anderson ('95) and Chuck Fox ('96) reserved seats they knew would allow them to cheer as loudly as possible without disturbing other fans. As each football season began, Saadatmand and company would trade-in their individual seats for a group of seats situated in the same section, and so began the coordination.

Eventually, as the original six alumni met other season ticket-holders near their collection of seats, additions to the section were made. By the time the founding organizers of the group finally decided on Section 109 as a more permanent home, six new fans had joined them. They were Brandon ('00) and Heather Hedrick ('00), Don Parr ('86), Doug Popik ('99) and Chad Dunham ('96).

While the initial participants in this long-standing tradition (pun intended) graduated from JMU around the same time, the age range of Dukes in Section 109 spans 25 years. Recent graduates Zac ('06, '10M) and Laura Hittie ('07, '08M), Jon McNamara ('05), Erik Pitzer ('07), Zac Price ('06) and Erin Conley ('06) represent the next generation of the group.

In total, "standing only" Section 109 boasts a roster of over 135 JMU fanatics. Though football brought these dedicated Dukes together, the positive impact of Section 109 lasts longer than four quarters. For Saadatmand, it has meant a chance to reconnect with old friends (or make new ones) and share his alma mater with his children. "It seems like every home game I'm bringing three or four teenagers to watch the Dukes play … they love it," he said, "and my youngest has got to be JMU's biggest fan. He even dressed up as James Madison for history week at school last year!"

As the Dukes enter the FCS Playoffs, head coach Curt Cignetti and team will look to build on a successful season, and potentially bring a third FCS National Championship home to Harrisonburg. Regardless of the outcome, JMU Football can count on one thing this postseason, a standing ovation from Section 109.