University Advancement
Advancing Madison 2017
---
Advancing Madison Fall 2017: News from University Advancement
Colleagues,
Our campus has been alive this fall with students, alumni, parents, friends and donors turning out in record numbers for some notable occasions. Attendance at events like Family Weekend, Game Day and Homecoming shows that James Madison University serves as home for a community that stretches far beyond our campus and lives in the hearts and minds of our faculty, staff, graduates, parents and friends. I heard it all weekend as I visited with a variety of alumni, from the very accomplished to our newest graduates: they are enthusiastic about JMU because of the transforming impact our faculty and this university made on their lives and on so many others. Their enthusiasm highlights a host of exciting fundraising and engagement news going on at JMU this semester.
Happy Reading!
Nick Langridge, VP, University Advancement
Madison believers become donors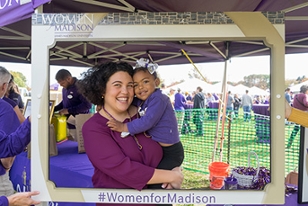 The impact of this university has made our alumni and friends into lifelong Madison believers who are increasingly becoming part of our donor family. As you know, JMU enjoyed an FY17 that was a third consecutive year of giving over $18 million. Those gifts came from a record-breaking 21,137 total donors and 9,163 alumni donors. Donors also set a record with 124 new major gift commitments. Our endowment is now valued at $93.1 million, well on the way to the JMU Foundation's goal of $100 million by its 50th anniversary in 2019.
Discretionary gifts show donor trust and confidence
This giving momentum is really a manifestation of our donors' trust and confidence in your leadership and stewardship of this university, and it's showing itself in many ways. Over the last few years, for instance, there has been an upturn in the number of donors who have made major unrestricted or discretionary gifts. For example, three donors of $1 million-plus gifts last year had the confidence to leave the decisionmaking on the use of their gifts to the discretion of our program leaders.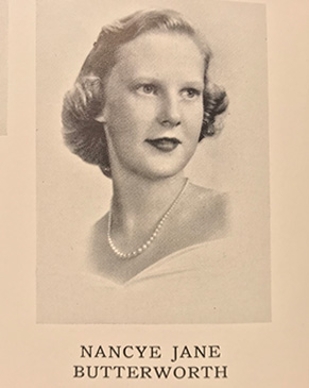 Nancye Butterworth Perry ('50) left an endowment of almost $1.2 million for scholarships to be used at the discretion of the Office of Financial Aid. As Director Brad Barnett can tell you, that gift will enable his office to make awards to the most promising and deserving students and open up the possibility of the Madison Experience to many more students.
An anonymous $1.6 million gift to the Madison Vision Fund will allow President Alger to direct funds where they are needed most at JMU, while $950,000 of another $1 million anonymous gift to the Sport and Recreation Management Program in the Hart School will allow Michael O'Fallon to apply funds to his top priorities, like scholarships and experiential learning for students.
Planned gifts on the rise
Also on the rise is the number of planned gifts coming to the university. Giving through beneficiary designations, IRA rollovers and bequests through a will are some of the ways our donors can make a planned gift. Last year, 33 new families documented their estate gift intentions, leading to $8.3 million in conditional pledges and donor-advised fund commitments. Learn more about Planned Giving.
Planned gifts can create new programs and scholarships or continue the support of established ones. Friend Diane Beidler has made a substantial bequest to JMU to add to her already established scholarship, which will benefit even more students from Woodstock, Va., area high schools. Diane is a believer in education who was not able to attend college herself. After having built a successful business with her husband, she would like to make sure that youth graduating from high schools in her hometown have the opportunity to obtain the college education she was not able to have.
Many of our faculty and staff members also have chosen to make a gift to JMU in this way. For instance, a bequest by Ruth Chodrow, who has continued her JMU career as an adjunct professor, will continue to support the Don Chodrow Memorial Fund for Physics Learning Assistants Program created in her late husband's honor. The endowment will provide annual support into perpetuity for students with an interest in pursuing a career in teaching physics and to students who are new to the physics program.
Tim Louwers, who just retired from the College of Business, has also made a bequest for an endowed professorship in accounting to support an outstanding scholar and teacher in the School of Accounting and to attract or retain outstanding scholars and teachers of high-priority disciplines within accounting.
Scholarship honors Casey Carter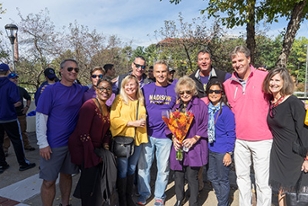 Sometimes everything comes together. According to Gallup, the No. 1 factor in the lasting positive benefits of a college education is that during their student years someone took interest in them as a person. And sometimes our alumni let us know just how impactful their JMU mentors have been in their lives. Casey Carter, who stepped down from her role as associate athletics director for Student Athlete Leadership Development this summer, was honored during Saturday's Homecoming football game. To honor Casey's commitment to serving and inspiring others, two donors have made matching gifts to establish the Casey Carter Valley Scholars Scholarship Fund. The fund stands at more than $16,000 today and will support talented, prospective first-generation students from middle and high schools around the Shenandoah Valley. Make your gift today and continue the Valley Scholars effect.
Creating the Valley Scholars effect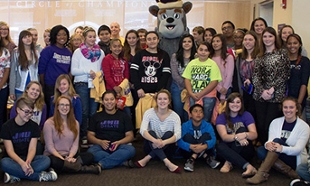 Thanks to leadership from the Valley Scholars program, commitment from our academic programs and a wider community partnership, the impact of our Valley Scholars program is gaining recognition and expanding. High praise has come from our governor. We have received a grant from the Jack Kent Cooke Foundation. Director Shaun Mooney has reported that students in the program are doubling down on their academic preparation, and their families are noticing the commitment. School administrators say these scholars are rubbing off on their high school classmates. Donors committed $650,000 last year, bringing total giving to the program to more than $1.5 million so that these students can receive a JMU scholarship of tuition and fees if they qualify for admission to JMU. With a fourth cohort of eighth graders onboard this year, there are now 146 Valley Scholars who can become the first in their families to attend college. Please see the terrific Valley Scholars newsletter and hear from the students themselves.
CoB Learning Complex surpasses $9 million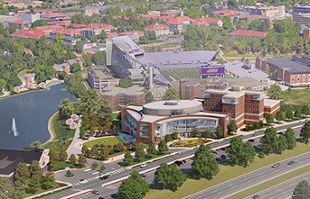 The future of business education at JMU is coming into sharper focus with the release of new renderings for the College of Business Learning Complex. Robert A. M. Stern Architects (RAMSA) and JMU have collaborated on an innovative design for the 210,000-square-foot facility that includes both new construction and renovation of Zane Showker Hall. The College of Business — consistently ranked among the nation's best business schools — has seen its enrollment grow to 5,000 students, more than double Showker Hall's original capacity. Donors have contributed more than $9 million of the at least $15 million in private funding required for the project. Construction of the new facility, which has also received a $63 million state allocation, is expected to start during the fall of 2018 with the opening in the fall of 2020.
Sponsorship puts future convo over the mark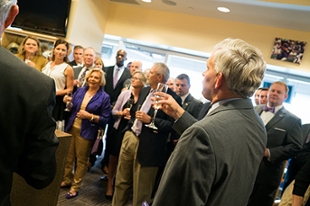 On Oct. 13, JMU and Atlantic Union Bank announced a sponsorship agreement that will establish the future convocation center as the Atlantic Union Bank Center for 10 years. Donors celebrated as the university reached its initial $12 million goal of private funding, which will enable us to proceed with construction plans. Sponsorships combined with philanthropic giving can be a powerful collaboration in creating alternative funding options for capital projects. Individual and corporate fundraising for the project continues in order for the facility to reach successful completion with all of the outlined amenities. A groundbreaking will be planned for spring of 2018, and the facility will open for the start of the 2020-21 basketball season.
Save the Date for upcoming opportunities
Madison Giving: Help reach 1,500 donors
For many years, our faculty and staff have built one of the most successful employee giving programs in higher education. I hope you will consider helping the Madison community attain its goal of 1,500 faculty and staff donors this fiscal year by making a gift. Payroll deduction is an overwhelmingly popular way for JMU employees to give—your fiscal year gift is split over 24 payments for as little as $1.05 a paycheck. As always, you may select a fund that is relevant to you and your work. Thank you for all you do to make JMU what it is.
Find more details on fund selection or ask one of these Madison Giving representatives for more information: Paul Campbell, Jini Cook, Towana Moore, Jenne Klotz, Leslie Purtlebaugh, Tim Howley, Dr. Ramon Mata-Toledo, Julie Wallace-Carr, Eric Imbrescia, Brad Roof, Ryan Corriston, Tammy Steele, Phil Frana, Jon Corum, Chervon Moore, Dave Barnes, Robby Smith, Rob Tucker.
Madison Trust: February 16, 2018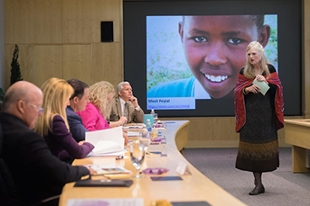 Our next Madison Trust event is just around the corner. Faculty and staff members submitted 23 proposals by last week's submission deadline, while the Madison Trust and Development offices are busy recruiting investor-judges. This day of innovation and collaboration puts our faculty and our donors together in the same room to advance new ideas.
In 2017, investor-judges invested $45,000 in five proposals, including Madison Camp Kenya, Virtual Worlds: Real Life Learning, Opening the Computer Science Pipeline for Women, Madison Connect Hub, Digital Mapping and Community History. To learn more, see updates on past projects and last year's videos.
Like last year, we plan to offer workshops for refining the pitches and to pre-record our finalists on videotape in order to enhance our coverage and extend funding opportunities beyond the event date itself. If you have questions about Madison Trust, please reach out to Carrie Combs.
Giving Day: March 13, 2018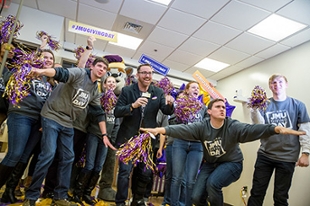 Last year, 4,762 donors from around the world set a one-day total giving record of more than $614,000. That's a record we will strive to surpass on JMU Giving Day 2018. So mark your calendars for March 13, 2018! To help you begin preparing now, the Offices of Annual Giving and Communications and Marketing will be providing toolkits and hosting two workshops. The first opportunity is coming up this month. Please join the Communications Council noon to 2 p.m. on Nov. 28 in Room 117 of the Ice House. Email Sherry Matthews if you plan to attend. And save the date for a workshop of Feb. 21, when we'll provide an overview of JMU Giving Day 2018 and take a deeper dive into the toolkit.
Madison Week: March 12-16, 2018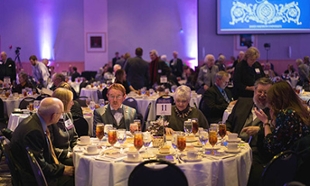 Following Giving Day, Madison Week continues on March 16 with the Annual Stewardship Luncheon, when we celebrate giving with our major donors, and the Alumni Awards Banquet, when we celebrate with the colleges the achievement of our most accomplished alumni. We thank all of campus for partnering with us to make these occasions successful and we look forward to celebrating with the wider JMU community in March.
Special Opportunity: Dr. Carrier's memoirs
Ronald Carrier was always thinking about the future of this university. Even after he stepped down from the presidency, he remained active on behalf of JMU. One of his last great endeavors was writing his memoirs so they could be published and sold to benefit the university he loved and helped to build. You can honor Dr. Carrier's memory by reserving a limited edition hardback copy of his new book with a minimum donation of $100 to the Ronald E. and Edith J. Carrier Scholarship. Learn more.