Educator
Mary Margaret Hawkins ('18)
News
---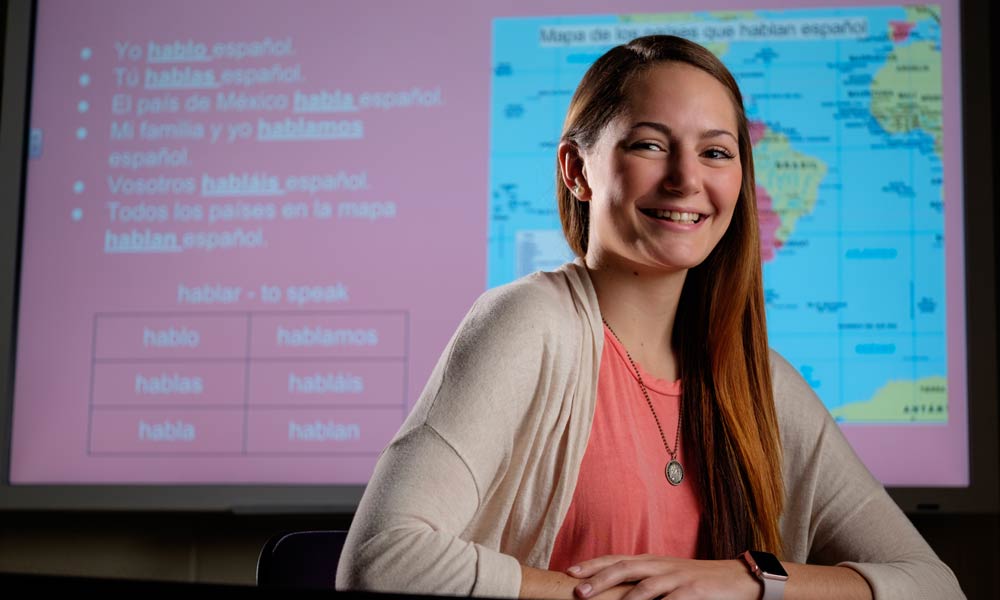 'Because of my interest in education and my background in teaching Spanish, this practicum was absolutely perfect for me. I got to speak Spanish the whole week. I had never been in an immersion experience before. When I got back, my JMU Spanish professor asked me if I'd been somewhere because she could tell that my Spanish had really improved.'
---
Mary Margaret Hawkins ('18)
Majors: 
Foreign Language Education; Spanish
Highlights:
Finds herself at home with the Honors College; switched to foreign language education from biochemistry; gained valuable classroom experience during her one-week practicum in the Dominican Republic.

Did you expect education classes to be less rigorous than your science classes had been?
I thought that it would be a breeze when I switched out of science. I thought that the education courses would be kind of easy. The reality is that my classes are hard, and also that I am learning so much more than I ever thought that I would. It turns out that the Spanish is very difficult. I'm also in the Honors Program, and my Honors courses are all incredibly difficult. I stay very engaged in all my classes, and I have to say that the level of difficulty is definitely there. All of this is a nice surprise, and it keeps me very busy.
Do you like education more than science now?
I still love science and it is still interesting to me, but I couldn't see myself doing science for my whole life. I didn't love it. It was interesting, but I love Spanish. And now that I've had practica where I'm in the schools, that has solidified it for me 100 percent, and so did the trip to the Dominican. That trip really hammered home for me that I am meant to be a teacher.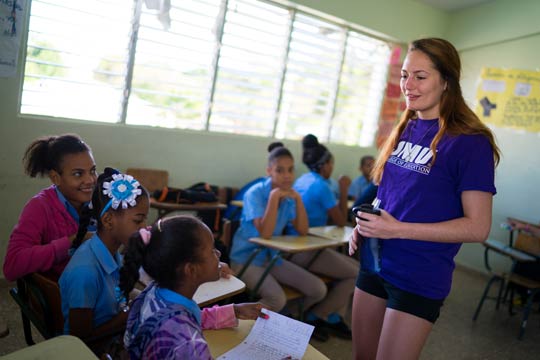 Talk about the Dominican Republic experience.
We went over during spring break. Three days out of the week we were at a school in Santa Domingo, the capital of the Dominican Republic. It's kindergarten through eighth grade. Because of my interest in education and my background in teaching Spanish, this practicum was absolutely perfect for me. I got to speak Spanish the whole week. I had never been in an immersion experience before. When I got back, my JMU Spanish professor asked me if I'd been somewhere because she could tell that my Spanish had really improved.
Sounds like great hands-on learning.
We are planning to go back to the DR in 2017 for a practicum. The Honors Program has its areas of emphasis, and you have to have a practicum in order to get that. We talked to the students there a little bit about it and they were so excited. I'm staying in touch with the sixth-graders that I taught. There were two or three JMU students assigned to each section kindergarten through second grade, third through fifth, and sixth through eighth. So there were four of us in the middle school group, with two of us in sixth grade.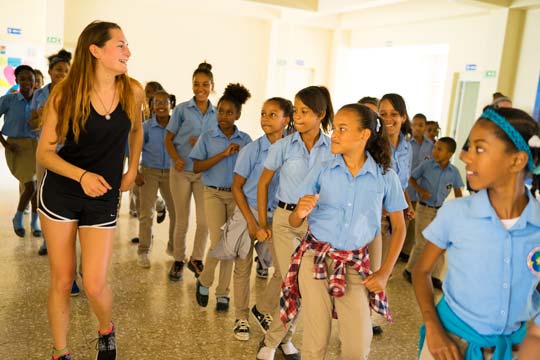 Did the trip meet your expectations?
Before the trip, we talked about keeping our expectations in check. A lot of people in the group had never traveled internationally before, so we talked about not expecting anything at all — about being open to the possibilities. Thanks to Felix, we were equal parts excited and realistic. We knew that we weren't going to change lives in a week — other than our own — yet we still had so much fun and learned so much more than we thought we might. We spent a whole day going across the country to Porta Plata, went to a national park, hiked all these waterfalls. We were so immersed in the culture. It was fabulous.
What's next for you?
I'd like to teach Spanish here in the Harrisonburg area because I'm from this area. That said, I would not be opposed to spending a year or two teaching English abroad, especially in the Dominican Republic after working those connections.
So JMU is working out for you?
I love JMU. In the beginning, I was not sure if going just 30 minutes from home was going to be good. I was like, "This is going to be awful. My parents are going to be all over me all the time, and I'm going to see people that I already know when what I really wanted was a fresh start." All of that has turned out to be not so. I have made so many friends from all over the place, including people from around here who know my family. The connections that I have made have reinforced for me how large of a family we are here at JMU, yet also how small the world is here. It really is just wonderful, all of it.
---
Watch: Fostering Future Teachers
---