News
Connector
Amanda Presgraves ('16)
---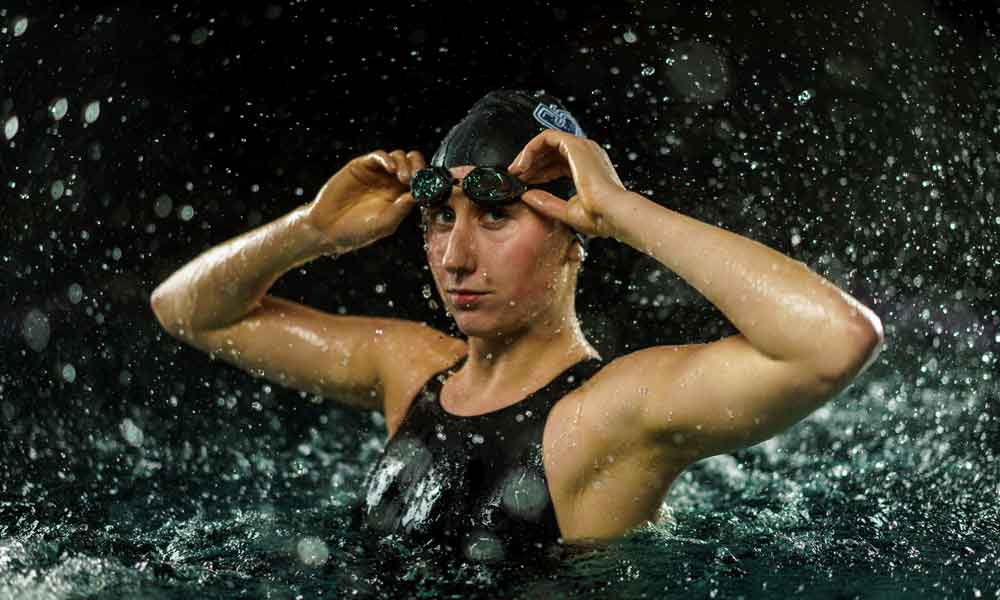 'I picked my major, kinesiology, because it is something I love to learn. I've never been to a class I don't like. Every class I'm engaged, I'm asking questions, we're talking. That's what learning should be; it should be where you love what you're doing.'
---
Amanda Presgraves ('16)
Major: 
Kinesiology
Highlights:
2015 Zane Showker Award winner after having masterminded the entrepreneurial creation of a food truck that comes to JMU with local food and is operated by JMU students; created her own exercise science practicum project in the Philippines; did an amazing hands-on internship in California, working with swimmers in physical therapy and also promoting physical activity among children; proud member of the JMU intercollegiate women's swim and dive team.
What's the story behind this entrepreneurial scholarship?
I saw the success of the Starbucks truck and I saw JMU students' mindfulness of eating healthy and striving to be better people in the world and in the community, and I said I want to kind of combine all of this and create a food truck that brings local food onto campus. But also a collaborative project working with all of the students around the campus, around the university—you're this one place where we have people of different skills, so why aren't we taking advantage of it? So I Googled how to start a business, worked with the JMU Small Business Development Center, and went to work on this food truck idea. I ended up telling Aramark about it and the Aramark people wanted to fully fund it. And this food truck is coming on to campus, bringing local food onto campus and working with interdisciplinary students to fuel and run the truck.
Amazing that you could connect all these dots.
Having all these resources, having the Small Business Development Center, having the resources of the College of Business helping me through this project, and having the health aspect from kinesiology and being able to combine all of that? It's really all about working with people, I have all these students at my fingertips and all of these professors. I've never not been able to accomplish something because someone was always there to help me and to teach me, and hopefully I could help them and teach something, as well.
Talk about your internship experiences.
JMU is really unique because it allowed me to create my own practicum opportunity, going to the Philippines to work with exercise science where I was able to hike the most rigorous mountains like Mount Taal or go into the rainforests and see how our bodies reacted. And then for my internship I got to go off to California and work with swimmers in physical therapy and work with kids and promote physical activity. No other school I know could allow that opportunity to cater an experience exactly to your needs and JMU helped walk me through that and help me create that program. And I got the greatest experience of hands-on working with people.
What's the value of that experience?
Hands-on experience is so real. That's a tangible experience where I'm going to remember the people I worked with, the emotions I felt, the knowledge that I could take from the classroom and apply it to a real-world setting. That's invaluable.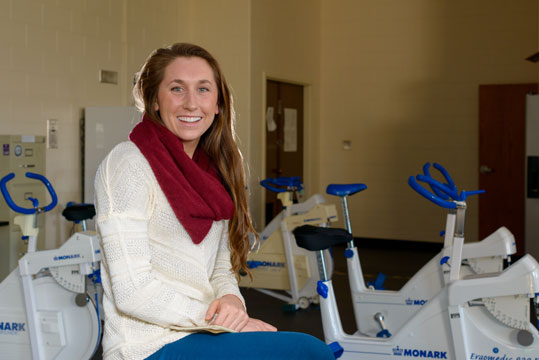 What made you choose JMU?
I always loved JMU and I always wanted to be here I just never thought that I'd be good enough to swim here. And so I was kind of looking elsewhere and the second that my coach told me I could swim here I was set, I was ready to go. I'd been interested in JMU for awhile, so getting the OK from him was the moment I knew that I could do JMU.
Do you have a mantra as an athlete?
My swimming mantra is something that our coach really instills in us. When you're having fun, you swim fast. And that's something I live by in college. You train and you've been working hard and I've been grinding since I was 4 years old. And when you get here, you just enjoy yourself and enjoy this time with the team and take advantage of everything that the university has and the results will follow.
Does that carry over to your academics, too?
Absolutely. I'm not going to do something if I don't enjoy it. I picked my major, kinesiology, because it is something I love to learn. I've never been to a class I don't like. Every class I'm engaged, I'm asking questions, we're talking. That's what learning should be; it should be where you love what you're doing. Never for a second do I want to be doing something I don't love and that's what allowed me to continue doing projects that I like. And how I want to continue with work and that's what JMU taught me. There are so many things out there that you should be doing—why do something you don't enjoy? And that's what brought me to continue these other projects that I work on too, that's what school taught me and that's what swimming taught me, and for the rest of my life I'm going to be happy because I know I'm set and I'm doing something I love.
---
Watch: The Fueled food truck experience
---
Would you call your Madison Experience a success?
My overall experience at JMU, if anything, has shown me all of the opportunities there are on this campus and it's something that I don't want to leave without giving back to others. This is why I'm so driven through this food truck project to create these opportunities for other students and create an opportunity that they love—a way to apply the skills that they have through their major and to just feel like they can leave their mark on the university cause I just feel like that's so important. We all come here and we can all leave our own mark but hopefully I was able to do that and it's a continual thing where other students can do the same thing.