Head above the clouds
JMU Hall of Fame wrestler-turned film actor admires the view of a 35-year career doing the work he loves
Arts and Culture
---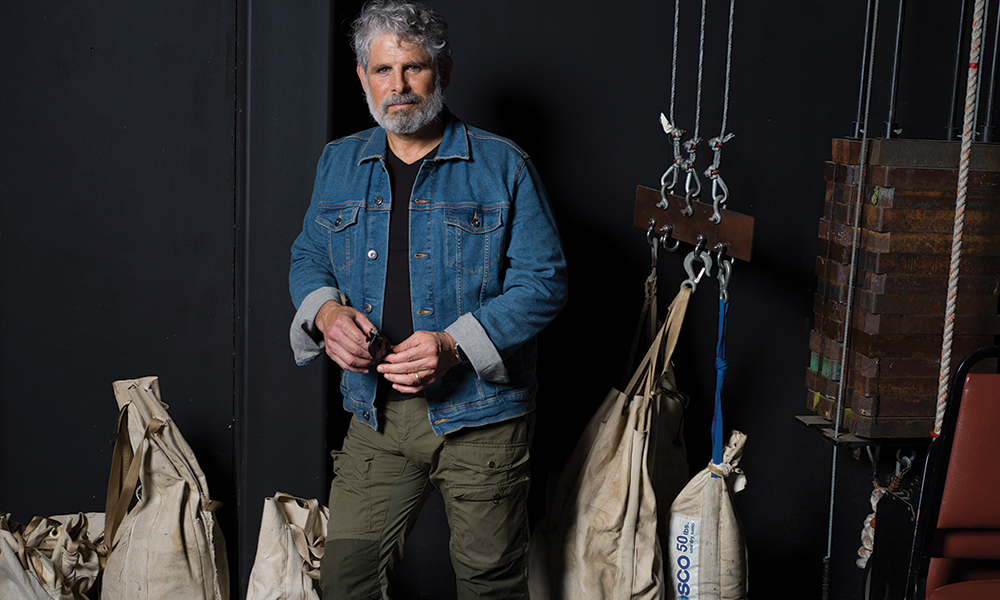 SUMMARY: Actor Brian Kurlander ('89), a national wrestling champion, looks back at what he learned from his years at JMU, acting on screen and climbing Mount Everest — while also navigating career uncertainty in the 2023 SAG-AFTRA strikes.
---
In the fall of 2022, film actor Brian Kurlander ('89) climbed about 18,000 feet to a Mount Everest base camp. "It was extraordinary," he said. "You're in one of the most inhospitable, stunning natural settings." But for the people who live there, he said, "that's just life."
Halfway around the world from where he had built a four-year college wrestling career, gone on to compete at the U.S. Olympic and Paralympic Training Center in Colorado Springs, Colorado, and realized a passion for acting, Kurlander forged some unexpected perspectives amid the clear mountain air of Nepal. There are some obvious differences between Eastern and Western cultures, he said, but more than that was the paradox of experiencing "the profound humanity and generosity of others" in an otherwise hostile landscape.
"We encountered a mudslide and had to backtrack for hours in the middle of the night," he recalled. "We knocked on a few doors. Pretty quickly someone turned on a light, opened their door and gave 10 of us shelter and a bed, at 3 a.m. no less. In the morning, they provided a wonderful breakfast and presented each of us with a prayer shawl."
Other tea-hut owners also gave his group prayer shawls to ensure they had a safe and successful trek. "Spirituality in those places is just really a necessity, because you're at the mercy of nature," Kurlander said. "It's a beautiful ritual."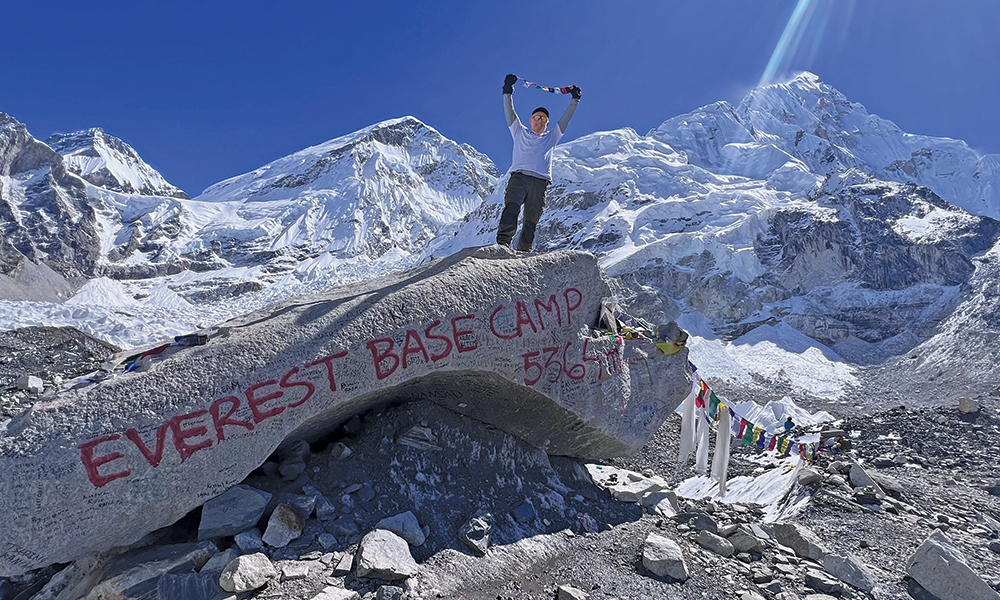 Having previously visited India, he said, "that was the first experience of real transformation of what it's like to be a real global citizen." It was a new level of clarity, "an understanding that the phrase 'that's not my problem' wasn't going to cut it anymore. 
"I went to India to work with children who were infected or affected by AIDS," Kurlander said. "We played games, laughed and sang songs. When I came home to my own children, I knew I had to be a better father, a better husband. I knew I had to do more in my own community."
"When we open ourselves up to the profound humanity that surrounds us at all times, the depths of our compassion, understanding and acceptance is limitless. … [Y]ou can't help but be transformed."
Years later, hiking in Nepal with a group that included his sister affirmed and built on those previous experiences. It's one thing to hear or read about people who live around the world, he explained. "But when there's an actual human standing in front of you — walking with you, talking with you, breaking bread with you — those issues take on a new, multifaceted dimensionality. That makes all the difference. 
"When we open ourselves up to the profound humanity that surrounds us at all times, the depths of our compassion, understanding and acceptance is limitless," he said. "Then to experience the history, beauty and vibrancy of the culture, you can't help but be transformed."
***
In 1986, when the top six wrestlers in the country in each weight class went to the Olympic training center in Colorado Springs, Kurlander was chosen as a wild card in his weight class. "I had an advantage, because they didn't know who I was," he recalled. A collegiate wrestler, he wasn't well-known on the national stage, so competing at the Olympic training center "was really special."
As the wild card, he was No. 7 and needed to beat the winner of the other six challengers' matches, and then face the No. 1 Greco-Roman National Champion twice. "And that's what I did." Later, Kurlander's top competitor became his biggest cheerleader, he said, demonstrating the type of camaraderie and brotherhood Kurlander found in the sport.
He made the 1986 USA Men's Greco-Roman (Espoir) World Team and competed for Team USA in the World Championships in Colorado Springs, placing in the top 10. The following year, he became JMU's first NCAA Division I All-American in wrestling. In 2018 he was inducted into JMU Athletics Hall of Fame.
Those achievements alone might have been enough to last a lifetime, but Kurlander was only getting started. "I did the world championships and then I got pretty injured, and then found acting," he said.
After completing his four years of eligibility without taking a red-shirt year, he still needed a fifth year at JMU to graduate with a degree in communications, in part because he'd spent so much time on his sport. But, without wrestling to fill his schedule anymore, he sought other interests, discovering a love of acting after someone heard him singing at a party and asked if he would audition for a school musical.
"[A] lot of how you learn is either watching the work of the greats or working with them side by side, and seeing how they approach it."
In 1989, he joined the Screen Actors Guild — and following graduate school for theater, some stints at Shakespeare festivals and regional theaters, and several guest-starring roles over the years — Kurlander was cast as the lead of the 2022 thriller Black Balsam opposite Josie Davis, and will appear in the upcoming action thriller Hard Matter with Harvey Keitel that wrapped filming in 2022.
Also cast as a psychopathic British billionaire for this year's The Ritual Killer, alongside Yellowstone actor Cole Hauser as Detective Lucas Boyd, Kurlander had everyone on set convinced that he was British. "I stayed in dialect on set, because they didn't have a dialect coach," he said. When asked where he had traveled from, he recalled telling someone that he had grown up in Brighton (near Rochester, New York), though he figured they might have concluded he meant the southern English seaside city. 
Modeling his accent on British entrepreneur Richard Branson's voice, Kurlander said, "I wanted a man who came from somewhere." Kurlander played a rich villain, and he researched various traits of CEOs to help develop his character's particular psychosis. 
The filming experience also gave him the chance to work on his improv and writing skills, particularly when he and co-star Vernon Davis, retired Washington Commanders tight end, rewrote a scene that would have their characters connecting near the Roman Colosseum.  "That's part of the process, taking ownership of the work," Kurlander said.
Working with legendary actor Morgan Freeman on the film was "amazing, incredible," he said. "That's a lot of how you learn is either watching the work of the greats or working with them side by side, and seeing how they approach it." 
***
Though Kurlander had two recent movies premiere, including The Ritual Killer, and had a guest spot on The Wonder Years reboot, this year has also thrown some curveballs, in particular the Writers Guild of America strike, which started May 2, and then the SAG-American Federation of Television and Radio Artists' strike, which began July 14. As of Sept. 24, the WGA has reached a tentative agreement with the Alliance of Motion Pictures and Television Producers, and picketing has been suspended; however, the deal isn't finalized yet, and the SAG-AFTRA strike is ongoing. Among the various sticking points for both groups are the possibility of artificial intelligence taking jobs from writers and actors, and the rise in streaming platforms not allowing for the residuals that writers and actors previously received for full-season runs and syndication.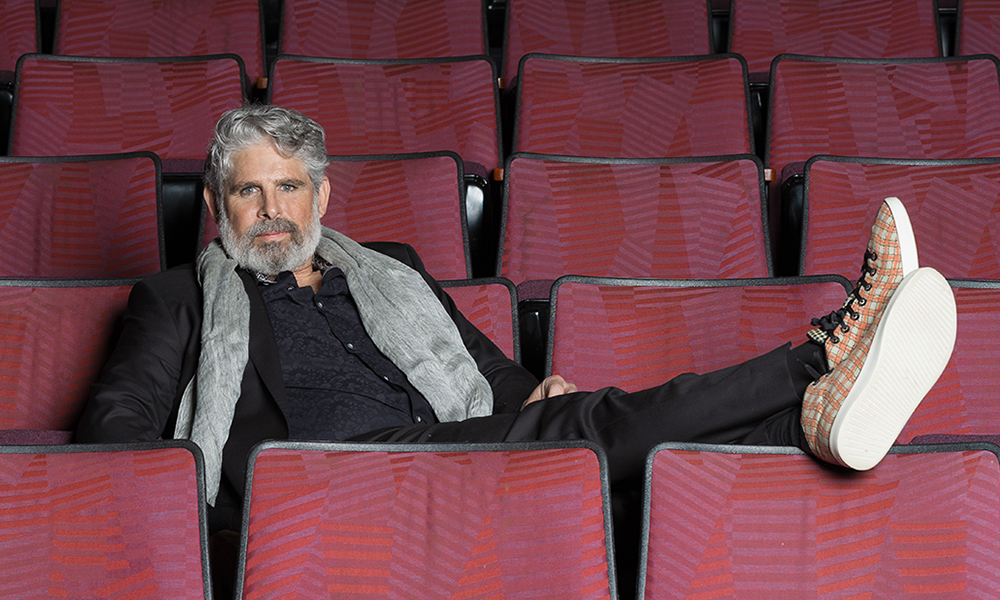 Where writers might previously have earned their living from a 22-episode season over the course of a year, Kurlander said, they've recently had to settle for a couple of months of work for a six- or eight-episode limited series that runs once and doesn't allow for residuals. Actors, too, have seen their residuals dry up because of streaming platforms. Furthermore, Kurlander said he and his colleagues fear the loss of jobs if studios can record an actor's voice and then translate that to an AI to provide free voice-over work.
Kurlander said it's been a challenge convincing those on the outside why the strikes are necessary, and that, despite misconceptions, not all film and TV actors are millionaires. "This doesn't affect celebrities," Kurlander said of the SAG-AFTRA strike. "It affects the journeyman like me."
Though he said he's had high call-sheet placement in recent years, he hasn't been seeing the kind of revenue that's possible in Hollywood — "and none of my colleagues are as well."
"People are angry and fed up and want a fair shake, and I don't think what's happening [on the picket lines] is asking too much."
"Like so many people in labor right now, there is a consolidation of wealth that isn't really trickling down to people," he said. "As tech advances and Wall Street continues to dominate how resources are allocated by corporations, it makes it tough on the little guy. … People are angry and fed up and want a fair shake, and I don't think what's happening [on the picket lines] is asking too much."
Kurlander likened the strikes to broader issues of labor in America that, particularly since the start of the COVID-19 pandemic, have included employees' demands for companies to allow more remote work, raise the minimum wage, and solve the problem of "tipflation" at restaurant and fast-food locations. "There's a certain complacency and lack of understanding that it's not like these massive corporations are going out of their way to help the little guy," Kurlander said. "It's a little maddening, and that's why we are where we are."
Kurlander speculates that once studios start losing money, they'll be more willing to negotiate.
"They won't have any content to put out, and overseas markets will start to surpass us," he said. "It'll be an opportunity to come back to the table."
Kurlander appears in this Nissan "Whodunnit" TV commercial. Look for him in the background starting at 0:02.
Recently celebrating his "Heinz 57" birthday, the Atlanta-based actor said he's been busy these days "making my secret sauce." He has his sights on his next climb, tentatively slated for next year in Machu Picchu, Peru. He also stays involved in his community, teaching, acting on stage, and writing screenplays and stage plays. 
He's been a member of the Actors' Equity Association, a professional union for stage actors, since 1995. Though currently striking with SAG-AFTRA, Kurlander said that union rules allow members to still perform on stage — just not in film or TV projects connected to the tech-streaming and legacy media companies that make up the Alliance of Motion Picture and Television Producers.
Kurlander recently ran on a slate called USATL for a seat on the Atlanta SAG-AFTRA board and as Atlanta delegate for the SAG-AFTRA National Convention, and he was elected to both positions for a two-year term.
In September, he started rehearsals for a production of Fiddler on the Roof, directed by Tony Award-winner Shuler Hensley. He's also served as an adjunct professor at Oglethorpe University since 2013 and is teaching there again this fall.
Though thrillers have been his go-to acting gig in recent years, Kurlander said he would like to pursue more sci-fi roles in the future, as well as some genres he hasn't tried yet. "I've always wanted to do a Western," he said.