JMU News
Athletic Director Jeff Bourne to retire in spring 2024
---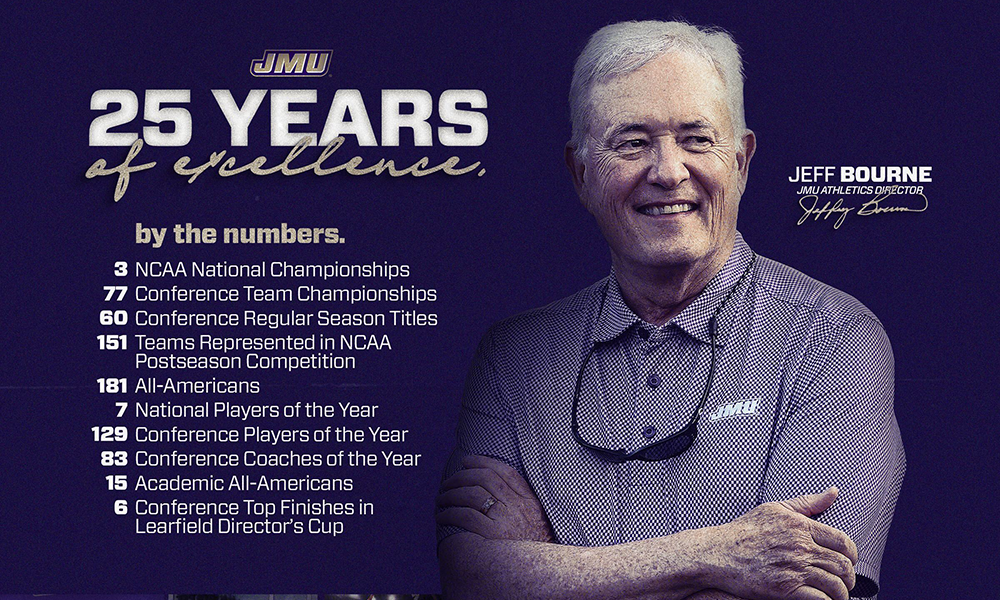 HARRISONBURG, Va. – Concluding a 25-year run leading James Madison University's intercollegiate athletics program, Jeff Bourne announced to the JMU Board of Visitors that he will step down from his role as director of athletics in the spring of 2024. 
Bourne orchestrated JMU's rise from a diverse regional Division I athletic program to a profile firmly established as one of the nation's top departments for broad-based success, national achievement, academic excellence, student-athlete support and cultural strength. Over the course of Bourne's tenure, James Madison blossomed as one of the Colonial Athletic Association's charter members with success across all 18 sport programs while working alongside President Linwood Rose and Senior Vice President Charlie King. As the department's portfolio spread wider, Bourne worked in concert with JMU President Jonathan Alger to steer the Dukes into FBS football and membership in the Sun Belt Conference in July of 2022. 
"I am pleased with the accomplishments we have achieved as a program and the positive impact we have been able to make in the lives of our student-athletes," Bourne said. "Our athletic program is in a great place and poised for a bright future, particularly with our overall culture and the people who comprise it. Like every institution in the country, our greatest future challenge will be proactively adapting to the evolution of college athletics." 
Jeff Bourne began his tenure as JMU AD on July 15, 1999, and he will conclude his quarter century at the helm on a to-be-determined date near the conclusion of the spring academic term. Months after Bourne's hire, JMU captured its first Division I football conference championship. The Dukes proceeded to reach the playoffs in 14 of 23 FCS seasons under Bourne and have posted a .500 or better record every season since 2003. Upon his departure, JMU will be fully FBS transitioned beginning with the 2024 season with unrestricted access to bowl participation and for consideration in the College Football Playoff, setting up the university for further heights previously unreached. 
Construction of the Atlantic Union Bank Center (2020) and renovation of the Convocation Center (2023) are just the latest in a long line of a facilities overhaul under Bourne's watch, providing the Dukes unparalleled competition and training venues. As a result, both basketball programs are poised to enjoy a significant boost in spectator support and March Madness potential, while also positioning eight other sports with a support infrastructure unmatched in many larger athletic programs. 
Just the third full-time athletic director in JMU history, Bourne followed 22 transformational years by Dean Ehlers (1971-1993) and six years by Don Lemish (1993-99). He also followed in the footsteps of Dr. Leotus (Lee) Morrison, a national trailblazer who oversaw the JMU women's athletics programs as an administrator and coach from 1961 to 1989, during which time the department consolidated into one cohesive men's and women's athletics unit. 
In an industry of constant change, Bourne's longevity as AD has been a steadying force at JMU. As of his retirement announcement, he stands as the seventh-longest serving Division I athletic director in the country at one school. 
"Jeff's impact on JMU throughout his career is difficult to put into words," JMU President Jonathan Alger said. "Fortunately, there are numerous examples that shine a bright light on his achievements and contributions, from the sustained success of our teams in athletic competition to the accolades our student-athletes regularly receive for their prowess in the classroom. Jeff's commitment to JMU Athletics for the past 25 years has been felt on campus and across the nation. On behalf of the entire university, I congratulate Jeff on his upcoming retirement and a wonderful career he has had at JMU." 
The university intends to obtain a search firm to lead a national effort to identify Bourne's successor as the department's fourth full-time director of Athletics. Inquiries about the Director of Athletics position can be sent to president@jmu.edu.
By the Numbers (1999 to 2023, not including current 2023-24 year)
3 NCAA National Championships – Football (2004, 2016), Lacrosse (2018)

77 Conference Team Championships

60 Conference Regular Season Titles

151 Teams Represented in NCAA Postseason Competition

181 All-Americans

7 National Players of the Year

129 Conference Players of the Year

83 Conference Coaches of the Year

15 Academic All-Americans

6 Conference Top Finishes in Learfield Director's Cup
Athletics Success 
Dramatic successes, difficult decisions, strategic growth and standout people (student-athletes, coaches and staff) have filled Bourne's 25 years at the helm of the JMU Dukes. He leaves a legacy of reshaping the trajectory of the department without compromising the integrity and principles of a program pioneered by JMU Athletics Hall of Famers Dean Ehlers and Lee Morrison. 
There were multiple early successes for JMU Athletics under Bourne's leadership. A solid I-AA football program turned the corner in 2004 when Head Coach Mickey Matthews led the Dukes to a national championship, launching the program towards potential that continues to blossom. Women's basketball reclaimed its roots from JMU legend Shelia Moorman to flourish under the leadership of JMU alum Kenny Brooks. Many other sports orchestrated significant runs of multiple years of success in Bourne's first 10-15 years (field hockey, women's soccer, lacrosse, baseball, and more). But it wasn't until the most recent 8-10 years of his tenure that success in nearly every sport aligned and launched the department forward. 
Early in his tenure in 2001, JMU added softball as its 28th sport program. During the 2006-07 academic year, facing Title IX compliance challenges, the university made the difficult decision to cut 10 sport programs to reduce the athletics profile to 18 sports. The result was a department fully in compliance with Title IX and better equipped to service student-athletes in the remaining programs and to nurture their holistic experience at JMU. 
With a different composition of sport programs by the 2007-08 year, the department reconfigured and evolved over the next 6-8 years. As the support structure and resources settled, JMU burst onto the scene as one of the nation's best across-the-board programs. 
Beginning with the 2015-2016 athletic year, the Dukes posted a .646 winning percentage across all sport programs over the next eight years, through 2022-2023. That eight-year figure ranks among the top 20 athletic departments in the country.  Each season's mark has been .620 or higher, with the exception of the 2021-2022 year, in which the CAA prevented JMU from competing for conference championships. From 2014 through 2021, JMU finished first four times among CAA institutions and runner up twice across six years of standings in the Learfield Director's Cup, which measures departmental success in NCAA postseason competition. 
Among a long list of JMU highlights over the last eight years:
Moved to the Sun Belt Conference and FBS football.

Captured two national championships, including football in 2016 and lacrosse in 2018.

Football's title in 2016 cemented JMU's status as a top-four program in FCS Division I football. JMU appeared in the title game three times in four years and reached the semifinals five times in six seasons.

JMU's lacrosse title followed a wave of 13 years in which only three teams (Maryland, Northwestern and North Carolina) had won the sport's title. In fact, only five programs had won the previous 27 titles (Princeton, Virginia).

The university's national profile was further elevated by twice hosting ESPN's College Game Day national football show, with the national spotlight hitting Harrisonburg for three uninterrupted hours on Saturday mornings with record crowds in excess of 12,000 filling the JMU Quad each time.

Softball vaulted to the program's first appearance in the Women's College World Series in 2021, capturing the nation's attention as National Pitcher of the Year Odicci Alexander, All-American Kate Gordon and others led the Dukes to a national top-four finish, which included an opening victory over eventual champion Oklahoma.

Women's basketball ran its streak of 23 or more wins to 15 consecutive seasons, a feat only halted by CoVID in the 2021-22 campaign.

Men's soccer reached the NCAA quarterfinals in 2018 and finished ranked No. 8 nationally.

The run of success aligned with a full visual rebrand for the department in early 2017, allowing JMU Athletics' national achievements to stand strong alongside other major brands in college athletics.
Champion of the Student-Athlete 
Bourne has long emphasized the student-athlete as the core and focus of JMU's intercollegiate athletics operation. As the department updated its strategic plan in 2014, that emphasis was at the core of the new vision statement, "To be the NCAA model for the student-athlete experience distinguished by our academic achievement, integrity, personal development and nationally-competitive programs." 
In addition to each area of support services, the sport programs themselves have been equipped under Bourne's watch with resources in the areas of coaching staff salaries, scholarships and other means to maximize resources and support. 
While athletics achievement has been high during Bourne's tenure, academic success has been equally prominent and emphasized. The department was routinely represented among top academic honors while a member of the Colonial Athletic Association. As membership shifted to the Sun Belt, JMU immediately claimed the league's top institutional academic awards, including the highest graduation rate for all student-athletes among league schools. Student-athlete graduation rates have routinely matched or exceeded the JMU student body.  James Madison annually receives the NCAA's academic distribution, and the department's single-year APR score has steadily climbed each year, including a high of 993 for the most recent data release. The department's GPA has also blossomed with each new year as the Dukes posted a 3.184 as a group in 2022-23. 
Over the last 10 years, the department has intentionally invested resources into areas targeting student-athlete development both in competition and in personal growth. The integrated health and sport performance program was established to combine health and support areas to best help each athlete in injury and overall health management. This includes the areas of sports medicine, strength and conditioning, nutrition, sport psychology and mental health. 
JMU Athletics further enhanced growth opportunities with the creation of the student-athlete leadership program, also known as Dukes Lead. The program guides participants through mentorship, skill development and community impact partnerships and programs to assist individuals in finding productive opportunities outside of sport competition, with an emphasis on preparing them for professional careers. 
Revenue Generation 
With a background in the financial structure of college athletics programs, revenue generation became an immediate priority under Bourne's administration. The JMU Duke Club existed prior to Bourne's arrival, but its unrestricted collections in his first year of $300,000 hardly made a dent in the department's revenue needs. Strategic growth and investment built the Duke Club to a unit nearing $5 million annually in unrestricted giving and surpassing 5,000 unique annual donors to a total of almost 5,600 in FY23. 
Revenue from ticket sales also surged under Bourne, particularly in football. The 2011 expansion of Bridgeforth Stadium increased capacity to nearly 25,000 and ushered in new premium seating opportunities with a 1,000-person club area and additional private seats. Combined with the introduction of the Duke Club's seat contribution structure as well as the opening of the Atlantic Union Bank Center in 2020 for basketball, ticket sales now account for a significant portion of the department's revenue. 
JMU further enhanced its revenue opportunities by partnering with Front Row Marketing Services in 2010 to manage the department's sponsorship and media rights. Front Row was acquired by LEARFIELD in 2015, aligning JMU with the industry's largest media rights entity. In 2019, JMU and LEARFIELD signed a 15-year extension, guaranteeing the department increasing revenue benchmarks.
Focus on Infrastructure 
Bourne prioritized a full overhaul of the department's facility profile, pushing for each student-athlete to be able to maximize performance thanks to first-class competition and training venues. This work continues in Bourne's final year as the department embarks upon its next wave of master planning. 
Almost immediately upon his arrival, facilities took center stage. JMU opened the Plecker Athletic Performance Center (2005), expanded Bridgeforth Stadium (2011) to 25,000 seats, constructed a short-game golf practice facility (2011), opened Veterans Memorial Park for baseball and softball (2010), opened Sentara Park for soccer, lacrosse and track and field (2012), added the JMU Athletics Training Center at Sentara Park for weather-protected all-sport training (2018), built the East Campus Tennis Facility for indoor training (2018), unveiled the Atlantic Union Bank Center for basketball (2020) and renovated the JMU Convocation Center to meet the needs of eight sport programs (2023). 
In November of 2020, the AUBC ushered JMU basketball into a new era with a 8,500-person arena featuring advanced technology and program support infrastructure. The renovation of the Convocation Center debuted a new competition venue for volleyball, vastly improved indoor training space for track and field and elevated the sports of men's and women's soccer, cross country, track and field, field hockey, lacrosse and volleyball into an enhanced environment of support services under one roof. Additional projects along the way improved Sentara Park by adding game day locker rooms (2022), expanded softball's Veterans Memorial Park to increase seating capacity and improve NCAA Regional hosting standards and added a game day team facility to the JMU Field Hockey Complex (2023).
Accolades/Committees 
In 2016, Bourne assumed the leadership role among the CAA's council of athletics directors and has previously served a member of the NCAA FCS Championship Selection Committee from 2010 to 2013 and Chair of the Committee his last year.  In May of 2018, he was honored as one of five finalists nationwide for the Sports Business Journal Athletic Director of the Year Award. In March of 2017, he was honored as an Under Armour FCS Athletics Director of the Year by the National Association of Collegiate Directors of Athletics (NACDA). In October of 2016, he was part of a panel for the Knight Commission on Intercollegiate Athletics in Washington, D.C. on the financial landscape of college athletics. Throughout his tenure he routinely spoke at committees and roundtable for the National Associate of Collegiate Directors of Athletics and the Sports Business Journal.  On April 9, 2022, he was honored with the Distinguished Alumnus Award from Bridgewater College.  Most recently, in the summer of 2023, Bourne was invited to serve as a participant and speaker at the US Army War College Leadership Institute in Carlisle, Pa. 
Before JMU, Personal Background and Family 
Prior to arriving at JMU in 1999, Bourne served in several athletics roles at Virginia Tech from 1986-97 and was Executive Associate Athletics Director at Georgia Tech from 1997-99. At Georgia Tech, he supervised finance, marketing and promotions, ticketing, sports information, and radio and television broadcasts and production. He also was liaison to the Alexander-Tharpe fund, the university's development arm, and administered the baseball and golf programs.

At Virginia Tech, he was Associate Athletics Director and he co-chaired a committee that reviewed gender equity at the school. The committee developed and implemented a plan that brought the school into compliance with federal guidelines and ranked it fifth nationally in compliance. 
Bourne is a Salem, Virginia native and a graduate of Bridgewater College with a degree in business administration and accounting in 1981. He completed his master's degree in education and sports management at Virginia Tech in 1994. He worked for four years in public accounting and received his certification in public accountancy before moving to Virginia Tech, where he first was an internal auditor and a consultant to the athletic business office before jumping fully into intercollegiate athletics. He is a 1994 graduate of the Sports Management Institute Executive Program from the University of North Carolina and the University of Southern California. 
Bourne's wife, Mary Lou, serves as JMU's Director of Technology Innovation and Economic Development. She is a Harrisonburg native and earned her undergraduate degree from Bridgewater College and master's degrees from Virginia Tech and JMU. Their sons, Jason and Kyle, and daughter-in-law Megan are JMU graduates and all live in Charlotte, N.C. along with grandson Colton. 
"My work has been incredibly fulfilling, but a time comes in your life when exploring other opportunities and experiences become a priority. Mary Lou and I look forward to spending time doing things we enjoy that have not been possible in my current role. I've always strived to emphasize an appropriate balance in my life of what's important between work and family. We are fortunate that we will live in the Charlotte area close to our family to begin a new chapter in our lives."