Featured Stories
Kay Coles James continues to immerse herself in life of public service
Newest member of the JMU Board of Visitors holds an open discussion on bipartisan communication
---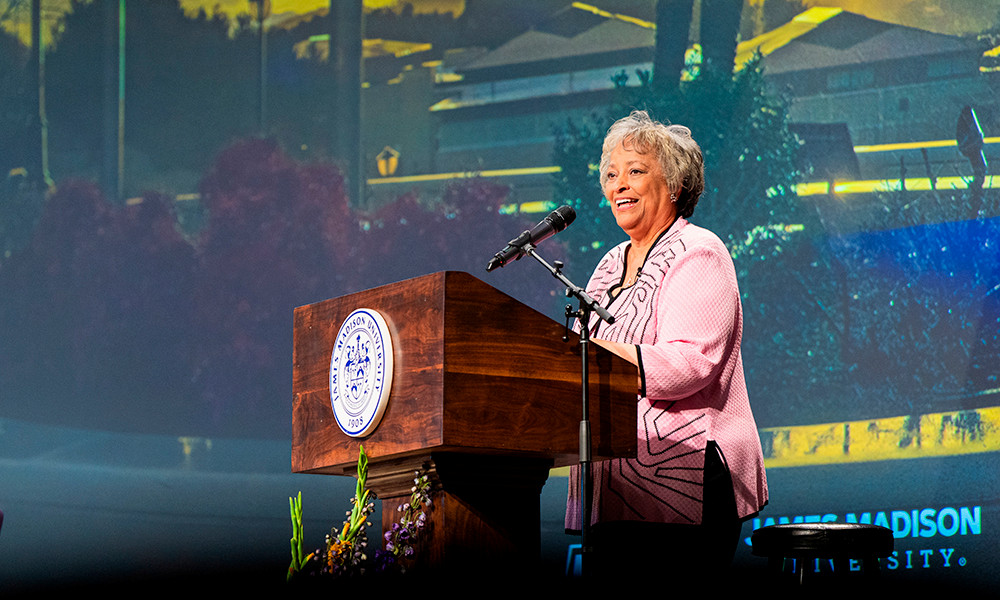 SUMMARY: Hosted by the Office of the Vice Provost of Strategic Initiatives and Global Affairs, the first Inclusive Community Series event kicked off this semester on Sept. 6 with Kay Coles James as speaker. She works to bridge the divide in partisan conflict by teaching this generation of students what it looks like to effectively communicate.
---
"To be a solutionist, you need to be a problem-solver, not a yeller across the divide. To be a solutionist, you must be committed to human flourishment."
 — Kay Coles James
James has held positions on the local, state and national levels, with job titles that have included director of the U.S. Office of Personnel Management during the George W. Bush administration, secretary of the Commonwealth of Virginia and founder of The Gloucester Institute. She most recently joined the JMU Board of Visitors.
Her broad and unique experience in the public-policy arena grants her an interesting perspective on the current political climate. James deems it toxic and the worst she's ever seen. But she just as fiercely states her optimism on the subject.
As part of JMU's Inclusive Community Series, the crowd at Wilson Hall would walk away from her presentation on Sept. 6 with a new vocabulary word at the forefront of their minds: solutionism. James coined this term during her time at The Gloucester Institute, a nonprofit that offers leadership training for African American college students, where she challenged them to become a generation of solutionists.
"A solutionist is a critical thinker ... it is to think and not be afraid of where the answers take you," she said. "To be a solutionist, you need to be a problem-solver, not a yeller across the divide. To be a solutionist, you must be committed to human flourishment. A solutionist has intellectual integrity; once you think through an issue and find that the research does not support your perspective, they will be willing, ready and looking forward to adjusting course."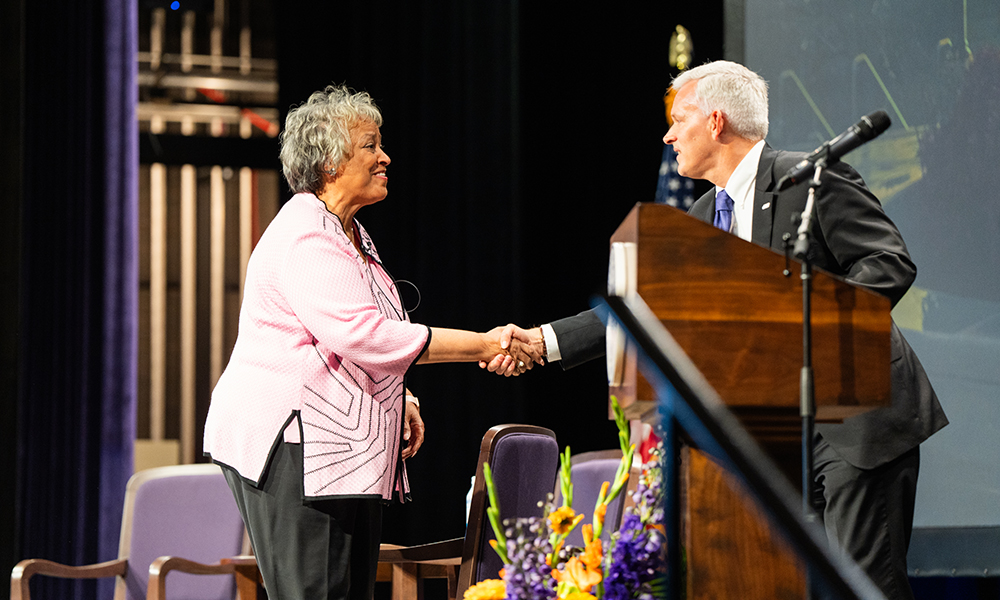 (L-R): Kay Coles James and JMU President Jonathan R. Alger in the Wilson Hall auditorium
With the gap between political parties widening, James hopes to pull them closer together and find a place where bipartisan work can be accomplished. James said she doesn't care if you are a Democrat or Republican, progressive or conservative.
"We say the whole purpose of politics is to solve problems, and if you genuinely are a problem-solver and we all want the same thing, why can't we do this? I think we can. ... If we can get to young people before they get into positions of leadership and teach them how to work across ideological and political lines, teach them how to have friendships outside of their tribe, teach them how to dissect and learn public policy, then perhaps we can make a difference."
In varying anecdotes featuring her personal relationships and those of other political leaders, James says a theme emerges: Let's not focus on what we can't do; let's focus on what we can do.
"I have found that in public policy, it is far more important to have friends all across the political spectrum who you can call on, talk to, who you can bounce ideas off of," she said. "What you need to understand if you want to get to a better place in our political discourse is stop questioning people's motives, their ethnicities; stop name calling and find out if you share common goals."