Featured Stories
Alumna turns home into sanctuary for Ukrainian relatives
---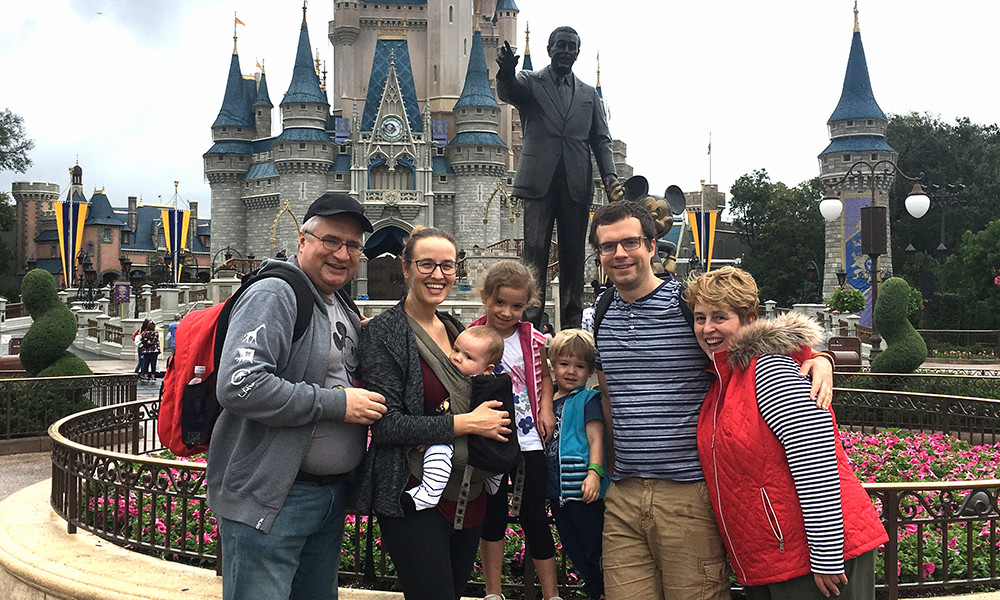 SUMMARY: Russia's full-scale invasion of Ukraine in 2022 hit close to home for Rachael Weber Tayanovskaya ('06) and her family in Harrisonburg.
---
This article and other exclusive content is available in the Madison app. 

---
Two years had passed since Rachael Weber Tayanovskaya's ('06) children had seen their Ukrainian grandparents. With the COVID-19 pandemic calming down and international flight restrictions being lifted, January 2022 felt like a safe time for Oleksandra and Pavlo Tayanovskyy to finally visit their American family in Harrisonburg.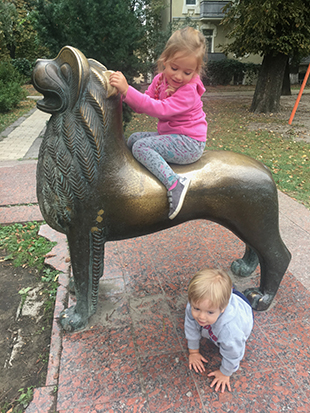 They planned to stay for a month, but a week before their intended return home, Russian rockets started hitting their hometown of Kyiv. "In the first days of the war, a building on their street was hit," Rachael said. "Then at some point in late spring, we knew it wouldn't be over soon." 
"No one in my family had lived through war at home, so it wasn't so personal. It's not that way anymore."
 — Rachael Weber Tayanovskaya ('06)
For her husband, Anton, and his parents, the past year has been the worst of their lives. "During the first few weeks, we were in a state of deep shock," said Pavlo, Rachael's father-in-law. "It was absolutely unfathomable to us that [Russian President Vladimir] Putin could have committed such an unspeakable act of evil."
Then, one day, a Harrisonburg family gifted them a basket of fruit and flowers. The small gesture helped bring them back to reality. "It was incredibly touching," Pavlo said. "We began to notice an increasing number of Ukrainian flags on the streets and in windows, as well as supportive stickers on car bumpers."
Rachael, Anton and other Harrisonburg relatives also keep Pavlo and Oleksandra engaged in local cultural events and family gatherings. "That has been enormously helpful in getting us through these tough times," Pavlo said.
The family stays glued to the latest events in Ukraine and remains in contact with friends and relatives back home, but they wrestle with feelings of guilt — many Ukrainians chose to stay or could not leave — and the weight of genocide. "What does it mean to be Ukrainian outside of Ukraine," Rachael said, "when, in areas of your home country, people are being killed only because they are Ukrainian, or children are forcibly taken from their families, treated as orphans, to be raised in Russia?"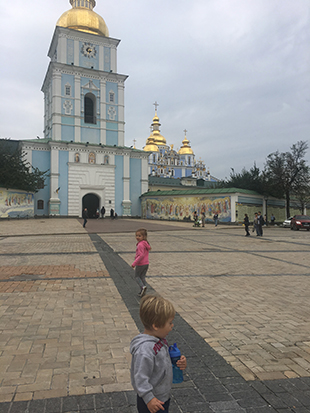 The Tayanovskyys avoid making estimates or predictions about the Russia-Ukraine war. To keep functioning, they focus on their daily routines. "Rather than making plans or contemplating the future, it is important to concentrate on what can be done today," Pavlo said.
Despite the emotional challenges of living in two different worlds — physically in Harrisonburg and virtually in Kyiv — Pavlo and Oleksandra have recognized the importance of family. They get to see Anton and Rachael every day and watch their grandchildren grow. 
"Time spent with loved ones is invaluable," Pavlo said. "We enjoy strolling along the friendly and beautiful streets of Harrisonburg, and we realize the immeasurable value of a peaceful life."