JMU geologist had role in groundbreaking research
JMU Headlines
---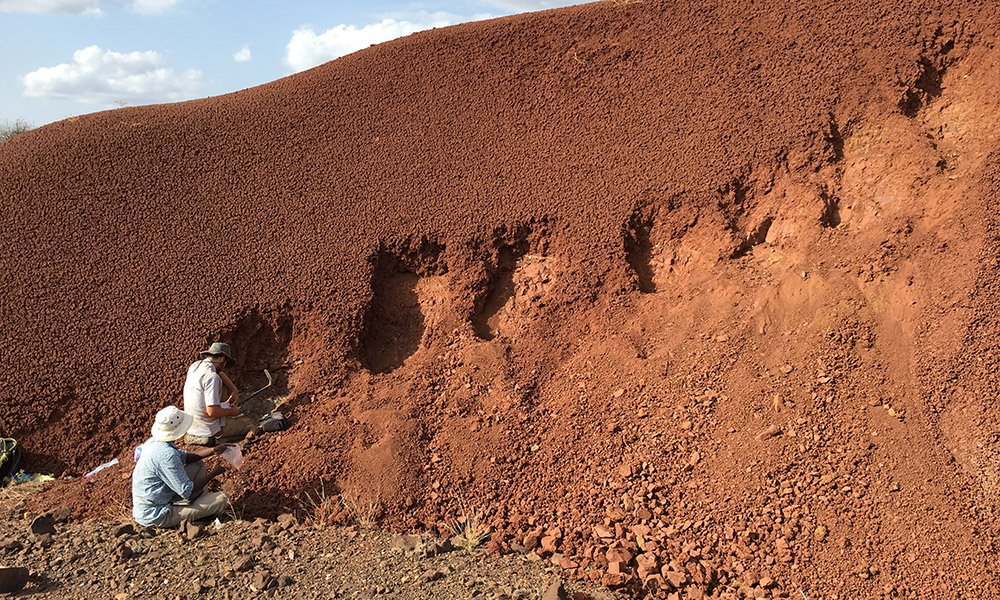 Bill Lukens and Kennedy Oginga sampling fossil soils (paleosols) at Buluk, Kenya. (image credit: Dan Peppe)
Harrisonburg, Virginia — James Madison University geology professor William Lukens said Thursday's publication of two articles in Science — which establish a new paradigm for ape evolution and their ecosystems in eastern Africa — is a career highlight.
"This is absolutely the pinnacle of my career so far," he said while discussing the research that reveals that Africa's earliest apes lived in landscapes that include C4 savanna grasses, more than 10 million years earlier than previously believed.
The new findings suggest that Africa's earliest apes inhabited ecosystems far different from the tropical forests that most modern apes live in.
Lukens was one of more than 20 authors on the two papers, one led by Laura MacLatchy, a paleoanthropologist at the University of Michigan, and the other by Daniel Peppe, a professor of geosciences at Baylor University.
Lukens was a doctoral student at Baylor University when he was asked to join the international research team in 2015.
"I developed a new way to estimate what kinds of plants were living on the landscapes based on our measurements of the fossil soils of the sites," he said. "Some of the rock layers used to be the landscape, the ground with soil forming there. We analyzed different materials in these ancient soils that reflect the above-ground vegetation."
Some of Lukens's comments about the research can be heard here: https://www.dropbox.com/s/vapin663jfh7at8/Lukens-clips.wav?dl=0
The peer-reviewed journal articles are:
Oldest evidence of abundant C4 grasses and habitat heterogeneity in eastern Africa
https://www.science.org/doi/10.1126/science.abq2834
The evolution of hominoid locomotor versatility: Evidence from Moroto, a 21 Ma site in Uganda
https://www.science.org/doi/10.1126/science.abq2835
To arrange an interview with Lukens, contact Eric Gorton, media relations coordinator, at gortonej@jmu.edu or 540-908-1760. 
### 
More information about William Lukens can be found on his website.
More information about the JMU Department of Geology and Environmental Science can be found on its website.
More information about James Madison University, including rankings and recognitions, can be found at jmu.edu/about.