JMU Headlines
Attitude change among top benefits of Paralympic sport lab
---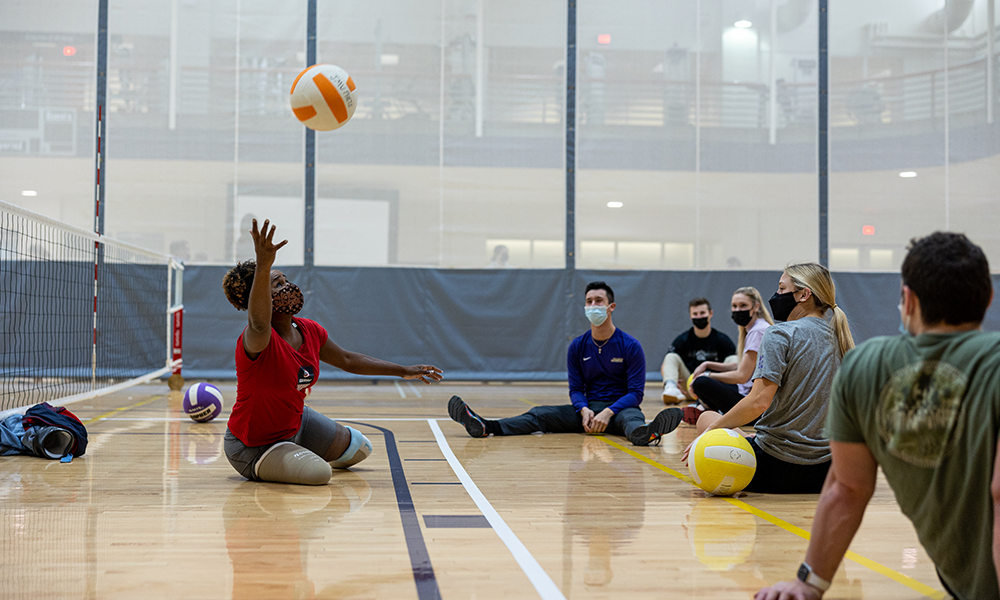 Harrisonburg, Virginia — Individuals with disabilities are often considered different because they fail to fit the description of normalcy that is construed by beauty, attractiveness and able-bodiedness, says James Madison University kinesiology professor Cathy McKay.  
But those perceptions can be dashed during events such as McKay's annual Paralympic Skill Lab, which will promote engagement and education surrounding adapted sport, inclusion and sociocultural norms. A group of highly successful Paralympian athletes, including Olympic medalists, will be on hand to educate students on adaptive sports and to share their stories. Students will be introduced to sitting volleyball, goalball and wheelchair basketball. 
Reporters are welcome to cover the PSL, which will take place from 8 a.m.-4 p.m. on Wednesday, March 1, at the JMU Recreation Center (UREC) in the Multi Activity Court 2 (MAC2). 
In addition to educating students, the PSL has resulted in multiple empirical research manuscripts that support PSL objectives, including this one that chronicles the student experience. 
Athletes who will lead education stations are: 
Paralympian Trevon Jenifer, a Team USA Wheelchair Basketball player who won gold at the Tokyo games, gold at the Rio games and a bronze at the London Games.

 

Paralympian Nicky Nieves, a Team USA Women's Sitting Volleyball player who won gold at both the Tokyo and Rio games. She also won silver at the 2014 and 2018 ParaVolley World Championships and bronze at the 2022 world games.

 

Paralympian Marybai Huking, a former member of the Women's national goalball team who won silver in the Tokyo games and bronze in the Rio games. Huking is a sports program coordinator at the United States Association of Blind Athletes.

 

Brandon Rush and Tom Vandever from the Charlottesville Cardinals. Rush played on the Edinboro University intercollegiate wheelchair basketball team, coaches a junior team in Richmond and is captain of the Charlottesville Cardinals. Vandever is the founder of the Charlottesville Cardinals as well as a player.

 

Collegiate All-American wheelchair basketball player and Roanoke native Jacob Tyree who played wheelchair basketball at the University of Illinois and who was a member of Team USA's U23 wheelchair basketball team. Jacob founded the Roanoke Stars wheelchair basketball team and plays for the Charlottesville Cardinals wheelchair basketball team.

 
JMU graduate and experienced goalball instructor Marie Schneider Leake, a health and physical education professional and a first-year doctoral student at the University of Virginia Kinesiology program. 

 
Find more information on the lab and the visiting athletes here.  
###  
If you plan to attend, please contact: Eric Gorton, gortonej@jmu.edu, 540-908-1760.  
More information about James Madison University, including rankings and recognitions can be found at jmu.edu/about.