JMU to recognize December 2022 graduates
JMU Headlines
---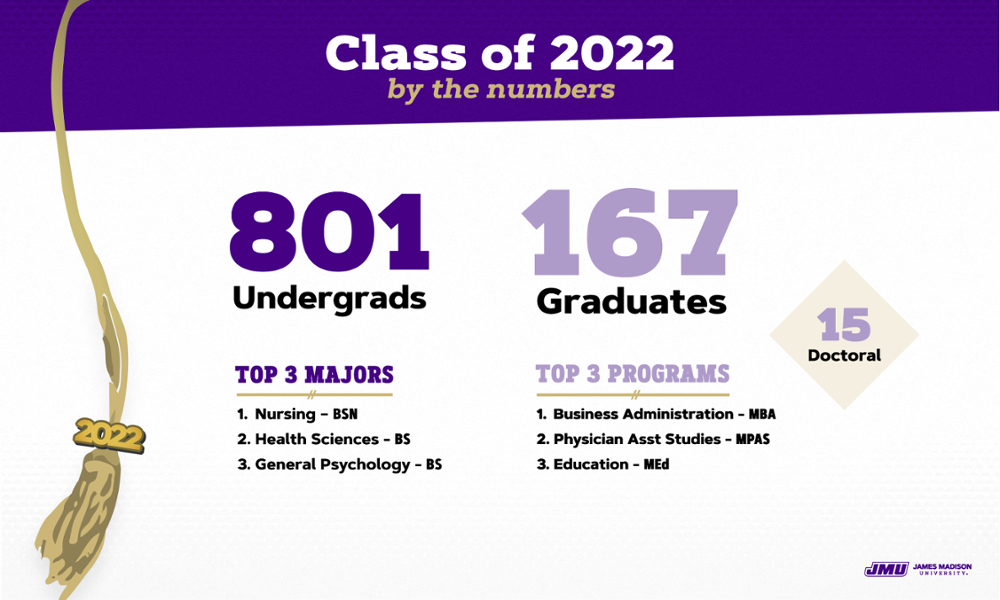 Harrisonburg, Virginia — James Madison University is looking forward to celebrating December 2022 graduates. The commencement ceremonies will be held on Saturday, December 17, 2022 at 10:00 a.m. in the Atlantic Union Bank Center. The event will also be livestreamed.
Watch live on YouTube: https://youtu.be/r2nhum5vPz8
This year's commencement speaker is Charles May ('83). Charles is a retired executive from the Naval Criminal Investigative Service (NCIS); and senior field grade officer from the U.S. Army Reserves (USAR). He currently serves as CEO and Managing Partner for Cooke & May (C&M) LLC.
May is committed to the community; he teaches, coaches, and mentors others to lead, build financial independence, stability and maintain continued positive impact in the community. His tireless grassroots efforts have made him a respected leader in the community, as evidenced by his National Mentorship award in 2019 from Access Minority, Inc.
Undergraduate degrees will be awarded to 801 students, while 167 will receive graduate degrees and 15 will receive doctoral degrees.  
The top three most popular undergraduate majors were nursing, health sciences and general psychology. Business administration, physician assistant studies and education  were the top three graduate programs. 
The commencement ceremony is a ticketed event. Other general information on the December 2022 commencement is available at jmu.edu/commencement.
Members of the media wishing to attend should contact Ginny Cramer, cramervm@jmu.edu.
###
Contact: Ginny Cramer, cramervm@jmu.edu, 540-568-5325