Fall brings reopening of JMU planetarium
JMU News
---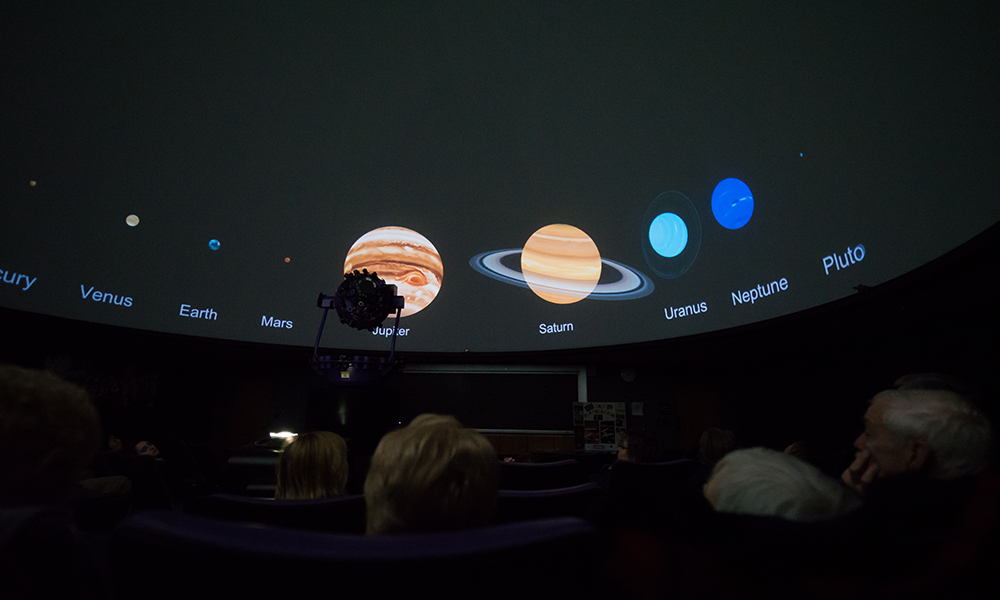 Harrisonburg, Virginia — With fall fast approaching, it's a great time to grab a pair of binoculars and check out the stars.
"We have three nice celestial events during the first two weeks of September," said Geary Albright, director of the John C. Wells Planetarium at James Madison University. "On Thursday, the nearly full moon will be right next to bright Saturn in the evening sky. The next night we have the full harvest moon rising at 7:36 in Harrisonburg, and two nights later the Moon will be next to Jupiter, which will be at its brightest a few days later." 
September will also feature some great star gazing opportunities indoors with the restart of free shows at the planetarium, beginning on Saturday. Shows geared toward families with young children (ages 4 to 8) will take place at 11 a.m. and 1 p.m. while shows that are great for students in middle and high school, as well as adults, will be shown at 2:15 and 3:30 p.m. 
Tickets are not required but the planetarium can fill up on busy weekends. For the best chance to get a seat, Albright suggests getting there at least 15 minutes early and try for the earlier 11 a.m. family show or the 2:15 p.m. feature show. They both have second shows, at 1 p.m. for the family show and 3:30 p.m. for the feature show. 
The show schedule is available on the planetarium website. 
As for viewing the stars outside, Albright recommends finding an open space such as a school playground. "If you get into an open area, your horizon is lower so you're going to have less interference from trees and things like that," he said. You also want to find a spot that is as dark as possible. 
With High Knob and Reddish Knob a short drive away, Valley star enthusiasts have some optimal vantage points. Reddish Knob is one of the darkest places on the East Coast, Albright said. 
With so much to look at, Albright suggests taking along a planisphere, a small map of the sky. "It's really best to have some kind of a little chart that you can set for the date and the time. That becomes an indispensable tool for actually finding things," he said. 
Planispheres are relatively easy to make with materials and instructions that can be found on the internet. They can also be purchased. 
To keep up to date on what's visible in the night sky, check out the planetarium Facebook and Instagram pages. 
###
Contact: Eric Gorton, gortonej@jmu.edu, 540-908-1760 
More information about James Madison University, including rankings and recognitions can be found at
jmu.edu/about
.