College of Arts and Letters
JMU students take first place in the "Best of the Web/Best of Digital" national competition
---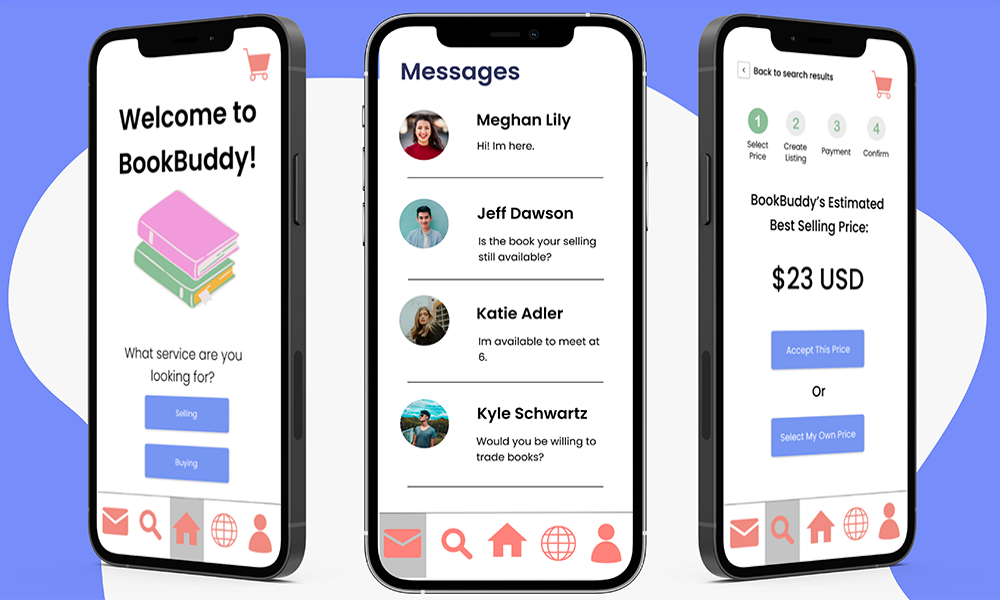 A James Madison University duo has won first place in the Large School (10,000+) Individual/Team/Single Class app category at the 2022 AEJMC "Best of the Web/Best of Digital" competition for their app BookBuddy. Created by Madeline Miller and Lyndsay Criscitello, the app offers a new way for students to buy and sell textbooks. 
The students designed the app after identifying difficulties with current textbook selling platforms as part of a SMAD (School of Media Arts & Design) class. BookBuddy offers a centralized location for buying and selling textbooks. The app includes features such as pick-up hubs, contactless payment, school verification and background checks and direct messaging to increase safety, as well as price matching.
"As rising seniors, Lyndsay and I have bought our fair share of textbooks and have tried almost everything to find affordable textbooks without having to spend hours looking for them, we decided to do something about this and that's where we got the idea for Bookbuddy. Bookbuddy is an app that will connect students on their college campus and allow users to buy the exact textbook they need from students who already used them and sell their books to the people who need them next. This app includes pick up hub options on campus to eliminate the scariness of having to meet strangers, price selling suggestion features to allow users to get the best price to buy and sell books, as well as a community page where users can get information on their textbooks to find out if they are even worth purchasing," said Miller.
Miller and Criscitello found that the average student spends $400 a year on textbooks. Many students are eager to pass on textbooks no longer in use. Scheduled trading in the app between past and future students in the same classes can help students recoup the cost of textbooks. 
"We hope to keep moving forward with the further development and refinement of Bookbuddy and hopefully we can get in touch with some developers to turn this into a fully functional app," Miller added.   
"Our SMAD students have been winning numerous digital design contests but winning first place in the app category at AEJMC is particularly meaningful. I am very proud of our talented students – Madeline and Lyndsay. The award is an acknowledgment of their hard work, dedication, and passion for user experience design. They spent an intensive amount of time researching the topic, conceptualizing, designing, and developing their ideas. I am pleased that our students' exemplary work has been recognized in such a prestigious professional venue," said Dr. Chen Guo, whose class inspired the app.
The "Best of the Web/Best of Digital" Competition is an annual Web and app design contest co-sponsored by the Communication Technology (CTEC) and Visual Communication (VisComm) Divisions of the Association for Education in Journalism & Mass Communication (AEJMC). Web and app design professionals and academics with a background in Web and app design technology are responsible for judging the competition.
Miller and Criscitello receive a cash prize with the award and will be traveling to present their work at the AEJMC annual conference this August in Detroit, Michigan.