JMU News
JMU recognizes May 2022 Graduates
---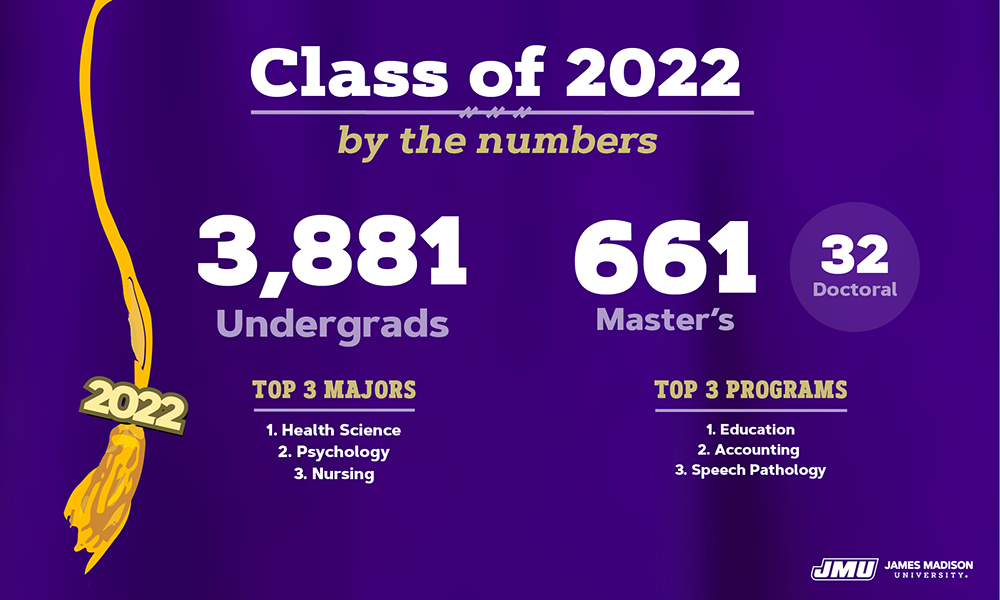 Harrisonburg, Va. -- James Madison University is pleased to celebrate May 2022 graduates this weekend.   
Commencement ceremonies will be held on Thursday, May 12, Friday, May 13 and Saturday, May 14 in the Atlantic Union Bank Center. The full commencement schedule is here. The ceremonies will be streamed virtually on the university website and social media outlets. 
The university will confer 3,881 undergraduate degrees, 661 graduate degrees and 32 doctoral degrees.  
The top three most popular undergraduate degrees were health sciences, psychology and nursing. Education, accounting and speech pathology were the top three graduate programs.  
The commencement ceremonies are ticketed events. Other general information on the May 2022 commencement is available at jmu.edu/commencement.  
### 
Contact: Mary-Hope Vass, vassmg@jmu.edu, 540-568-7487 
Note to media: Reporters are required to RSVP to attend the College of Business ceremony on Friday, May 13. If you have not done so, please email vassmg@jmu.edu as soon as possible. JMU media credentials will be required to attend the designated ceremony.
More information about James Madison University, including rankings and recognitions can be found at jmu.edu/about.