JMU News
JMU student honored as Newman Civic Fellow
Xaiver Williams recognized for commitment to solving public problems
---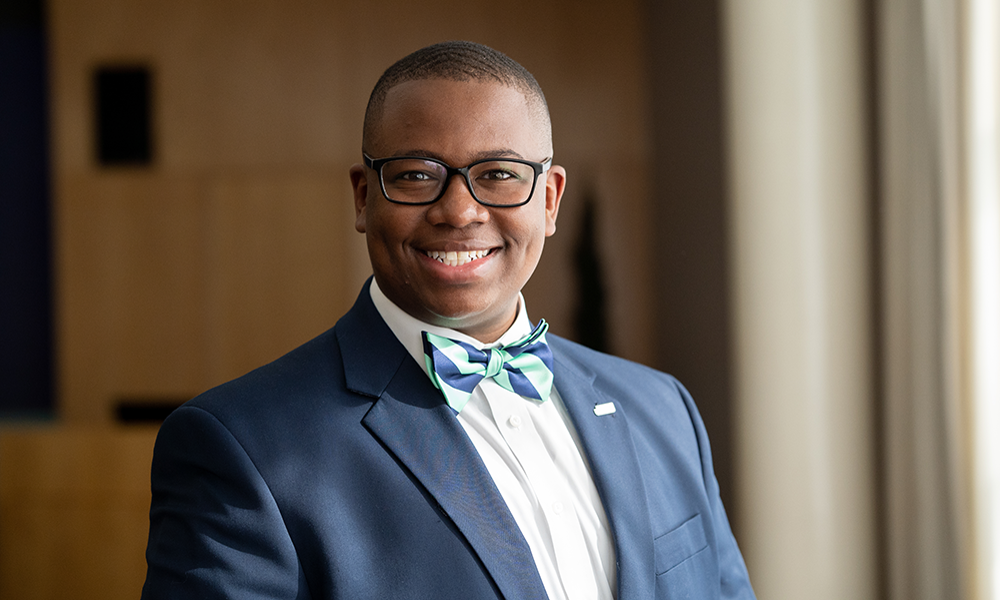 Harrisonburg, Virginia -- Campus Compact, national coalition of colleges and universities working to advance the public purposes of higher education, has named 173 student civic leaders who will make up the organization's 2022-2023 cohort of Newman Civic Fellows. Xaiver Williams, a student at James Madison University, will join students from 38 states, Washington, D.C., and Mexico to form the cohort.
The Newman Civic Fellowship recognizes students who stand out for their commitment to creating positive change in communities locally and around the world. The fellowship is named for the late Frank Newman, one of Campus Compact's founders, who was a tireless advocate for civic engagement in higher education. In the spirit of Dr. Newman's leadership, fellows are nominated by Campus Compact member presidents and chancellors, who are invited to select one outstanding student from their campus each year.
Xaiver Williams, a third-year student in the Honors College at James Madison University, is an active student leader in addressing diversity, equity and inclusion. In the Fall of 2021, Xaiver was selected as the Student Representative to the Board of Visitors. As the representative, Xaiver provides a student perspective rooted in equity and ensures underrepresented student voices are heard. Xaiver is also the working group recommendation champion for the task force on racial equality and aided in passing a motion to recommend a Diversity and Inclusivity statement for faculty members' syllabi. For his Honors capstone project, titled "The Role of Black Male Educators in the Lives of Black Male Students: Identifying Best Strategies for Decreasing the K-12 School-to-Prison Pipeline in the Commonwealth of Virginia," Xaiver will conduct interviews with educators to provide the opportunity to discuss their experience as learners and their journeys to becoming educators and role models.
Through the fellowship, Campus Compact will provide these students with a year of learning and networking opportunities that emphasize personal, professional, and civic growth. Each year, fellows participate in numerous virtual training and networking opportunities to help provide them with the skills and connections they need to create large-scale positive change. The cornerstone of the fellowship is the Annual Convening of Fellows, which offers intensive skill-building and networking over the course of two days. The fellowship also provides fellows with pathways to apply for exclusive scholarship and post-graduate opportunities. 
"Mr. Williams exemplifies what it means to be an engaged student dedicated to critically examining and addressing issues. Throughout his time at JMU, Mr. Williams has taken challenges head-on and never let barriers stop him from achieving his goals," said JMU President Jonathan Alger. 
"We are proud to name such an outstanding and diverse group of students Newman Civic Fellows," said Campus Compact President Bobbie Laur. "Their passion and resolve to take action on the wide range of issues challenging our neighborhoods and communities is inspiring and deeply needed. We cannot wait to engage with them through this transformative experience."
The Newman Civic Fellowship program is supported by the KPMG Foundation. Learn more at compact.org/newman-civic-fellowship. You can read more about each of the student leaders selected for this year's cohort at compact.org/newman-civic-fellowship/the-2022-2023-newman-civic-fellows. 
###
Contact: Ginny Cramer, cramervm@jmu.edu