JMU News
JMU honors the late Dr. George Sparks in student arts celebration benefiting scholarships
---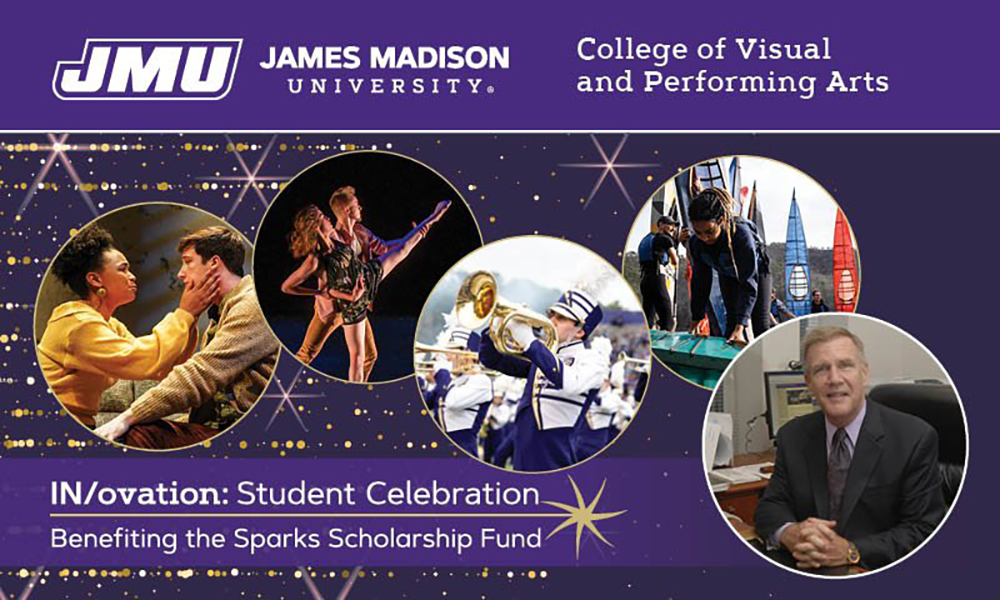 Harrisonburg, Virginia - The College of Visual and Performing Arts (CVPA) at James Madison University will host "IN/ovation: Student Arts Celebration" in honor of the late CVPA Dean Dr. George Sparks on Saturday, March 26 from 6:30–9:30 pm at the Forbes Center for the Performing Arts. This premier showcase features student and alumni artwork, live and silent art auctions, poetry, a student theatre and dance performance, as well as the Marching Royal Dukes and other student music performances. Event proceeds benefit the Dr. George E. Sparks CVPA Scholarship Endowment. Contributions to this fund help make students' dreams of a coveted JMU arts degree a reality.
Dr. Sparks served as the inaugural dean of the CVPA from 2008–2020. In a career that spanned more than 37 years in arts education, Dr. Sparks was known as "a talented, compassionate and selfless leader." As dean of the CVPA, he facilitated opportunities for students, faculty and staff that advanced their artistic abilities and the arts at JMU. He guided the opening of the Forbes Center for the Performing Arts and renovations to Duke Hall and the Studio Design Center, among countless other contributions.
Tickets to "IN/ovation: Student Arts Celebration" are $50. For tickets and event details, visit j.mu/sparks.
###
Contact: Jen Kulju, (540) 568-4394, kuljuja@jmu.edu