Arts and Culture
Warm up with these JMU reads
---
On these long, cold winter nights, curl up with a good book from a fellow Duke! Check out these titles written by JMU alumni and faculty members. From fiction to nonfiction, children's books to memoirs, cozy reads to thoughtful analyses, there's something on this list for everyone.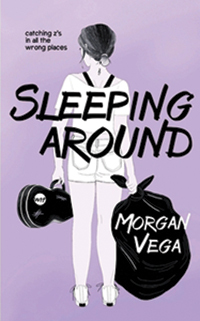 Sleeping Around
BY MORGAN VEGA ('19M)
Self-published
Hard-hitting yet humorous, this young-adult contemporary following a teen's transition from foster care to college by debut author Morgan Vega is perfect for fans of What I Carry by Jennifer Longo and Watch Over Me by Nina LaCour. Exploring trauma and resilience in gritty, first-person detail, Sleeping Around is a powerful reflection on stability, the concept of home and the heavy baggage we all must sometimes carry. This intimate coming-of-age tale highlights the impact the foster-care system can have on the mindset and psychological well-being of children and the adults they become. Driven by a complex narrator and woven together with unassuming and conversational prose, the target audience for this book is older teens moving into a new chapter of life, but the intense themes will resonate with older readers as well.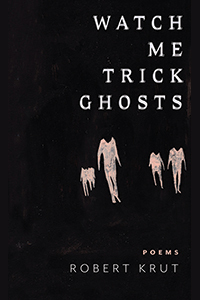 Watch Me Trick Ghosts
BY ROBERT KRUT ('95)
Codhill Press

In Watch Me Trick Ghosts, award-winning poet Robert Krut reveals a city weaving between surreal consciousnesses and concrete imagination, where speakers are fully aware that "the scars of the world are turning neon" ("Accidental Light"). Among them, spirits hide and appear in tree lines, behind bookcases, even "etching a name into a street sign pole with a knife" ("You Are the Street, You Are the Sleep"). These poems skillfully veer between lyrical moments of intimacy and urgent messages seemingly sent from the negative space surrounding a dream. It might be the case that "fear is a blade held in a lung" ("The Anxious Lever of Lowering Sky"), but in the quietest hours of night, strangers can connect through striking images that cast a spell. Watch Me Trick Ghosts is Krut's fourth poetry collection.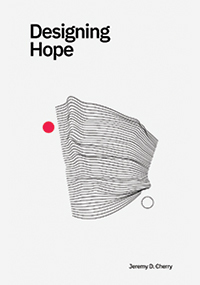 Designing Hope
BY JEREMY CHERRY ('11)
Self-published

Designing Hope explores creating compassionate work for humans. It defines a design framework that creates hope by practicing in an ecosystem, honoring that community with its solutions and sharing in the responsibility of its outcomes. It's equal parts manifesto and practical guide. It strives to rise above technical theory, seeking out practical compassion. In short, if a person creates things for others (who doesn't?), this book is for them.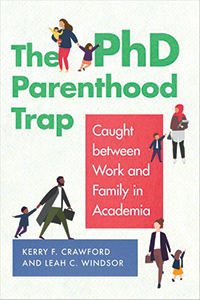 The PhD Parenthood Trap: Caught Between Work and Family in Academia
BY KERRY CRAWFORD AND LEAH WINDSOR
Georgetown University Press
In The PhD Parenthood Trap, Kerry Crawford, an associate professor of political science at JMU, and Leah Windsor offer a new examination of the challenges associated with academic parenthood based on original survey data and stories from academics across disciplines—and call on colleges and universities to implement systemic change. This book includes recommendations to help academia move beyond the starting point of existing policies, and gives advice to new and expectant scholar parents.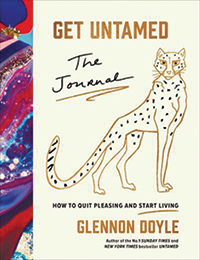 Get Untamed: The Journal (How to Quit Pleasing and Start Living)
BY GLENNON DOYLE ('99)
Clarkson Potter
With Untamed, Glennon Doyle—writer, activist and "patron saint of female empowerment" (People)—ignited a movement. Doyle now offers a new way of journaling, one that reveals how we can stop striving to meet others' expectations—because when we finally learn that satisfying the world is impossible, we quit pleasing and start living. Whether or not you have read Untamed, this journal leads you to rediscover and begin to trust your own inner voice. Full of thought-provoking exercises, beloved quotations from Untamed, compelling illustrations, playful and meditative coloring pages, and an original introduction, in Get Untamed: The Journal, Doyle guides us through the process of examining the aspects of our lives that can make us feel caged. This revolutionary method for uprooting culturally-constructed ideas shows us how to discover for ourselves what we want to keep and what we'll let burn so that we can build lives by design instead of default. A one-of-a-kind journal experience, Get Untamed proves Doyle's philosophy that "imagination is not where we go to escape reality, but where we go to remember it."
Moshe's Big Day: A Lesson in Trust
BY SYDNEY COFFEY ('07)
Wide Island Publishing
It's no secret that the world can be a big, scary place sometimes. But there's someone you can trust when it feels a little too big and scary. Moshe's Big Day follows Moshe the sheep as he ventures to new places, gets a little scared and remembers he knows someone who's always there to help. Just as Moshe realizes he can trust his shepherd, children will learn that they can trust in Jesus when they feel afraid or overwhelmed. This Wide Island Publishing release includes a back section for parents that provides an opportunity to connect the story to Scripture and point children to Christ. Perfect for family devotions or for children struggling with feelings of fear, Moshe's Big Day will build a foundation for trusting God no matter what comes a child's way.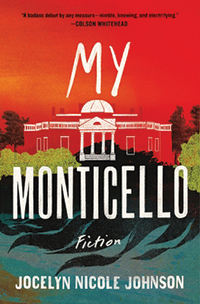 My Monticello
BY JOCELYN NICOLE JOHNSON ('93)
Henry Holt and Co.

Tough-minded, vulnerable and brave, Jocelyn Nicole Johnson's precisely imagined debut explores burdened inheritances and extraordinary pursuits of belonging: a young woman descended from Thomas Jefferson and Sally Hemings driven from her neighborhood by a white militia; a university professor studying racism by conducting a secret social experiment on his own son; a single mother desperate to buy her first home even as the world hurtles toward catastrophe—each fighting to survive in America. United by these characters' relentless struggles against reality and fate, My Monticello is a formidable book that bears witness to this country's legacies and announces the arrival of a wildly original new voice in American fiction. The novella was nominated for the 2021 Kirkus Prize in Fiction and will have a film adaptation on Netflix.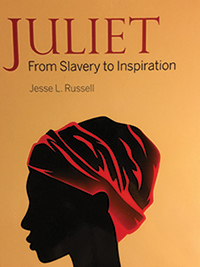 Juliet: From Slavery to Inspiration
BY JESSE RUSSELL ('75)
BookBaby

Juliet: From Slavery to Inspiration will make you cry and make you cheer. While researching his own family, author Jesse Russell became intrigued with a slave woman named Juliet who, along with her family, had been freed by his third great-grandfather, only to find that his second great-grandfather challenged the manumission clause in his father's will that led to an eight-year court trial ending with the auction of Juliet and her family. What Russell discovered was an astonishing truth that led to his recent reunion with the descendants of Juliet and the incredible achievements of her great-granddaughter, renowned as one of our country's African American pioneers. This historical novel is based on actual events and persons, and will entertain, enlighten and inspire all who read it. Russell recently completed a screenplay based on the book.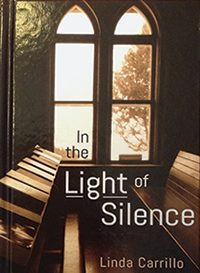 In the Light of Silence
BY LINDA CARRILLO ('79)
Resource Publications

In the Light of Silence is a novel about a scientist reconstructing her life after an accident and a group of Quakers involved with Salvadoran refugees. Set in the Shenandoah Valley of Virginia, it is a story of marshaling courage to begin anew and of the redemptive power of forgiveness. Carrillo taught English in Virginia and North Carolina, and was also a hearing specialist for Harrisonburg City Public Schools.