In new financial landscape consider saving more
JMU News
---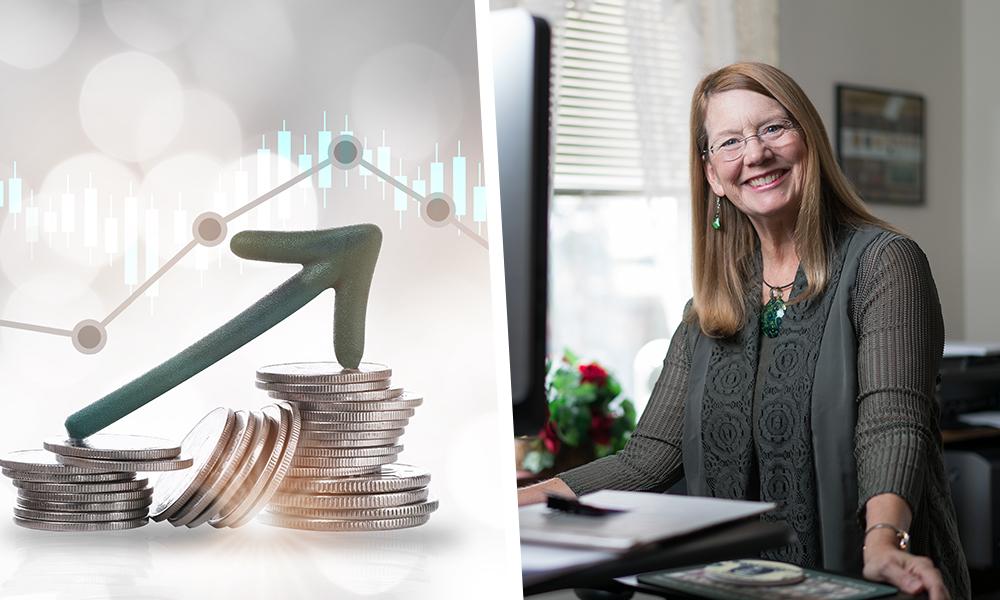 Harrisonburg, Virginia -- January is financial wellness month. The new year can be a good time to take a fresh look at personal finances, money goals and spending habits. 
No matter what your financial situation, creating a budget, building savings and paying down debt are important, says James Madison University professor and finance expert Pam Drake.
"A standard budget rule is to allocate 50% of income after taxes to the basic expenses such as rent and food, 30% to non-essentials, and 20% to savings." While not everyone is able to put money into savings, one bright spot in the current financial picture is that after much fluctuation through the COVID-19 pandemic, the personal savings rate in the U.S. has returned to pre-pandemic levels, according to the U.S. Bureaus of Economic Analysis.
Yet for many personal finances remain a source of anxiety. Job security, debt obligations and expenses can add to stress. That stress can lead to a cycle of poor financial decisions and even affect physical health. 
COVID-19 has introduced more uncertainty, including changes to student loan deferment, eviction bans and other regulations created as social supports. "It's been confusing for individuals as well as small business owners," says Drake.
This year many people will also need to account for changes to employment as part of their financial planning.  "We see shifts in the labor market, with many individuals reassessing their careers. For some the pandemic has resulted in higher wages as they return to the workforce. For others who enjoyed the remote work life, a focus on remaining remote may result in job changes as companies bring back workers to the office," shared Drake. "For some in the gig economy, the results are mixed. Some found themselves unemployed or underemployed, where others who were innovative during the pandemic, flourished."
As people adjust to the new financial landscape some prescriptions for financial wellness are changing too. Experts like Drake now recommend saving four to six months of expenses in emergency savings, up from the previous two-to-three month recommendation. Paying down debt is also more important now than in the past given the uncertainty of when things will return to normal. 
Prioritizing paying off or paying down debt on credit cards with high finance charges is one example of how people can work toward a healthier financial future by eliminating future months of onerous charges, Drake said. 
She also urges caution when it comes to one the biggest financial trends right now –- FinTech.  Financial technology is what enables one-touch banking and insurance.  It also opens the door for novices to participate in stock, option and crypto markets, a popular COVID-19 pastime. "FinTech is great, making all of our lives easier," said Drake. "It also allows people to get in over their head with losses very quickly." 
No matter how people spend money, budgeting to sort 'needs' from 'wants' and prioritizing expenses is an important step everyone can take toward increasing financial wellbeing.  
###
Contact: Ginny Cramer, cramervm@jmu.edu, 540-568-5325