Featured Stories
Breathing new life into an old machine
---
SUMMARY: Apprentices in the JMU Machine Shop answered the call from a local jeweler to fabricate a missing mechanism on a machine that would allow him to produce vintage works of art.
---
Imagine unearthing a lost artwork that is hundreds of years old. That's precisely what a handful of JMU students did while working as apprentices in the university's Machine Shop.
Every year, juniors and seniors majoring in engineering at JMU apply to the competitive apprentice program to learn machining and manufacturing in real-world settings. Clients across a broad range of industry sectors are solicited to bring their engineering problems to JMU, and the apprentices are assigned to solve these problems.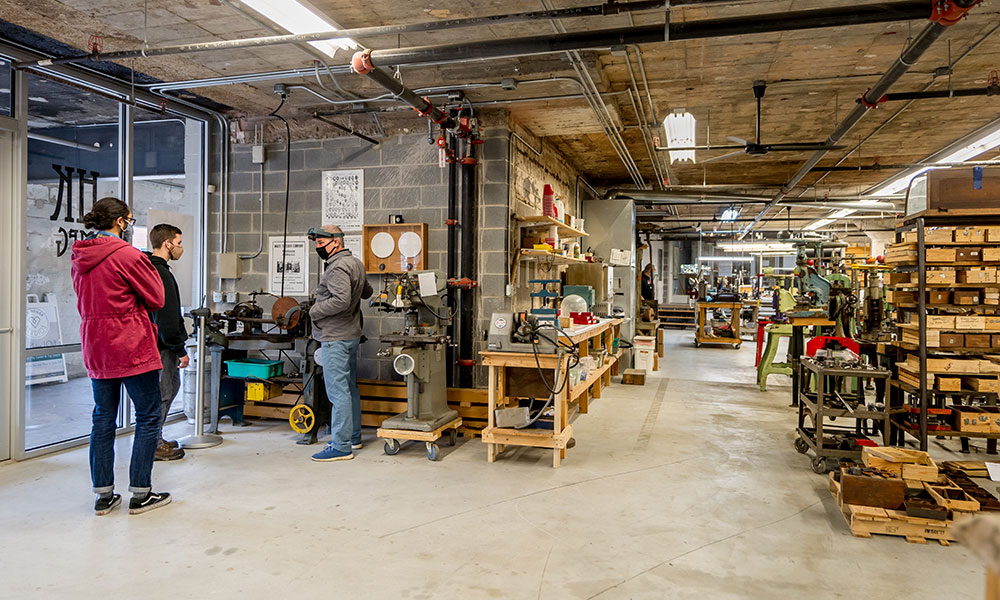 Enter jewelry manufacturer Hugo Kohl ('89). His company in downtown Harrisonburg, Virginia, uses human-powered machines built in the early- to mid-1800s to craft modern "antique" jewelry. After recovering the machines, Kohl must restore them to working condition with no manuals or spare parts, and he often runs into challenges beyond his considerable manufacturing abilities. One of Kohl's employees happened to be dating a JMU Machine Shop apprentice and introduced Kohl to Mark Starnes, who runs the shop.
"The project that we selected was exciting not only to me, but it's a project that should be exciting to the world ..."
— Hugo Kohl ('89), jeweler
"Mark showed up here with a couple of his apprentices, and we went through an interview process," Kohl said.
The apprentices' challenge was to fabricate the missing mechanism between the artwork and the machine that processes it, which had essentially been lost to time.
"The project required a bit of SolidWorks CAD work when they created models to project how the movements would work," Starnes said. "The solution to Hugo's problem was creating a simple, polyurethane plug that they had to calculate how much compression they could achieve out of it without a significant amount of distortion. So, they had to employ basic engineering solutions, which had manufacturing applications that they also had to apply."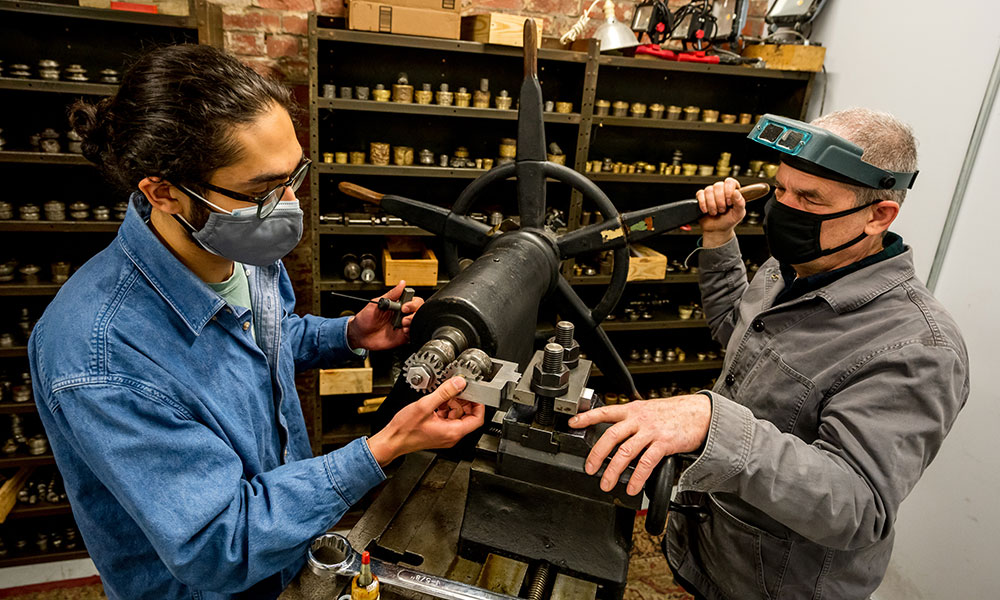 "The project that we selected was exciting not only to me," Kohl said, "but it's a project that should be exciting to the world because we took artwork that was almost 200 years old, from an important company that was one of the great art houses of America … and [the students] allowed us to bring that artwork back to life."
Starnes said the project amounts to "a very small microcosm of a capstone project that an ordinary engineering student [at JMU] would pursue."
For its hands-on approach to teaching and learning, JMU recently made Newsweek's list of "Best Maker Schools" in the world. 
###