JMU News
University class that provides respite care going strong after 20 years
---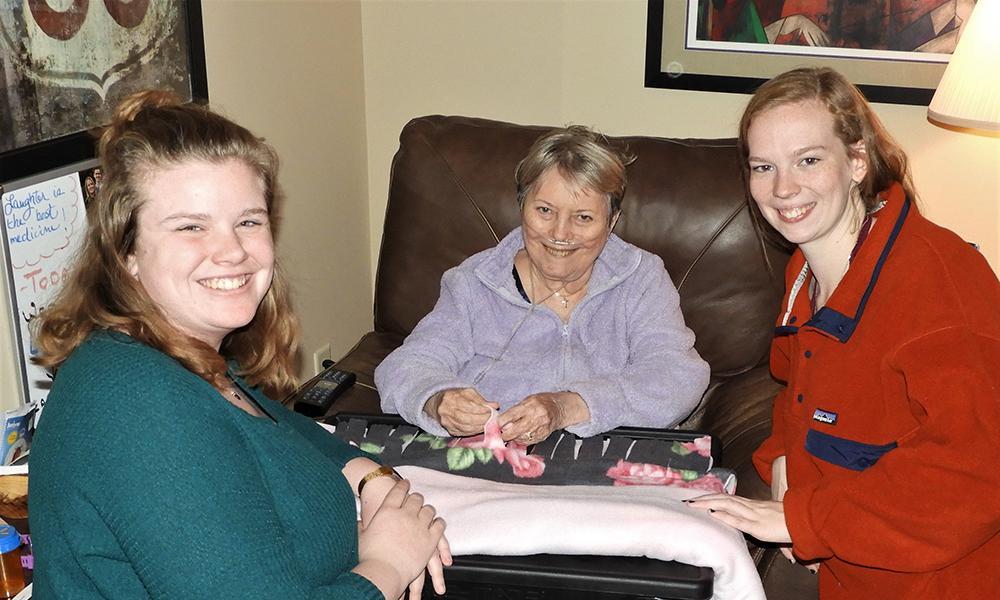 Harrisonburg, Virginia — A James Madison University class where students provide companionship for adults 60-years-old and older has been benefitting the students as well as their clients for 20 years. 
"The amount of joy those individuals brought me each day is a memory that I will hold dear always, and they helped me much more than I could have ever helped them," said Sara Ward, who took the class in spring 2021, her last semester at JMU. 
Experiencing memorable moments and forming bonds with clients has been a common experience for students who participate in the Caregivers Community Network, a collaborative effort between Valley Program for Aging Services and JMU's Institute for Innovation in Health and Human Services. 
Enrolled students engage weekly with care recipients while the regular caregivers take a much-needed break for appointments, errands or personal care. 
"While CCN families gain respite, joy, socialization and renewed purpose as they get to know CCN students, they are givers as well," said Kathy Guisewite, CCN coordinator.  "Students find absolute delight in the humor, wisdom and story-telling adventures these families offer them.  The kinship is tangible as strangers become friends over the course of a semester." 
Ward, a New Kent native who got her bachelor's degree in health sciences, now works for VPAS as a program coordinator. She recommends the class for any student regardless of their major, minor or class year. "As long as you can be compassionate and understanding, this class is for you," she said. 
Former JMU nursing department chairman Merle Mast started CCN in 2001. With 31 students enrolled this semester, the program serves primarily families in Harrisonburg and Rockingham County. 
Students take CCN, IPE 313 as either a one-credit class or, for those with a gerontology focus, as a two-credit capstone course. Since the start of the COVID pandemic, students engage with families either in person — abiding by safety protocols — virtually or create weekly care packages and deliver those to family homes. The visits and care packages bring a focus to self-care and offer respite to caregivers based on family need. 
The need for respite care continues to rise. According to the National Alliance for Caregiving and AARP Report, "Caregiving in the U.S. 2020," family caregivers now encompass more than one in five Americans.  The Centers for Disease Control and Prevention indicates these caregivers are more likely to experience depression and anxiety, worse self-reported physical health and increased early death. Over half of caregivers report that health declines are affecting their ability to provide care to the ones they love. 
"CCN helped me to find a different side of myself and of older adults that I think would have been very hard for me to find had I not taken this class," Ward said. 
To learn more about CCN, visit: vpas.info/respite-opportunities. 

About IIHHS 
Founded in 2003, the Institute for Innovation in Health and Human Services (IIHHS) is a community-engaged center of learning, scholarship and mutual support between James Madison University and the community of Harrisonburg, surrounding counties and the entire Commonwealth of Virginia. IIHHS has more than 28 programs and is housed within JMU's College of Health and Behavioral Studies. Its programs strive to build on the strengths of the surrounding community and step into the gaps in a way that helps all its members thrive. 
About VPAS 
VPAS empowers adults 60 years and over and their families with the resources and opportunities they need to lead engaged lives. With information and referral services, Medicare counseling, senior transportation, recreational programming, meal delivery and in-home personal care available throughout five counties in the Shenandoah Valley, VPAS has been serving older adults and their families for more than 45 years.
 # # #
Media contact: Eric Gorton, gortonej@jmu.edu, 540-908-1760. 
More information about James Madison University, including rankings and recognitions can be found at jmu.edu/about.