JMU News
Once again, JMU is the Best College in Virginia for Getting a Job
---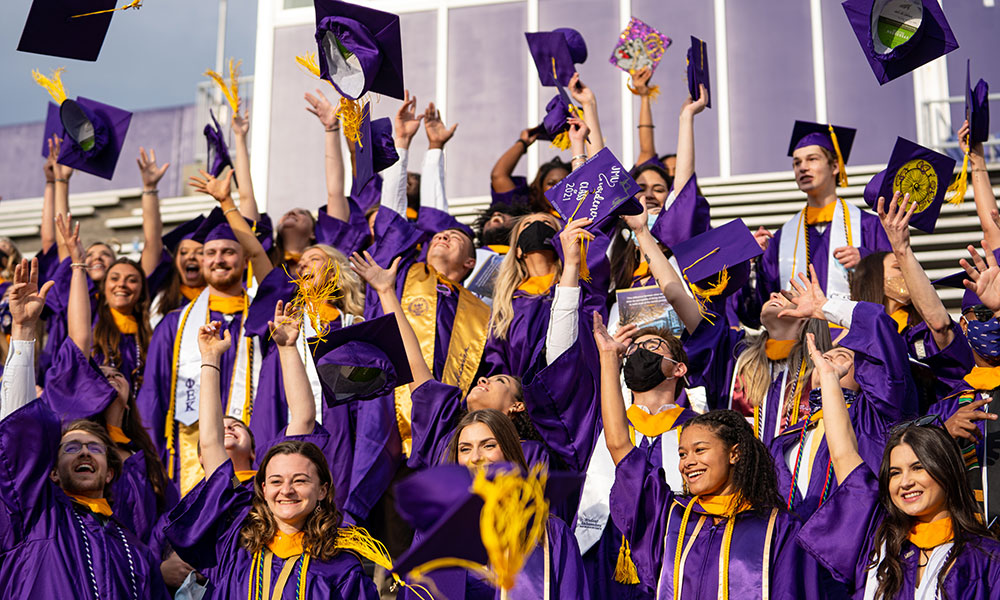 For the third year in a row, James Madison University tops the Best College in Virginia for Getting a Job list.
This 2021 ranking was compiled by Zippia based on information from the Department of Education College Scorecard data and statewide job placement numbers 10 years after graduation.
As a group, JMU degree earners outpace bachelor's degree earners nationally.
The Zippia ranking is one in a long line of recent mentions that makes a compelling case for the high quality of a JMU degree.
For the JMU Class of 2020, 98% of graduates were employed, in graduate school or pursuing career-related endeavors within six months of graduation. The average of JMU graduates from the past three years meeting these criteria is 97.6%.
Earnings reports generated using the prestigious Equifax Graduate Outcomes Product reveal that JMU graduates earn more than the national median income and earn at higher rates over time. For up to 15 years since their commencement, the median earnings of JMU undergrads and graduate students have increased annually, a positive trend line that speaks to both the earning power of the JMU degree and the capacity of our graduates to get ahead and stay ahead. In fact, median earnings from degree recipients rise by 138% 15 years after graduating from JMU, according to the Equifax report. 
 
Further, the Equifax findings reveal that, as a group, JMU degree earners outpace bachelor's degree earners nationally. 
 
According to Equifax data, the spread in earning potential is not limited to just a few academic disciplines. Looking out to 10 years following graduation, JMU median earnings increased for bachelor's degree recipients from all colleges. 
 
JMU is the #1 most recommended public school in the U.S. by students to their friends and family. Data from a recent Gallup-Purdue report for alumni satisfaction shows that 97% of JMU alumni are pleased with their time at the university. This combination of loyalty across time is another factor in measuring the quality of the Madison Experience. 
 
The value of the JMU degree speaks for itself.



Hands-on learning being a hallmark of the Madison Experience, internships help so many Dukes polish skills they learn in the classroom.