JMU News
New JMU pantry app will improve ordering, privacy
---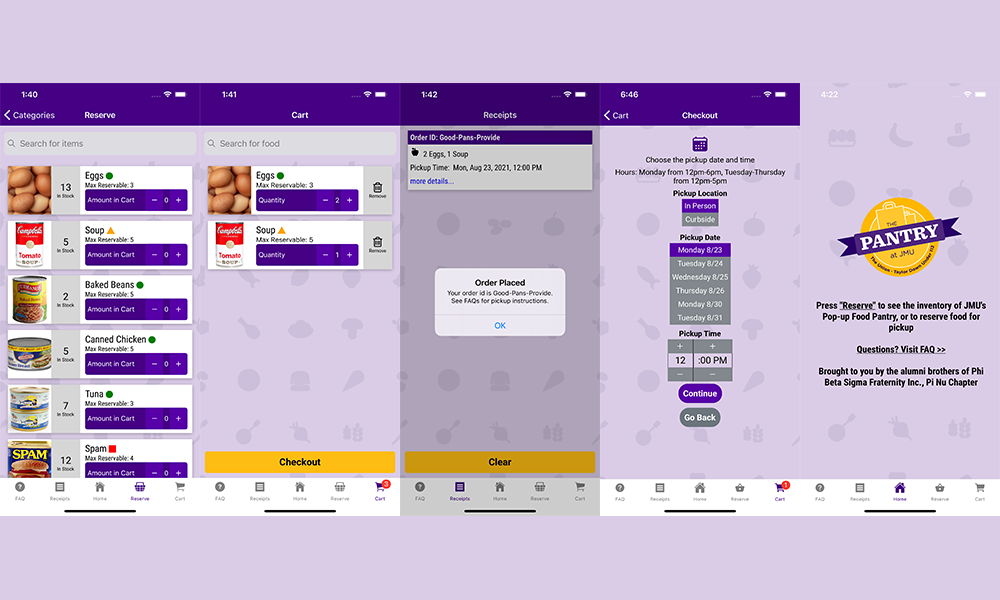 Harrisonburg, Va. —   A recent computer science graduate from James Madison University has developed an app he hopes will revolutionize the way college students in need can access basic goods, hygiene products and produce from campus pantries.  
Beyond making ordering easier and more efficient, Isaac Smith, a 2020 graduate who now works as a software engineer for American Express in New York City, says the app could address the reluctance some students feel about visiting a food pantry.  
"The app gives students another level of dignity and control by allowing them to know what is available," said Smith. Using either an iPhone or Android, JMU students will be able to plan ahead and shop anonymously, opting for either in-person or curbside pickup. Currently, students order through an online form that lacks both anonymity and item descriptions.   
Jeremy Hawkins, assistant director of Off-Campus Life at JMU, said "There is absolutely a stigma around utilizing The Pantry for some of our students. Students experiencing food insecurity report that it has a negative impact on their sense of belonging here at the university, as they look around and don't readily see others struggling in the same manner."  
Initially a concept for a project in professor Michael Stewart's interaction design class, Smith and five other students mapped out the design for an app that would make utilizing The Pantry at JMU, an on-campus supply resource, closer to the experience of shopping at a grocery store. Instead of allowing the project to end when the semester did, Smith continued to work on it, programming the back end as well as an administrative website that pantry volunteers can use to manage inventory.  
"This project felt like it could make a real impact," said Smith, noting that programmers almost always have "passion projects" that no one ends up using. He saw the opportunity to hone his skills while creating something beneficial for others. 
Hawkins said, "When Isaac sent me an email a few months after he had graduated, letting me know that he had been working on building out the application his group had conceptualized, I was floored. Isaac did this all on his own, no prompting, no grade to be obtained, just a desire to grow his own skillset and help out his community."
Expected to launch in early October, The Pantry at JMU app will provide nutritional information for each item in addition to an up-to-date inventory.  
Smith is continuing to develop the app and is even getting a bit of pay through a grant from Blue Ridge Area Food Bank.
"The app was built out prior to that grant being awarded and we're using it now as a means of paying Isaac for making improvements and changes to the original build," Hawkins said. "Our partnership with the food bank is helping to further this project." 
Smith hopes to market the app beyond JMU and hopes that it will one day provide an easy and accessible resource for students at other universities too. 
###
Contact: Eric Gorton, gortonej@jmu.edu, 540-908-1760  
More information about James Madison University, including rankings and recognitions can be found at jmu.edu/about.