Featured Stories
'How can I be a solution?'
One Double Duke's 'Beautiful Voyage' toward advocacy and healing
---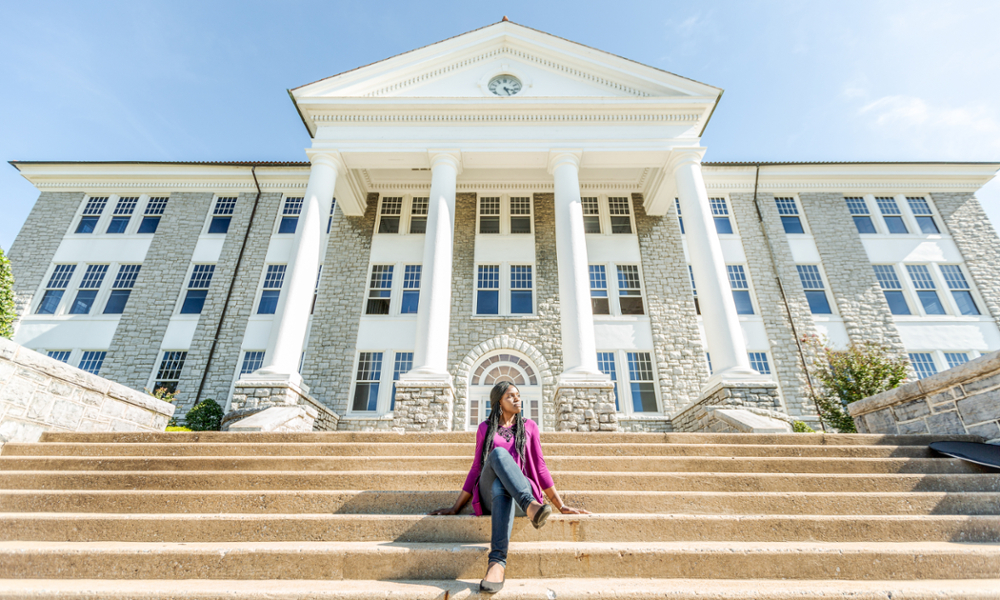 SUMMARY: Tragedy in her native country of Nigeria spurred JMU alumna Vine Adowei ('17, '19M) to seek a profession in human rights, specifically with trauma victims. Adowei also has a blog where she shares stories about advocacy, faith and trauma, and posts more of her writing, including her poetry.
---
By Jessica Nickels ('21)
On April 14, 2014, in the northeast Nigeria town of Chibok, 276 young girls were kidnapped from their boarding school by the militant group Boko Haram. Today, more than 100 girls are still missing.
As Vine Adowei ('17, '19M) watched the events unfold on television, her idea of what she wanted to pursue as a career was solidified.
"This spurred me toward the direction of advocacy and the issue of trauma. It was really eye-opening," she said.
Adowei was born in Nigeria, moved around Europe with her family, and by the age of 9, had resettled in her native country. When she was 19, she applied to the U.S. Diversity Immigrant Visa Program, a lottery in which people from other nations can apply to be permanent residents and become U.S. citizens after five years. Adowei was selected and came to JMU as an international student.
Adowei soon found herself experiencing culture shock—and from more than just the differences in cuisine, attitudes and weather. She learned about human trafficking through a television ad promoted by A21, an organization dedicated to abolishing modern forms of slavery.
"I didn't even know such a thing existed," Adowei said. "It's a billion-dollar industry. Women are being sold for sex or to produce porn, and that was so horrifying to me, to find out something like that existed in the 21st century."
This shocking introduction to human trafficking and slavery sparked a passion in Adowei's soul. "I felt so driven to help this cause in any way I could."
After earning her undergraduate degree in communication studies, she was persuaded by her faculty mentors to pursue a master's degree in communication and advocacy. Adowei said graduate school gave her the tools and knowledge she needed to continue her work in advocacy and trauma, and to be able to leave JMU with a "how-can-I-be-a-solution" mindset.
"JMU gave me access to opportunities to see the world from different perspectives."
— Vine Adowei ('17, '19M)
"JMU gave me access to opportunities to see the world from different perspectives," she said. "I got access to mentors who really guided me in times where I wasn't sure what direction I was supposed to go in or how I was supposed to get to an intended destination."
Upon leaving JMU, and wanting to continue her work with trauma victims, human trafficking and advocacy, Adowei interned with two local organizations, New Creation and the Northern Virginia Human Trafficking Task Force.
New Creation is a nonprofit that creatively counteracts human trafficking by rescuing, restoring, empowering and employing victims of trafficking and those at risk of being trafficked. The organization, which has a shop in Harrisonburg, gave Adowei a more global understanding of how human trafficking operates.
During her internship with the Northern Virginia Human Trafficking Task Force, Adowei completed the first comprehensive national study of human trafficking task forces in the U.S., comprised of 142 local and state governments, boards of directors, social workers and advocates.
"There wasn't anything like this out there in terms of best practices or facilitating collaborations outside of their locality or states," she said. 
Adowei with members of the Harrisonburg Redevelopment & Housing Authority.
After completing the internship, Adowei accepted a position as an administrative coordinator with the Harrisonburg Redevelopment & Housing Authority, which provides vouchers to eligible low-income families toward their rent and promotes affordable housing free of discrimination. Adowei's focus was on the re-traumatization of local homeless people as they go from emergency shelters to sleeping on the streets, and from being served warm meals to having to search for food. The cycle of receiving help one day and not the next can have devastating effects, she said.
Adowei and her co-workers developed a system to reduce the number of veteran and chronically homeless individuals in the community.
"That was very meaningful for me," she said, "because the point at the end of the day is not to say, 'These are the amazing things I did.' It's about these individuals who have been struggling for quite a long time … and being able to address that solution." 
As the COVID-19 pandemic worsened, Adowei turned to a creative outlet she knew she could share with the world: her writing. In March 2021, she published her first book, This Beautiful Voyage: Poems About Life, Trauma, and the Journey to Wholeness.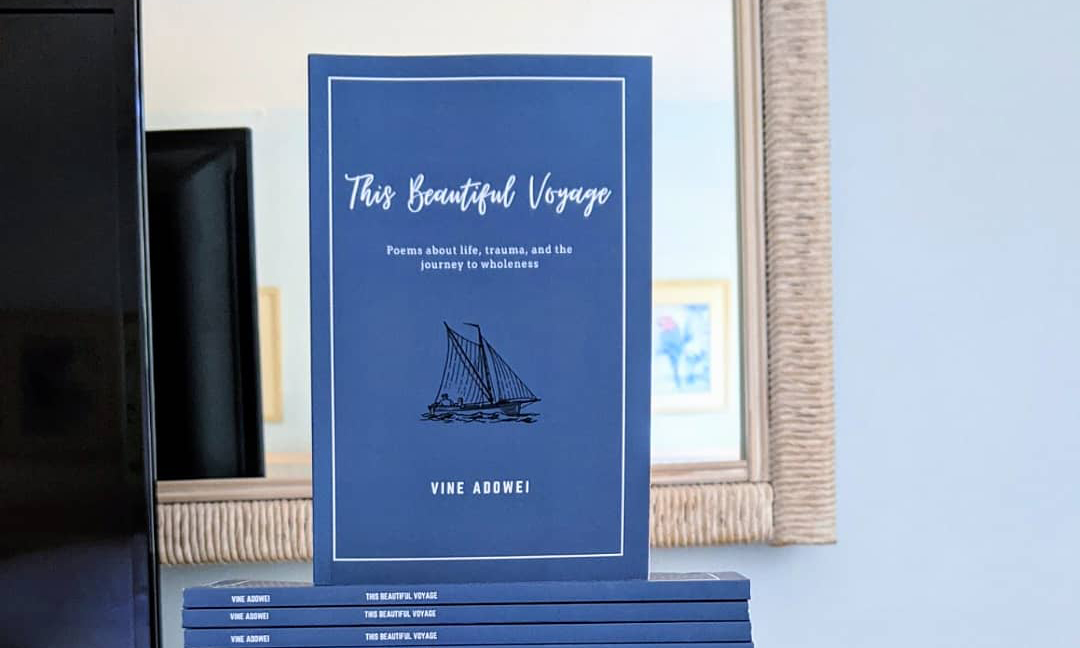 In her literary debut, Adowei explores the mind-body-soul disconnection, anxiety, resilience and the power of healing through creativity, silence and self-love.
"With the hiatus that the entire world was going through, the lockdowns, I was just processing more," she said. "The way [the book] came out was through creativity. I started connecting with my inner child."
Adowei had always been "go, go, going," and the pandemic offered a much-needed break.
"Going from undergraduate studies straight into graduate school, which is really intense as well, and then straight into working … this was my first time in years that I was just pausing and slowing down and not having a lot on my plate. That led to a lot of self-reflection."
Adowei also has a blog where she shares stories about advocacy, faith and trauma, and posts more of her writing, including her poetry. She plans to write more books in the future and wants to bring value to the world through her words and ideas.
"This manuscript, decades from now, will still be here, even when I am gone," Adowei said. "Leaving my imprint in that way, doing meaningful work, being able to be a positive influence and translating that into writing makes it all worth it."
Adowei epitomizes JMU's call to action, Being the Change.
"For me, it means that I go out there in the world and I am a solution-maker. I am perpetuating positivity and bringing my own unique twists to contributions that are being made in the world. I am bringing my own stamp of positive influence."