JMU News
JMU leadership approves new names for three buildings on campus
---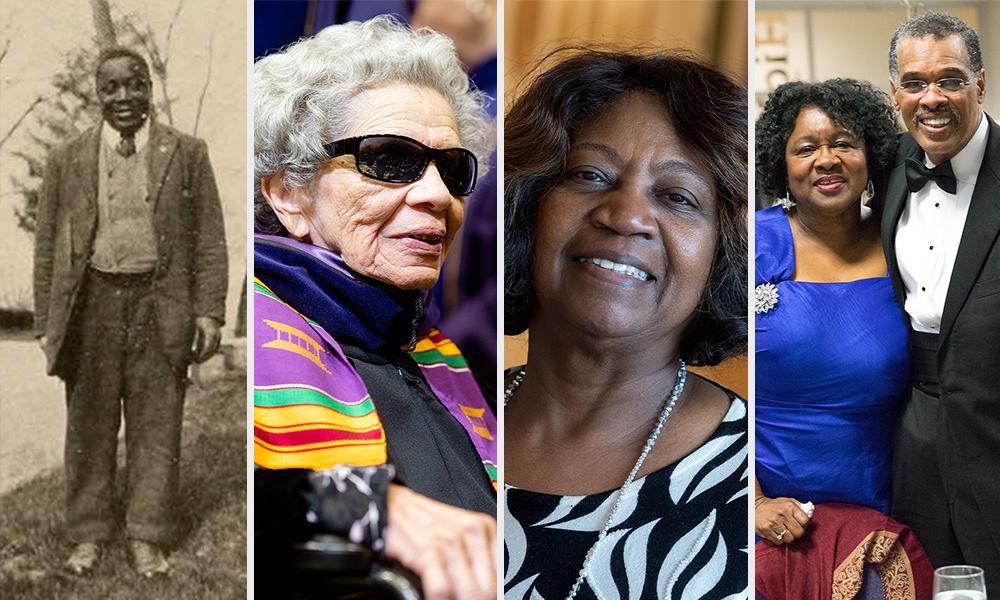 James Madison University's Board of Visitors today approved the renaming of three buildings on the campus's historic Quad for Drs. Joanne V. and Alexander Gabbin; Dr. Sheary Darcus Johnson ('70, '74M); and Doris Harper Allen ('19H) and Robert Walker Lee. 
The recommendations were made by senior leadership in collaboration with the Campus History Committee. 
In July 2020 the BOV voted unanimously to remove the names of three Confederate military leaders from buildings in the bluestone section of campus. At that time, temporary names for these buildings were assigned with the understanding that a process would take place to recommend new building names. To provide recommendations for permanent renaming, the 47-member Campus History Committee received extensive input from members of the campus and extended community. Recommendations were developed over the course of several months, and they were shared with university leadership for consideration and review. 
"Today's decision to rename three buildings on our campus is part of our deliberate effort to underscore JMU's commitment to being a welcoming and inclusive institution," said Jonathan Alger, JMU president. "These names help us to tell a more complete history of our institution. They highlight and celebrate the contributions and accomplishments of important individuals and groups who have historically been underrepresented in prominent campus namings. Collectively they represent faculty, staff, students, alumni and prominent members of our local community."  
The university made the following recommendations to the Board of Visitors, which approved the recommendations during its regularly scheduled meeting today: 
Mountain Hall will be renamed Gabbin Hall in honor of outstanding faculty members Drs. Joanne V. and Alexander Gabbin, professors at JMU for more than 35 years;
Justice Studies Hall will be renamed Darcus Johnson Hall in honor of Dr. Sheary Darcus Johnson ('70, '74M), JMU's first Black student and graduate; and
Valley Hall will be renamed Harper Allen–Lee Hall, in honor of Doris Harper Allen ('19H) and Robert Walker Lee, both dedicated staff members and unsung heroes in dining services and maintenance respectively, as well as active members of the Harrisonburg and Rockingham County communities.
"These recommendations reflect the values of JMU and are intended to acknowledge and redress past barriers and omissions.  They advance our culture of inclusion and reinforce our dedication to an equitable environment where all can learn and work.  Today's approval was guided by a comprehensive and thoughtful process that provided the opportunity to reflect and grow with our evolving campus culture.  The board expresses gratitude to the many committed individuals of the JMU community who have given input and worked to provide the critical information needed to cast our unified vote," said Lara Major, rector of the JMU BOV.
"The recommendations acknowledge extraordinary service to JMU and commemorate contributions of figures of historic significance to the university and community," said Deborah Tompkins Johnson, vice rector of the JMU BOV. "I applaud the work of the Campus History Committee as well as the university for calling for a study of building names, which is just part of the work to move toward racial reconciliation. In July, every member of the BOV supported the removal of the names of Confederate military leaders from campus buildings. Today I am proud to support this change and find it appropriate to rename those specific three buildings for African Americans. The five people we recognize have made significant contributions to the university, to the community at large and at least two on a national level." 
"As advocates for our more than 20,000 students, we deeply appreciate this new embrace of our communities of color," explained Norman Jones III, student representative to the BOV and Campus History Committee member. "On behalf of the Campus History Committee, committed to centering Black and brown stories through renaming, we are humbled and honored to have poured our passion into this reclamation of histories too long obscured." 
Going forward, JMU will continue to seek opportunities to increase campus visibility and acknowledgment of members of historically underrepresented groups whose lives and contributions merit prominent recognition. The university will also build on the work of the Task Force on Inclusion's History and Context working group, and the subsequent Campus History Committee, to find ways to tell a more complete and inclusive history of the institution through various means of communications and media. 
Images of the honorees can be found here. 
Biographical information on each of the individuals can be found at the bottom of this release. 
Media contact: Mary-Hope Vass, vassmg@jmu.edu 
###
Biographical Information 
Gabbin Hall 
Born and raised in Baltimore, Maryland, both Joanne (née Veal) and Alexander Gabbin were delivered, five months apart, by the same doctor in Johns Hopkins Hospital's segregated "colored ward." They met as teenagers and married in 1967, the same year each of them earned their undergraduate degrees from Morgan College and Howard University, respectively. Together, they arrived at JMU as Commonwealth Visiting Professors in 1985 and have taught here since, garnering local, regional and national acclaim for their individual scholarship and teaching. 
Joanne V. Gabbin (b. 1946) 
A professor of English at James Madison University, Joanne Gabbin earned her B.A. in English from Morgan State College in Baltimore, Maryland, in 1967. She received her M.A. and Ph.D. from the University of Chicago in 1970 and 1980. Both advanced degrees emphasized African American literature. She began her teaching career at Roosevelt University in 1971 then went on to Chicago State University and Lincoln University, where she pioneered courses in Black Studies and ran a variety of successful programs, including founding the Langston Hughes Cultural Arts Festival in 1980. She was hired as a Commonwealth Visiting Professor for the Department of English at James Madison University in 1985, the same year Greenwood Press published her book based on her doctoral dissertation, which was the first critical biography of Sterling A. Brown.  
Gabbin became the director of JMU's Honors Program (now the Honors College) in 1986, serving for 19 years, growing the program from 100 to 600 students, and establishing many of the programs that define the Honors College today. In that role, she organized the first Furious Flower Poetry Conference in 1994, which she held at JMU in honor of Pulitzer Prize-winning poet Gwendolyn Brooks. The event was considered historic and likely the largest gathering of African American poets and literature scholars to that date. After a second successful conference a decade later, JMU chartered the Furious Flower Poetry Center in 2005, the nation's first academic center devoted to Black poetry, and Gabbin became its executive director, a capacity in which she still serves. The author of numerous books and founder of the Wintergreen Women Writers' Collective, Gabbin's contributions to the academic field of African American poetry have been acknowledged with awards and honors from such organizations as the HistoryMakers Archives, the National Museum of African American History and Culture, the College Language Association and the International Literary Hall of Fame for Writers of African Descent, among many others. 
Alexander Gabbin (b. 1945) 
A native of Baltimore, Maryland, Alexander Gabbin received his B.A. in economics and mathematics from Howard University (1967), his M.B.A. in accounting from the University of Chicago (1970), and his Ph.D. in accounting from Temple University's Graduate School of Business (1986). In 1970, Gabbin co-founded the National Black MBA Association, Inc. and received the organization's Lifetime Membership Award in 2000. A Certified Public Accountant, he began teaching after a successful career as an auditor with two of the Big Eight firms (Touche Ross and PricewaterhouseCoopers) as well as a deputy director of the Chicago Urban League. He taught accounting at Lincoln University from 1975 to 1985. 
Recruited to JMU in 1985 as a Commonwealth Visiting Professor to teach financial accounting, he went on to become the first Black director of the School of Accounting in the College of Business. He has the distinction of being the only four-time recipient of the James Madison University Outstanding Teacher in Accounting Award (1986, 1988, 1990 and 1992). Currently, he serves as the Academic Unit Head for the School of Accounting and holds the KPMG Professorship. 
In addition to his many honors, recognitions and extensive scholarship—with published articles in The CPA Journal, Journal of Accountancy and Issues in Accounting Education—Gabbin is a 1994 charter member of the Accounting Student Doctoral Association of the KPMG Foundation's Ph.D. Project, which aims to increase the diversity of business school faculty. He also served as the chair of the Franklin D. Watkins Memorial Award selection committee of the National Alliance of African American Athletes from 1998 until 2020. In 2016, he received a Pennsylvania Senate Citation for exemplary dedication to higher education. 
Darcus Johnson Hall 
Sheary Darcus Johnson (b. 1947) 
The first Black graduate of Madison College (now James Madison University), Sheary Darcus Johnson ('70, '74M) grew up in Harrisonburg when public schools were still segregated. She was a student at Lucy F. Simms School, the city's African American school, but in support of her desire to go to college, Johnson's father, Pastor Henry Darcus Sr., met with the Harrisonburg School Board to request that she be enrolled. In 1964, Johnson was one of several Black students to enroll in and desegregate Harrisonburg High School, and she attended classes in the building now known as JMU's Memorial Hall. Two years later, in 1966, Johnson enrolled at Madison College, where she received her B.A. in library science (1970). After graduation, Johnson became the librarian at Waterman Elementary School in Harrisonburg. She then earned her M.S. in elementary education from Madison College (1974) and her Ed.D. with a focus in instructional technology from the University of Virginia (1988).  
Johnson joined the faculty at Virginia Commonwealth University in the College of Education, where she taught library science and supervised student teachers before pursuing full-time ministry work. In this capacity, Johnson administered Victory Academy of Early Learning in Richmond. She also founded Better People, Inc., a nonprofit providing youth and adults the tools to become productive citizens, and The Ministry Connection, a nonprofit providing mentoring and training for women in ministry. Johnson has authored two books, Steps to Empowerment and Why I Didn't Say YES: Understanding the Dynamics of the Body, Soul, and Spirit.  
Harper Allen–Lee Hall 
African Americans have been integral to the success of this institution from the start. When it began as the State Normal and Industrial School for Women (renamed Madison College in 1938 and James Madison University in 1977), all faculty, administrators and students were white. But Black staff members—who perform work without which the school couldn't function—have always been essential. 
Doris Harper Allen (b. 1927) 
Doris Harper Allen ('19H) was born in Harrisonburg's Northeast neighborhood in her family's residence on E. Effinger Street. While Allen was barred from attending Madison College (now James Madison University) as a student because of racial segregation in Virginia schools, she worked as a cook for Madison College President G. Tyler Miller before attending Marshall University in the early 1970s. She worked as an early childhood teacher in West Virginia and eventually returned to Harrisonburg, where she became heavily involved in revitalization efforts in the Northeast neighborhood. 
Allen has published two books, including her well-known memoir, The Way It Was, Not the Way It Is. Allen was a key collaborator in the Celebrating Simms exhibit and was integral in the 2013 renaming of Harrisonburg's Cantrell Avenue to Martin Luther King Jr. Way. Allen's awards and honors include the Shenandoah Valley Hit's Distinguished Female Community Service Award for outstanding contributions to the Shenandoah Valley; the Huntington, West Virginia NAACP's Freedom Fund Lifetime Achievement Award (2017); and the Black Girls Rock award from JMU's Lambda Chi Chapter of AKA (2017). In 2019, she was awarded an Honorary Doctorate from James Madison University for her groundbreaking research and service to the community and JMU students. 
Robert Walker Lee (1875*-1929) 
Robert Walker Lee was employed at the State Normal School from 1909 to 1928, when he provided janitorial and maintenance services in Gabbin Hall (originally Science Hall). As far as we have been able to determine, he was the first Black employee of the school; others' full names are unknown, as they are listed only by first names or nicknames in institutional records. Scrapbooks, yearbooks and other sources document many of Lee's interactions with the faculty, staff and students. In Madison College (1958), Raymond C. Dingledine recalled that Lee regularly left messages on blackboards that "would intrigue early morning classes." 
Born in 1875 or 1885*, Lee attended segregated schools in Rockingham County. Lee and his wife, Ida, had seven children, and he commuted from their home in Bridgewater to the Harrisonburg campus, where he lived during the week along with several other Black employees who provided additional core services. He was a Mason and a member of the historic Ames Methodist Church in Rockingham County. When Lee died in 1929, his obituary noted that his funeral drew one of the largest crowds ever seen in Bridgewater. His descendants still live in this area and celebrate his memory. 
*Lee's grave marker says 1885. His death certificate and other documents list the birth year as 1875.