Lucy Simms ceremony among JMU Black History Month events
JMU News
---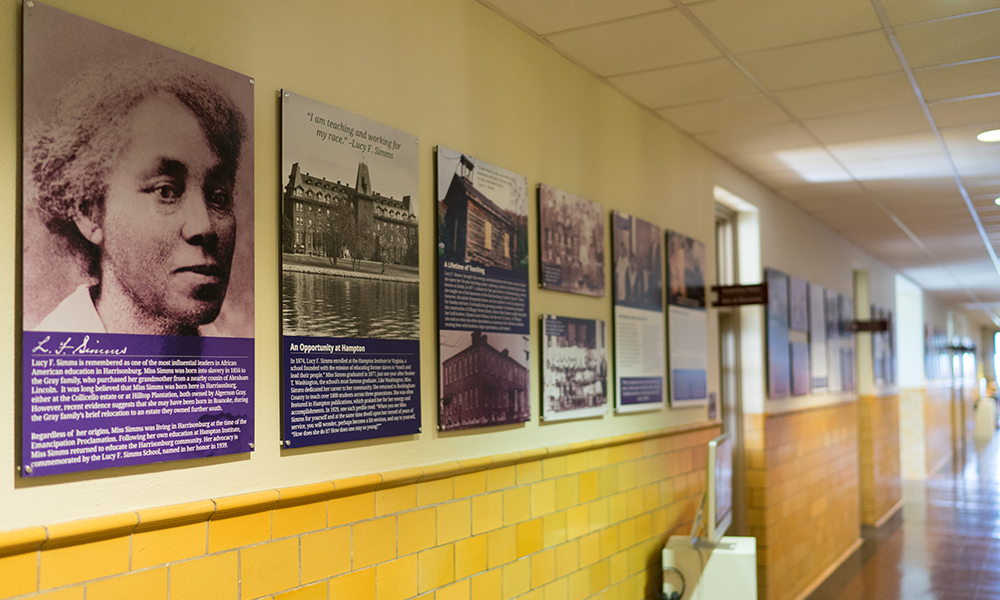 Harrisonburg Mayor Deanna Reed will be among the panelists Thursday, Feb. 18 for a virtual ceremony to open "Celebrating Simms: The Story of the Lucy F. Simms School" at Harrisonburg High School. 
The exhibit in the main atrium at HHS is a copy of the exhibit that opened in 2016 at the Lucy F. Simms Continuing Education Center to celebrate the life of pioneering African-American educator, Lucy F. Simms and the school named in her honor. A collaboration between a team of James Madison University students, the Shenandoah Valley Black Heritage Project, former Simms student Billo Harper and more than 50 community collaborators, the original exhibit took a year to create and features 59 panels and more than 100 photos. The exhibit can also be accessed online at: https://omeka.lib.jmu.edu/simms/welcome. 
James Madison University professors Seán McCarthy and Mollie Godfrey, co-directors of the exhibit, received a $10,000 grant from Virginia Humanities to extend the reach of the award-winning display. In addition to creating a replica at HHS, the money is being used to create a mobile exhibit that can travel to local libraries and other institutions, beginning with the Central Branch of Massanutten Regional Library. 
The hourlong event will begin at 3:15 p.m. with a three-minute video about the project featuring comments from Reed; Michael Richards, Harrisonburg Schools superintendent; Kirk Moyers, social studies coordinator for Harrisonburg City Public Schools; Howard Curry, former Lucy F. Simms School student; and JMU's Godfrey. The video will be followed by a panel discussion about the value of the project from multiple perspectives. 
Panelists, in addition to those in the video, will be JMU's McCarthy; Don Burgess, teacher and varsity boys basketball coach at HHS; Colleen Morris, counseling secretary for HHS; and Betty Buck, a former Lucy F. Simms School student. 
"We could spend days talking about the impact Lucy Simms had on the Harrisonburg community and still not even scratch the surface of how important she was to our city," Reed said. "Lucy F. Simms School is more than a building, it is the foundation of who we are as African Americans in the Northeast Community.  The legacy of Simms School and Lucy F. Simms ties generations of African Americans together, and I am very grateful that we are able to continue to tell her story today and to all future generations." 
The Celebrating Simms exhibit is supported by Virginia Humanities; Harrisonburg City Public Schools; Harrisonburg Parks and Recreation; Massanutten Regional Library; the JMU African, African American, and Diaspora Studies Center; and the JMU College of Arts and Letters. 
Additional information and resources about Simms and the project honoring her can be found at https://www.lib.jmu.edu/feature-friday-simms/. 
The Celebrating Simms exhibit opening is one of several Black History Month observations hosted by or involving JMU. 
A three-part virtual Symposium: Teaching and Learning the Politics of Racial Justice begins at 2:30 p.m. Friday, Feb. 12 with panelists discussing, "The Politics and Policy of Racial Justice in the U.S." Another panel will discuss "Systemic Racism in U.S. Political Institutions" at 11:45 a.m. Friday, Feb. 19. The symposium will conclude at 2:30 p.m. Friday, Feb. 26 with a panel discussion on "Global Perspectives on the Politics of Racial Justice." 
Additional information about the symposium, including how to join the discussions, can be found at https://www.jmu.edu/civic/racial-social-justice.shtml. 
The 11th Annual African, African American and Diaspora Studies Interdisciplinary Conference will be held virtually from Wednesday, Feb. 17-Saturday, Feb. 20. Ranging across topics from archival practices to Black Lives Matter, the conference will bring together a group of scholars and archivists from a wide variety of overlapping and intersecting fields. More information and a link to register can be found at https://sites.lib.jmu.edu/aaadjmu/. 
Also on Feb. 17, at 8 a.m., is the "Sisters in Session Black Women in the Academy Conference." This year's conference focuses on the sustaining power of Black Women in collectives and in collective action as rooted in a long history of Black women movements, evidenced in their continual political organizing that has supported positive efforts for greater inclusion, and sustained by transformational self-care practices. The registration deadline is Friday, Feb. 12. More information and registration can be found here: https://www.signupgenius.com/go/60b0e4fa9ae2fa0f49-black. 
An Africana Studies Workshop: "When Adulthood Trumps Gender: Electoral Prospects in Kenya" will be held 4:30-5:30 p.m. Monday, Feb. 22. To download the paper or request access to the event, please contact Ardyn Tennyson at tennysal@jmu.edu. 
The next Madison Vision Series event, "Sharing Stories of Success and Triumph: Black Alumni Through the Decades," will be held at 7 p.m. Wednesday, Feb. 24 and will feature five Black alumni who will discuss their own journeys to success after their time at James Madison University. The event will be live-streamed on JMU Facebook and YouTube. More information about the Madison Vision Series can be found here: https://www.jmu.edu/president/mvs/.
# # #