Nation and World
Speaking the truth
Student speaker for Virtual Conferring of Degrees hopes her speech provides a sense of closure
---
SUMMARY: Lauren Springer ('20), a business management major, has been chosen as the student speaker for the Virtual Conferring of Degrees on May 8.
---
By Jazmine Otey ('20)
When Lauren Springer ('20) applied to JMU, she was told she didn't have what it took to get in. Now, four years later, not only is she graduating with myriad accomplishments under her belt, but she's also been chosen as the student speaker for the Virtual Conferring of Degrees on May 8.
The senior business management major is highly involved with JMU's Rebound program, worked as an Orientation Peer Adviser and was a 2019 Madison Royal Court nominee. But Springer's college career wasn't easy. Her success stems from her resilience in the face of life's challenges. From being told she wasn't capable of getting into JMU to failing a class her sophomore year, Springer never let others or unfortunate circumstances shape her destiny.
Through her speech, Springer wants to instill hope in members of the Class of 2020. Just as she didn't allow people or circumstances to discourage her, she doesn't want her fellow graduates to grow discouraged by COVID-19 and this time of uncertainty.
"This pandemic has rocked our world and changed the way that we live," Springer said. "But that doesn't mean we can't celebrate people who deserve to be celebrated. We're graduating from one of the greatest institutions in the United States, and that is a huge accomplishment."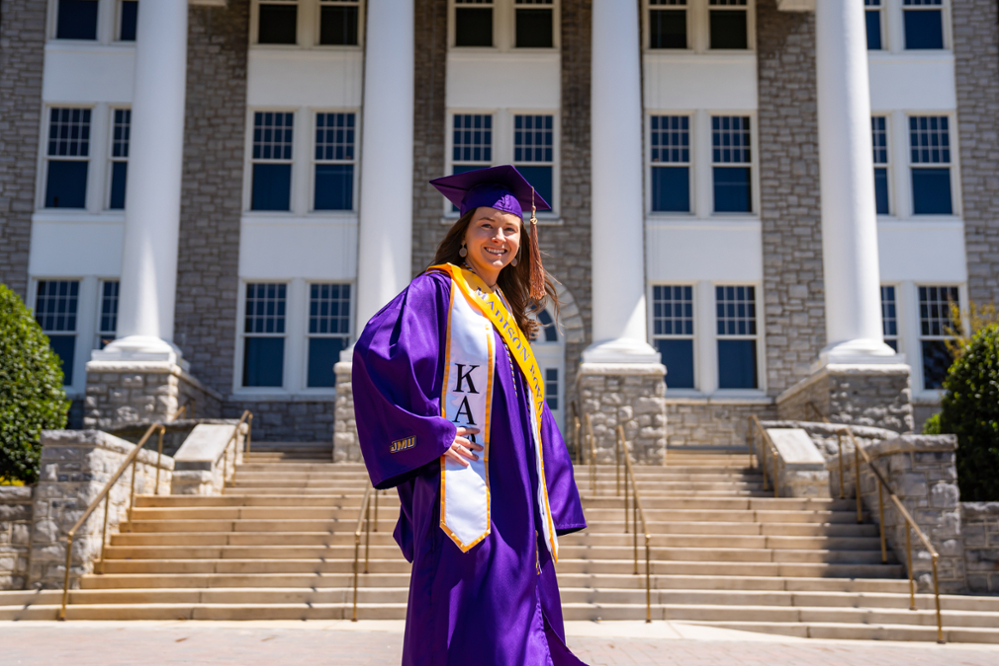 (Photo by Cody Troyer) 
While this might be Springer's final mark on JMU as an undergraduate, it's certainly not her first time serving JMU's community.
During her junior year, when she was offered a position to serve as an OPA, she knew immediately it was a role she wanted to fill.
"I wanted to show someone else what it meant to be a part of this community and to be that supportive, loving, compassionate person that someone was to me [freshman year]," Springer said.
Kendallee Walker, a junior international affairs major, worked closely with Springer when they were both OPAs. Walker recalls many times when Springer offered her words of encouragement when she was feeling overwhelmed and on the verge of giving up.
"She is so assured of herself and she just comes off like a firecracker," Walker said. "She is, for sure, a businesswoman and she is just there to get things done. But she has a big heart and is still open to hearing different perspectives from different people."
Springer's involvement with JMU's Rebound program, which works with students to overcome and learn from personal setbacks, came soon after her time as an OPA. During the summer after her junior year, she met Josh Bacon, JMU's dean of students. During their conversation, she confided in him about a difficult time during her sophomore year when she failed a rigorous financial accounting course. Although Springer was devastated, she didn't let it defeat her, and eventually decided to lean on JMU for support and accommodations.
Moved by her story, Bacon asked Springer if she'd be interested in sharing a video for JMU's Rebound program.
At first she was uncomfortable with the idea, but she ultimately pushed herself out of her comfort zone and agreed to take part in the video.
"It was very freeing to be able to finally talk about your failures and maybe help someone help someone else in the process," Springer said. "My goal behind it was to empower someone else to tell their story and ask for help."
Springer was surprised when she was selected by SGA to be the student speaker. But to those around her, it was far from shocking. 
"She literally bleeds JMU and bleeds purple and gold," said Toni Clubb ('17), a close friend of Springer's. "She absolutely loves that place. She's so involved, and nobody deserves it more than she does."
Springer said being a speaker at the virtual ceremony will provide her with a sense of closure due to the unanticipated effects COVID-19 had on her final semester. She hopes her speech can do the same for her fellow graduates.
"I am just overjoyed and so excited to leave a lasting impact on this institution," Springer said. "There's a plan for us out there that we don't even know is coming yet."
# # #