JMU News
Spring 2020 Commencement Update
---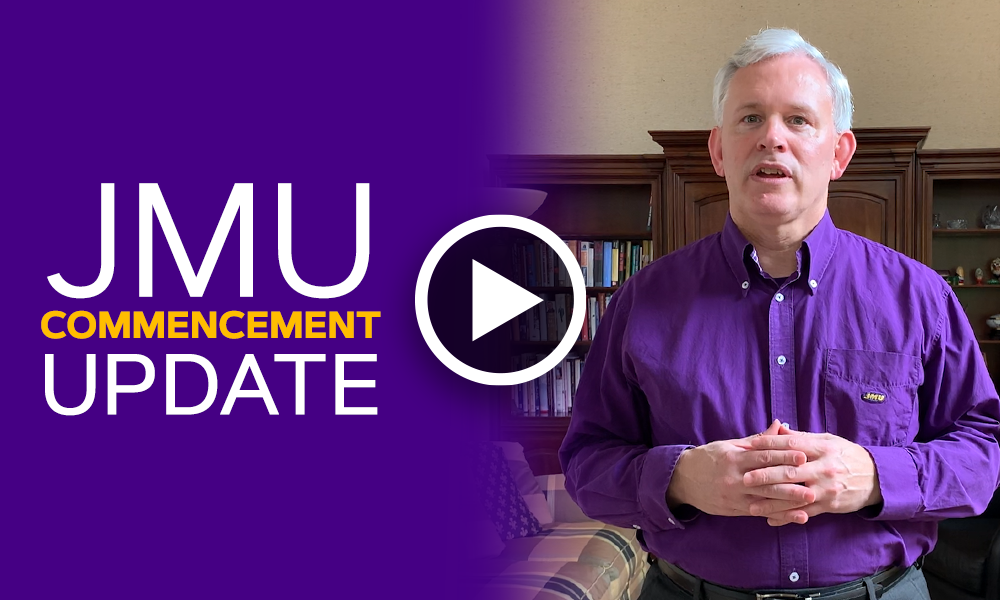 Click here to view a special video message from President Alger.  
---
Spring 2020 graduates,
I hope this note finds you and yours healthy. Throughout the evolving COVID-19 pandemic, we have paid special attention to you, our graduating class. I know this is not what you had in mind for the culmination of your time at JMU, and that the necessary postponement of commencement ceremonies disappointed many of you deeply, as it did me.
That is why I am so pleased to announce today that we have set a date to gather together on-campus in August to celebrate your achievements. In addition, we have planned a full slate of activities, both online in the near term and in-person once it is safe, to recognize your accomplishments.
If it is safe to do so, commencement ceremonies will happen on campus August 7 – 8.
If public health conditions allow, students and their families, friends and loved ones are invited to Harrisonburg to celebrate graduates' accomplishments in early August. The university will host a series of special events on campus and downtown for graduates on August 6 and 7, culminating with in-person commencement ceremonies on August 7 and 8.
My administration and I are still working to solidify the details, but please be on the lookout for a communication that will ask you to RSVP to the commencement events. It is important that you RSVP, as the number of responses will dictate the format of the events.
If for health and safety reasons we are unable to gather in August, we will host these events at a later date. We hope this does not become necessary, but acknowledge it is a possibility. Please be assured that we'll do everything we can to provide a memorable commencement experience for you and your families.
In the meantime, you will become an official graduate of JMU on May 8, and we are excited to celebrate that important achievement with you online.
In keeping with JMU's academic tradition, graduates will have their degrees conferred on May 8, making you official graduates of the institution at that time. On May 8, we will host a virtual conferring of degrees, where you will be able to gather online with friends and family to receive congratulations from me, hear from your student speaker and be formally presented as the Class of 2020. Leading up to May 8, there will be a number of events online and in social media that celebrate you, and you'll be receiving a special gift in the mail shortly thereafter.
For those of you who have purchased your caps and gowns, this will be an excellent opportunity to practice turning your tassels ahead of our in-person celebration in August. For those who have not yet purchased regalia, the JMU Bookstore is currently offering free shipping.
While we don't have all the details ironed out, I ask that you hold the dates noted above and be on the lookout for more information from us. Additionally, we are looking at ways to engage with you this fall, such as special Homecoming and other events for this year's graduating class. More to come on that.
I can't wait to see you back on campus later this summer. Finish the semester strong, and go Dukes!
With warm regards,
Jonathan Alger
President, James Madison University