JMU News
An update from President Alger
---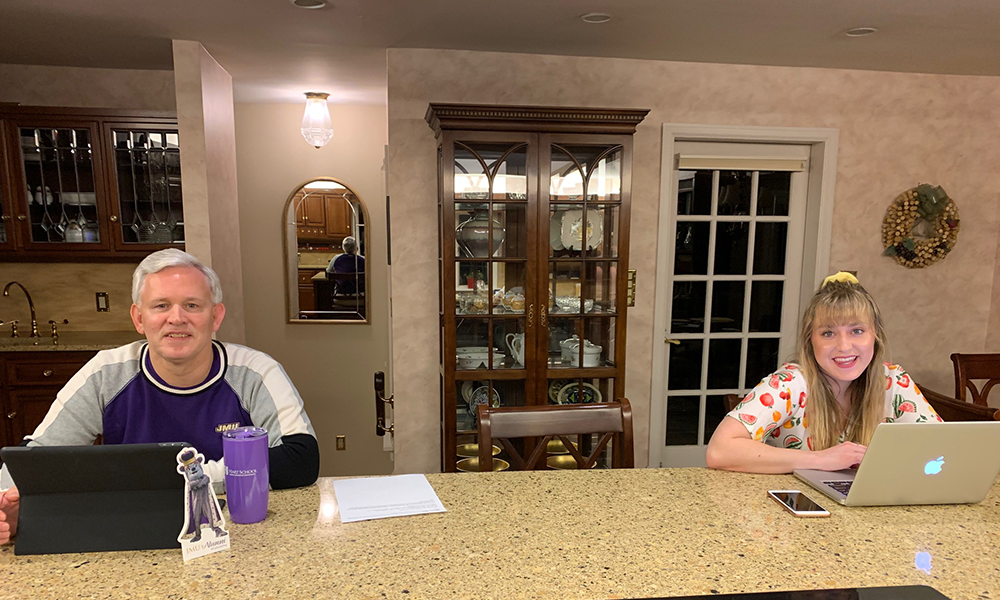 Dear JMU Community,
I want to share some updates with all of you as we continue to work through the pandemic together. The campus is beautiful this time of year, but it is eerily quiet with the exception of birds enjoying the advance of spring. Every day blends into the next, through the endless series of WebEx and Zoom conference calls, as we strive to stay in contact and make good decisions while maintaining physical distancing.
I know all of us are feeling a mixture of emotions: fear, anxiety, perhaps boredom with our restricted new routines, and uncertainty about the future—among others. But in the midst of all of our challenges, we also see a tremendous amount of positive energy and activity directed toward our educational mission. It does not matter where our people are physically located for the time being—they still care deeply about this university, and they are bringing their talents and skills to bear to solve problems creatively and to make the best of difficult circumstances for all of us and for our communities. We will continue to post important announcements and updates at our COVID-19 response site (see the blue banner at the top of the JMU homepage), but here are some quick highlights:
Virtual Classes: By all accounts, the transition to virtual classes has gone about as well as one could possibly expect given the time and technology constraints. For our students, we know this has been an enormous adjustment on your end too, and we deeply appreciate your understanding as we strive to provide the best possible learning environment using the tools at our disposal. We thank you for your patience, flexibility and resilience during this extraordinary time. We are also grateful to your families for their support as you continue to learn remotely.
To our faculty members, I have never been prouder of you for demonstrating tremendous resolve and creativity in delivering course content in new ways. You have done so while supporting our students with the kind of personal care and attention for which JMU is nationally recognized. You have partnered with colleagues across the university, including superb support from the JMU Libraries, information technology specialists and other staff who have worked around the clock to troubleshoot and to keep our classes functioning.
Our People: Many of you know that one of my constant refrains is that our people are our most important strategic resource. This has never been more true or apparent than now. Everybody has a role to play in this unprecedented situation, and I have been encouraged and inspired by how people have stepped up to do whatever is necessary to meet our evolving needs while also facing the very personal threat of this pandemic and its potential impact on themselves as well as their families, friends, colleagues and neighbors. I want to say a personal word of profound thanks to everyone who works at JMU for the many ways you are rising up to every new and emerging challenge with courage and resolve. As a former colleague reminded me this week, this crisis has reinforced for all of us the importance of personal relationships and human interaction—and nowhere is that need more evident than in the field of education.
Budget/Finances: As everyone knows, university budgets are taking a huge hit right now from multiple directions. JMU has always prided itself on being an institution that does a lot with fairly modest resources, which is why we are consistently ranked nationally among colleges as a "best value" in American higher education. From partial repayments of room, board and parking fees to event cancellations to market-based declines in the endowment, we have seen sharp revenue drops as well as suddenly increased expenses (e.g., for technological support for so much distance education). Of course, we are also doing everything we can to save money wherever and however we can during this critical time. Every division of the university has stepped up to figure out ways to help us manage the fiscal challenges even as we seek to maintain our core academic mission and plan for the future. We are also striving to learn how we can become even more efficient and effective with the resources we have, and all of us are learning through experimentation and innovation. We don't yet know what the budget will look like for this coming academic year, so we're making multiple contingency plans to prepare for the possible scenarios we might face.
One issue with the budget and finances we are most certain about is that additional student support—for everything from scholarships to mental health and food insecurity—will play an incredibly vital role as we recover from this unprecedented crisis. Four funds are featured on the JMU Give site if you are in a position to help. Thank you to the hundreds of donors who already have given to these funds since the onset of the pandemic.
State and Federal Advocacy: We know we're not alone in facing these uncertainties, and thus a significant amount of our time right now is being spent advocating for higher education at the state and federal levels. JMU is working with its sister institutions across the Commonwealth and the country in demonstrating the impact on higher education of this pandemic, and in advocating for support and solutions for higher education going forward. We know that institutions of higher learning will play a critical role in the nation's recovery from this crisis, and that we also serve as vital anchors for our communities.
Community Engagement: Speaking of the community, many people within the JMU family have stepped up to use their talents and ingenuity to address urgent community needs. Among them:
If you have good news to share during these extraordinary times, please use this form to submit it to our Communications team. Not every story can be told, but we'll follow up for more details as we can.
Commencement: University leadership remains committed to seeking a date for an in-person Commencement exercise contingent upon health authorities giving an all-clear sign once the pandemic ebbs. In the meantime, the university plans to confer degrees as originally scheduled on May 8, but in a virtual format, as well as provide congratulations to our graduating seniors at that time. Please keep an eye out for more messages from me and on the COVID-19 website for more information.
Admissions and Enrollment: We are in the midst of a very busy season as we strive to recruit the next incoming class of JMU students. Information about academic programs, virtual tours, live chats and more can be found at our Virtual CHOICES site. Members of the JMU community have stepped up through postcards, phone calls and other forms of personalized outreach to prospective students.
JMU's National Role: Even as we focus on the immediate crisis at hand, we are also striving to be a national voice on the importance of higher education and its role in civic health and recovery. Here is a link to a recent podcast on this topic that I recorded with our James Madison Center for Civic Engagement. Also, Chief Digital Evangelist at Salesforce, Vala Afshar, tweeted about a post on the popular technology and business site ZDNet.com about how JMU responded to the crisis (thanks to '86 alumnus John Taschek, SVP of Market Strategy at Salesforce, for the assist!).
Please stay in touch with other members of the JMU community during this difficult time for us all. Share your stories and words of encouragement. We know that the JMU spirit is strong, and together we're showing that we can overcome all sorts of obstacles. Stay well, and Go Dukes!
Jonathan Alger
President, James Madison University