JMU News
JMU School of Nursing well prepared for switch to virtual simulation
---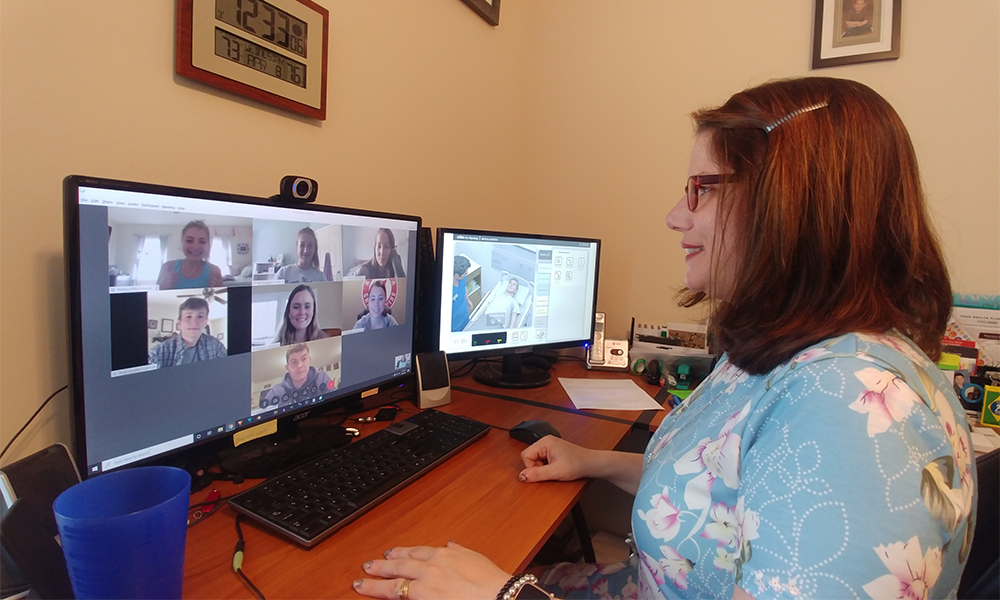 Nursing students across Virginia are normally required to get 500 hours of practical experience in clinical settings, but a lot of those students are having to finish up those hours virtually this spring. 
Fortunately for students and nursing schools, Virginia waived some of the requirements for in-person training this spring and is allowing students to have more training via simulation. 
The JMU School of Nursing was ready for the challenge. 
On March 9, the Monday of spring break week, "We decided this was going to be an issue so we spent the entire spring break making plans so the students had a seamless transition into virtual simulation and that included an extensive plan to prepare the faculty," said Jamie Robinson, associate director for undergraduate programs in the School of Nursing. 
Melody Eaton, head of the School of Nursing, said, "We were very proactive in developing this plan. We were ready to hit the ground running." 
The shift to virtual simulation impacts seniors the most because they get the bulk of their clinical experience, 200 hours, in their final year. Robinson said half of the 90-member senior class was able to complete their hours in the first half of the semester, but the rest are completing the time via simulation. Due to the pandemic, the program's clinical partners have been unable to bring students in. 
"What's unique about the way we are doing it, we're having the instructor be with the students during the simulation as if they were still in clinical and discussing decision making on an ongoing basis," Robinson said. "Every time a student encounters a decision-making process in their virtual simulation, they pause the video, discuss it among the group and with the instructor and come up with the best recommendation. They're still getting a lot of collaboration and they are really still getting a pretty full experience when it comes to using virtual simulation." 
Overall, the School of Nursing has 384 undergraduate students, and plans are being made to address instructional adaptations for as long as necessary, including into the fall semester. For some classes, little change will be required. 
"Several of our graduate programs are completely online and the undergraduate programs, a lot of the courses have a hybrid component," Eaton said. "We were well prepared for transitioning all course and clinical components to an on-line format." 
Media contact: Eric Gorton, 540-908-1760, gortonej@jmu.edu
# # #