Health and Behavior
Exploring the forest
---
SUMMARY: JMU's UREC Adventure Program offers over 20 different programs for students to experience the outdoors. Students have access to equipment rentals to explore activities from biking and rock climbing to white-water rafting and backpacking.
---
By Jazmine Otey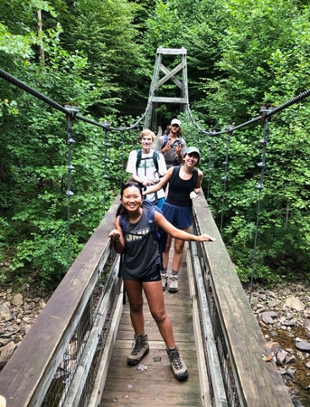 George Washington National Forest beckons a community of individuals bound by their love of the outdoors. Through James Madison University's vibrant UREC Adventure program, students can escape college stressors and immerse themselves in a variety of well-known nature sites, such as GWNF, for an affordable price.
"I've gotten a lot of experiences through UREC adventure," said Danny Bavis, an adventure manager and trip leader. "I've gotten so much better at rock climbing and tying anchors and different stuff like that. I've gotten to go places that I normally wouldn't have gotten to go to."
The UREC Adventure program offers over 20 different programs for both beginners and experts. There are programs that involve biking, rock climbing, white-water rafting, backpacking and more. Students also have access to free transportation and equipment rentals, including gear for rock climbing, camping, backpacking along with kayaks, paddle boards, canoes and hiking boots.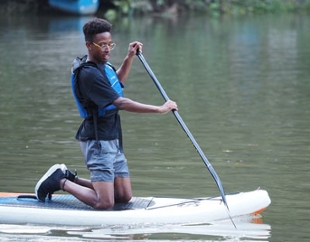 "What we really wanna see is students getting active and trying new things. And a lot of it is just student development, having students find something they haven't done before and then learning from that new experience," said Rafael Burina, an adventure specialist.
UREC staff members encourage students to come out, explore nature and become a part of their lively community.
"During the school year when you're doing homework and stuff it gets really stressful and it knocks you down," Robert Fletcher, a senior health sciences and business double major, said. "Being here out in the wild you kind of detach yourself away from all those stressful things in your life and all that anxiety and you can really just learn to appreciate the freedom and the ambiance."
# # #