JMU students restore Porsche for top prize
JMU News
---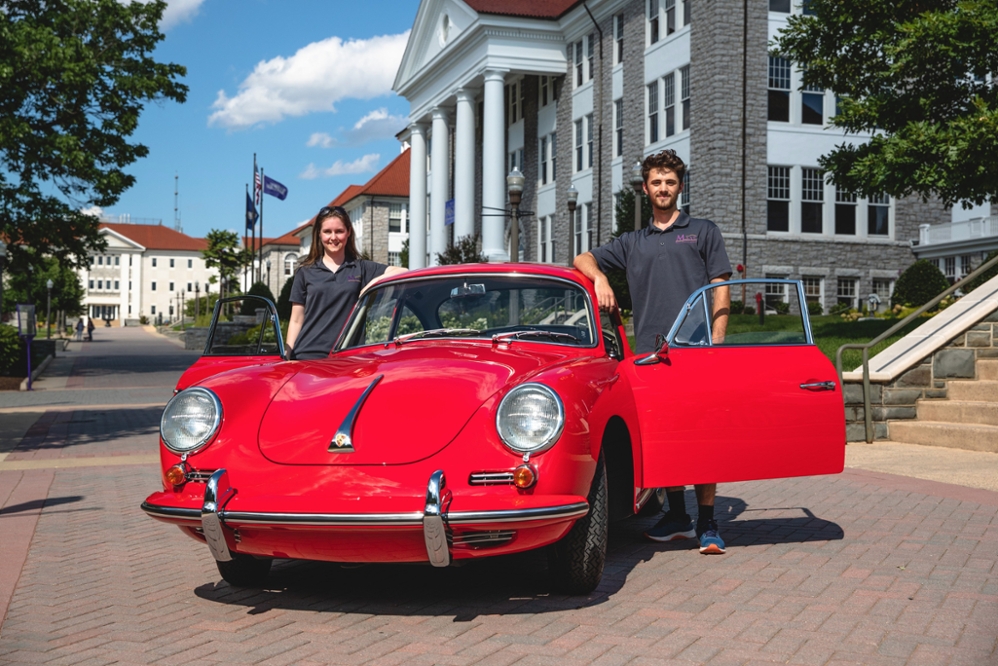 It's pretty obvious that the 55-year-old signal red Porsche sitting in the middle of a Harrisonburg shop isn't the latest model, but the 1964 356SC looks like it just came off the assembly line.
Judges at the Porsche Club of America's premier event, the 64thAnnual Porsche Parade in Boca Raton, Florida, were impressed with its condition, giving it 299 points out of a possible 300 for a best-in-class finish in July.
Owned by Shannon and Katherine Kennedy of Charlottesville and restored by James Madison University students interning at a unique nonprofit, the car beat out other entries restored by for-profit businesses.
Now that the car has won as a showpiece, the students, who intern at Madison Automotive Apprentices, will go back to work to make it roadworthy.
"You can have a show car or you can have a road car, but not both," said Cole Scrogham, an eight-time national champion team owner with Porsche brand and the founder of MAAP.
While winning a prestigious award was nice, the real payoff for MAAP interns is the hands-on experience that prepares them to be productive employees the day they step off the stage with their diplomas.
"We are connecting dots between a four-year degree and actual work," Scrogham said.
That model for training students is what attracted the Kennedys. "After seeing what Cole has done here with the program and what it's capable of, we just really wanted to support it as much as we wanted to build the car," Shannon Kennedy said.
Kennedy, who belongs to the same Porsche Club of America affiliate as Scrogham, also said he likes seeing students gain an appreciation for vintage automobiles.
MAAP, founded in 2016, is an automobile/motorsports enterprise, but the skills students learn prepare them for a variety of careers, including engineering; nonprofit management; economic development; grant writing; automotive history; communications; social marketing; and event and project management.
For now, MAAP will continue its highly coveted internship program, but Scrogham has big plans for its future, including for-credit classes with two tracks, automobile restoration and motorsports services.
To arrange an interview with Scrogham or the Kennedys, contact Eric Gorton at gortonej@jmu.edu or 540-908-1760.
 # # #