JMU News
JMU grad receives prestigious State Dept fellowship
---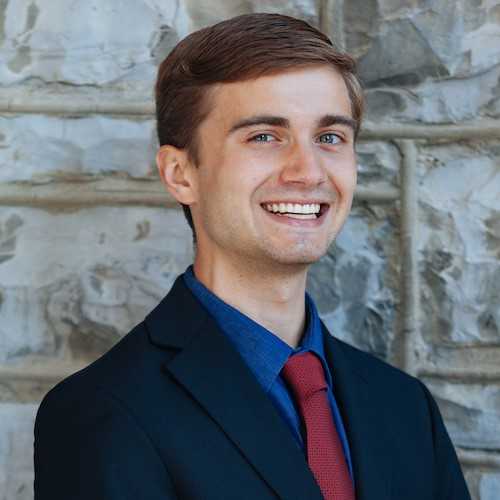 The Center for International Stabilization and Recovery (CISR) at James Madison University announces recent JMU graduate Daniel Gurley ('19) of Reston, Virginia as the 31st recipient of the Frasure-Kruzel-Drew Memorial Fellowship sponsored by the U.S. Department of State (DOS). Gurley will serve at the DOS Office of Weapons Removal and Abatement (PM/WRA) in Washington, D.C., assisting the U.S. government's conventional weapons destruction (CWD) program, which includes humanitarian demining and other post-conflict security assistance.
Now in its 20th year, the fellowship was established in 1999 in memory of Ambassador Robert C. Frasure, Dr. Joseph J. Kruzel and Col. Samuel Nelson Drew, who lost their lives in an August 1995 automobile accident in Bosnia and Herzegovina while on a diplomatic mission to help negotiate peace. CISR has managed the fellowship in concert with PM/WRA since its inception.
Daniel Gurley graduated from James Madison University with honors obtaining a degree in geographic science and a triple minor in French, political science and humanitarian affairs. While a student, Gurley became a founding member and later elected president of Dukes for Demining and Peace, an official JMU student organization focused on bringing awareness to global post-conflict issues. In addition to working as a student research assistant with CISR during his undergraduate career, Gurley completed internships with the Center for African Development at the College of William & Mary, Fenix Insight, Ltd. in the UK, AidData and the U.S. Department of State, which strengthen his understanding of humanitarian programming and the fostering a global community.
As a Frasure-Kruzel-Drew Memorial Fellow, Gurley will assist PM/WRA staff with managing CWD resources and programs for multiple geographic regions. PM/WRA works around the world to deliver programs and services aimed at reducing the harmful effects of at-risk, illicitly proliferated, and indiscriminately used conventional weapons of war, and funds the clearance of landmines and other explosive remnants of war in communities recovering from conflict. The U.S. is the world's leading financial supporter of CWD programs, providing more than $3.4 billion in assistance to more than 100 countries since 1993.
"I am incredibly honored to have been selected to be a FKD Fellow," says Gurley, "I look forward to contributing in some part to CWD projects around the world and hope to grow immensely from this experience over the next two years."
As a global leader in connecting people, resources and ideas, CISR envisions peaceful and prosperous futures for communities impacted by conflict. Since its establishment in 1996, CISR has helped communities affected by war and trauma through innovative research, training, information exchange and direct services. To learn more about CISR visit https://www.jmu.edu/cisr.
Media contact: Hannah Robinson, robinshl@jmu.edu, 520-222-2808
# # #