Featured Stories
Honoring the sacrifice
Alumna helps veterans visit D.C. memorials
---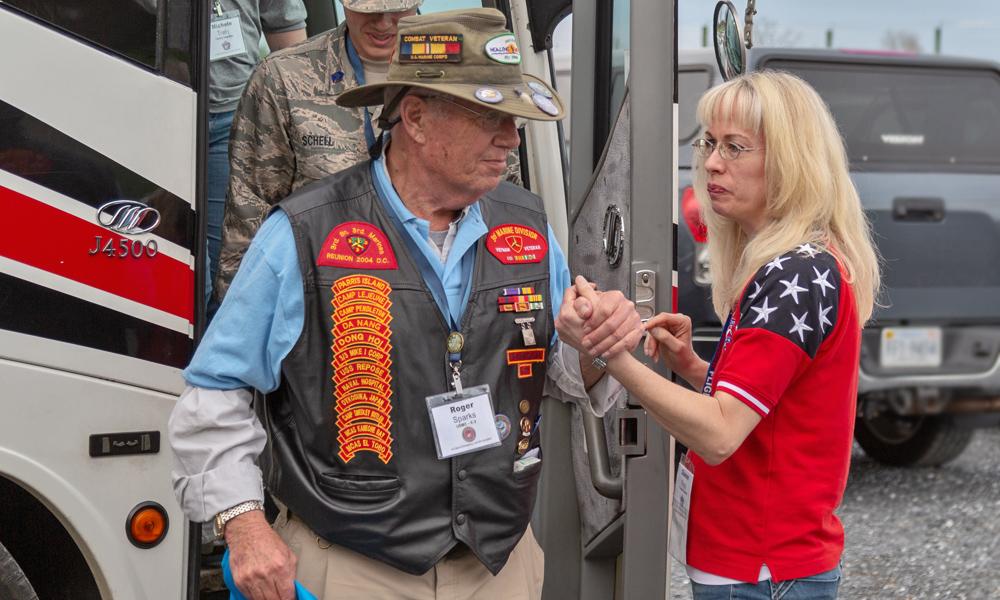 SUMMARY: Dianne Klopp ('91), founder and president of the Top of Virginia chapter of Honor Flight, has helped hundreds of veterans from the Shenandoah Valley visit war memorials in Washington, D.C.
---
By Sabrina Moreno ('19)
On weekday mornings, Dianne Klopp ('91) rises early to go online to teach English as a second language to children in China. Then, after homeschooling her own children, she ventures into her daily checklist for Honor Flight—a nonprofit organization whose mission is to transport American war veterans to the Washington, D.C., memorials, free of charge.
As the founder and president of the Top of Virginia chapter, which operates out of Klopp's home near Winchester, Virginia, and serves veterans in the Shenandoah Valley, all of the calls come to her personal phone. She says it's "all really grassroots" and volunteer-based, making the group effort one of the most important aspects to planning each trip.
"It's like our Super Bowl," Klopp said. "It takes so many months and hours and hours of planning."
On every mission, Klopp attaches her father's service picture to her badge as a way to take him with her. He died before getting to see the memorials.
"I think that's why it's urgent for me to help other veterans to get there," Klopp said. "So they can see it before it's too late."
More than 250 area veterans, some of whom served in World War II, have made the trip since the chapter's first mission in October 2016. Now, Honor Flight is seeing more Vietnam veterans, who Klopp says experienced war in a different manner.
"Some have told me, 'I got spit on,' 'Someone tried to set me on fire in the airport.' I mean, the stories they have," Klopp said. "It's really hard for them to experience that day of honor because they still carry those feelings from long ago that they don't deserve it and that they're not worth it."
These stories only push Klopp to work harder to ensure it's the ultimate day of honor for veterans. She says letting them know how thankful people are for their service and sacrifice is what makes it so special.
Each trip begins by 7:30 a.m. with breakfast. The veterans receive their Honor Flight polo shirt, are paired with a guardian—often a JMU student—and then leave for the Air Force Memorial. After a boxed lunch, veterans receive a police escort through D.C. to the Arlington National Cemetery for the changing of the guard. 
"That's my favorite stop of the day," Klopp said. "We are the only group that's allowed to drive the tour buses directly up to the Tomb of the Unknown [Soldier] so that the vets don't have to walk."
Then, the bus takes them to the WWII and Korean War memorials and the Vietnam Wall, which, for many, offers a sense of closure. Later, each veteran receives a packet of letters from family members and the local community thanking them for their service. Afterward, they enjoy a catered dinner with "Welcome Home" banners. The bulk of donations comes from community organizations, the rotary club and various local businesses.
"Dianne does a fantastic a job. You [might] have heard it before—she's like the Energizer Bunny. She just has her fingers on top of everything, and she goes and goes and goes."
— Dave Matthes, board member, Top of Virginia chapter
Some veterans fall in love with Honor Flight after going on a trip and continue to give back.
Rodney Hildebrand had the opportunity to share his trip with his dad, a World War II veteran. "It's just such an amazing experience that I just want to get behind the organization and give them all the help I could and help [Dianne in] any way," Hildebrand said. "She's over the top when it comes to helping veterans."
Dave Matthes, a veteran and one of 10 Top of Virginia board members, says Klopp fuels the chapter's success.
"Dianne does a fantastic a job," Matthes said. "You [might] have heard it before—she's like the Energizer Bunny. She just has her fingers on top of everything, and she goes and goes and goes."
Hildebrand says the comments and emotional letters Klopp receives following each trip make the effort worthwhile, and the recognition the veterans receive is something "you just can't explain until you've been there and seen it."
Klopp feels lucky to work with such passionate people and looks forward to continuing these days of honor and involving more JMU students. Because of her close connection to Harrisonburg, Klopp feels the Friendly City would be a logical place for a new Honor Flight chapter.
"It's just great to be able to bring it back to the Harrisonburg area because even after you've moved away, the 'Burg is always in the back of your mind," Klopp said. "It's always home."