JMU in the Community
And they danced
Community members with Parkinson's benefit from dance therapy program
---
SUMMARY: The College of Visual and Performing Arts and the College of Health and Behavioral Studies teamed up during the Spring 2019 semester to offer dance classes to community members with Parkinson's disease.
---
People living with Parkinson's disease can sometimes feel trapped in their bodies. That's why the College of Visual and Performing Arts and the College of Health and Behavioral Studies teamed up during the spring semester to help local residents with the disease rediscover the joys and benefits of movement and music.
Dance for PD is an internationally acclaimed program developed by the Mark Morris Dance Group of Brooklyn, New York, that creatively addresses the effects of Parkinson's in terms of balance, cognition, motor skills, depression and physical confidence. Many of the world's leading neurologists and movement disorder specialists recommend the classes for their patients.
"It opens up the potential that the body can be the medium with which they can transcend and the medium that allows them to feel joy again," said JMU dance professor Kate Trammell, who earned a Wertheimer Fellowship to pursue certification in Dance for PD.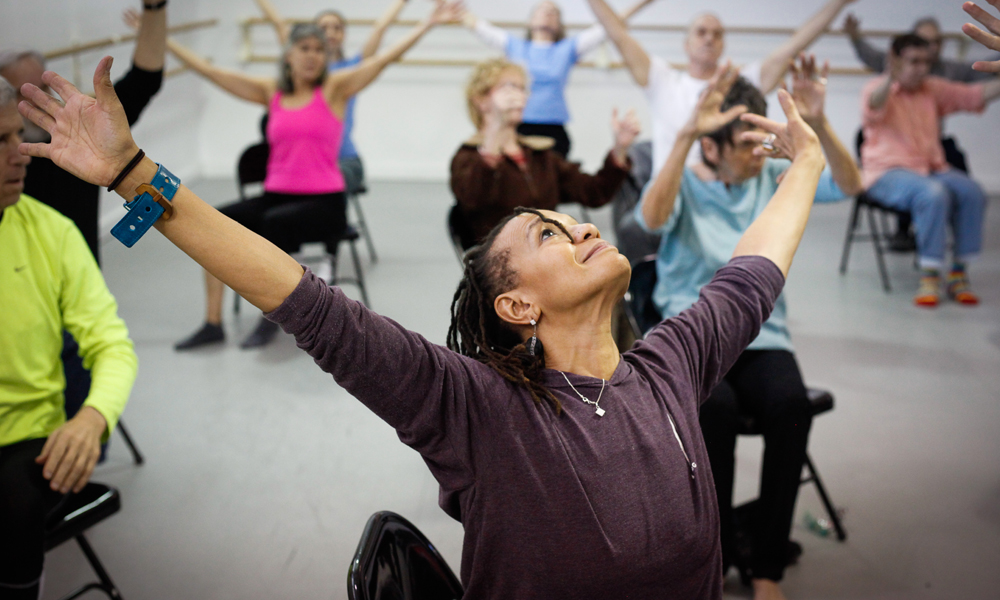 Photo by Amber Merkens/Dance for PD
Trammell, along with students in the School of Theatre and Dance, the School of Music and JMU's Occupational Therapy program, hosted free dance classes on eight Saturdays in February, March and April for community members with Parkinson's, their families, friends and care partners.
JMU dance majors served as teaching assistants and music education majors played piano during the classes thanks to a collaboration with the new Center for Inclusive Music Engagement. Occupational therapy students were also on hand to help participants fully engage at their desired level.
"They don't come in here thinking that it's a rehab session or that it's something that they have to go to," said Caroline Puglia, a graduate student in occupational therapy. "They come because they want to."
Chloe Conway, a dance major and pre-occupational therapy student, said the experience gave her a new perspective.
"I've met a lot of people who made a big impact on my heart and made me realize why I love doing this and what I want to do with dance in the future," Conway said.