JMU Headlines
Local veterans embark on honor flight
---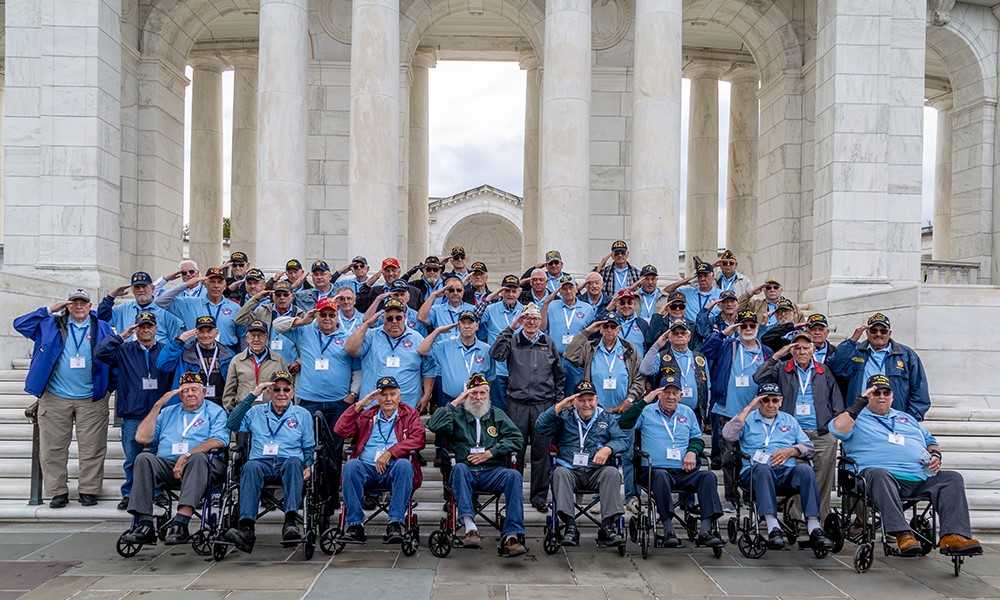 SUMMARY: WWII, Korea and Vietnam veterans salute at the 2018 Honor Flight Top of Virginia event.
---
It's important for us to honor veterans so that they know how grateful we are for their service, says Dianne Klopp, founder and president of Honor Flight Top of Virginia. We want to let them know that we have not, and will not, forget the sacrifices they made for us so long ago. Saying "thank you" to them is long overdue.
Honor Flight— Top of Virginia will be honoring over 40 WWII, Korea, and Vietnam veterans from the Shenandoah Valley with a trip to Washington, D.C. to witness their memorials and gain closure for themselves and those they lost to war. Veterans will also be given special access to witness the Changing of the Guard at Arlington National Cemetery.
The event will begin at 8 a.m. Saturday, April 13, at the Rockingham County Fairground, where JMU ROTC will provide a color guard team to present the colors for the national anthem.
Each veteran will be paired with a JMU student to spend the day with. Over 30 JMU students from AFROTC Detachment 890, the Army ROTC, and Delta Gamma Sorority will serve as "guardians" on the trip.
Upon returning home, veterans will be met with a police and fire escort—gifting them the welcome home celebration so many did not receive the first time around.
If you are interested in covering this event or would like to schedule interviews, please contact me. I would be happy to connect you with event organizers.
Media contact: Hannah Robinson, 520-222-2808, robinshl@jmu.edu