News
DigiComm: Founder's Farewell
---

SUMMARY: Since DigiComm's launch in the fall of 2014, Paige Normand has been at the helm of the innovative program that has supported digital production across JMU's campus.
---
Today marks my last day at James Madison University, and creating and running DigiComm has been a gift that I have treasured each day since our launch in 2014.
If you're reading this for pragmatic reasons, here's what you need to know:
DigiComm's services will continue as normal through Spring '19. Please contact the DigiComm GA, Samantha Haling, with any requests:

halingsj@dukes.jmu.edu





If you have questions about DigiComm's services for the 19-20 AY, please contact the Interim Director of the Learning Centers, Laura Schubert:

schubelk@jmu.edu
If you're reading this because you care about DigiComm, thank you. It has been a privilege to lead this amazing program. I am eternally grateful to Dr. Kurt Schick, who supported this endeavor and gave me the guidance, encouragement, and autonomy to build DigiComm. It is only through the culture he created at the Learning Centers that champions the valuable work of peer educators, positions them as colleagues, and advocates student-focused services that this program was possible.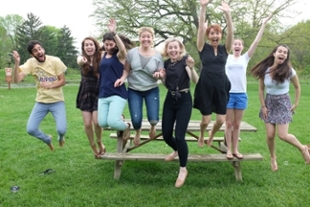 I want to thank all of our faculty partners, who span every college on campus, for helping support our mission. It has only been through their dedication to creating a more innovative curriculum on campus and supporting the work of our tutors that we have been able to realize our mission. Through their partnerships, DigiComm has supported over a 100 classes with semester-long course-embedded digital tutors. We have helped ISAT students create digital storytelling projects, future nurses and teachers create professional portfolios, and supported large-scale WordPress projects for Biology, Engineering, and History - just to name a few.
Lastly and most ardently, I want to thank my amazing tutors. DigiComm has its space in the Learning Centers, but its reach extends much further. It is built and housed in the ambitious, kind, and innovative tutors who work with faculty, are embedded in courses, and support students one-on-one to develop more professional digital content.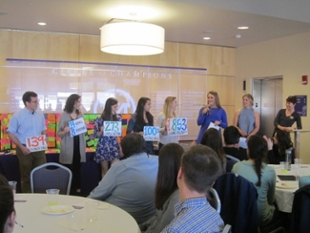 Each year we've had a small team and made a big impact. These 8-10 tutors over the past 4.5 years have given tailored presentations to over 6,000 students, worked one-on-one with over 2,000 students, and assisted another 2,000 with semester-long support, presented at national and international conferences, served as a model of digital media tutoring for other universities, and—all told—have provided nearly 11,000 student interactions to help JMU students create professional digital content.
These peer educators have improved the curriculum across campus, enhanced students' confidence with digital tools, influenced students' career paths, and most importantly  — or at least the most fun — transformed students' perspective that "just an assignment" can become a meaningful, sophisticated digital work that they will be proud to showcase.
The DigiComm job is challenging and complex: it demands creativity, autonomy, and a constant drive to improve, to mentor, and to problem solve. Each one of the DigiComm tutors is passionate about learning, invested in students' success, and worked to make JMU a better place.
Thank you all for your passion, your humor, your creativity, your professionalism, and your abiding optimism and generosity. It has been a privilege to work alongside each of you every day.
Sincerely,
Paige Normand
Published: Monday, December 31, 2018
Last Updated: Tuesday, January 15, 2019