Nation and World
A call for compromise
Madison Vision Series speakers urge Republicans and Democrats to work together for the common good
---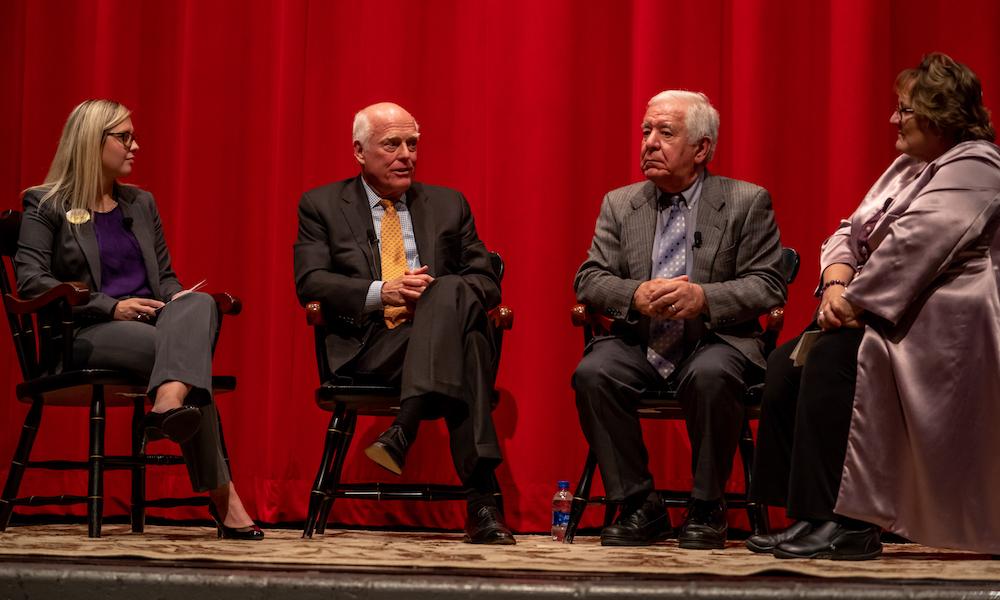 SUMMARY: Former congressmen Jim Coyne and Nick Rahall headlined the second Madison Vision Series event of the 2018-19 academic year.
---
By Hannah Long
Two former members of Congress — one Republican and one Democrat — discussed the current political landscape and the need for a return to bipartisanship and compromise in Washington ahead of the Nov. 6 midterm elections.
Jim Coyne, a Republican who represented Pennsylvania's 8th District, and Nick Rahall, a Democrat who represented West Virginia's 3rd District, were the featured speakers during the second installment of the 2018-19 Madison Vision Series: Contemporary Issues in an Engaged Society. The discussion was moderated by JMU Provost Heather Coltman and Student Government Association President Jewel Hurt.
When asked about the changes each has seen in politics, both men said change is inevitable and politics tend to reflect the shifting winds. Coyne stated that change requires the two major parties to find a middle ground, but Rahall noted that isn't always the case.
"Too often today, those in the middle aren't re-elected," Rahall said. "There's not much room for moderates anymore."
On the topic of elections, both men agreed that modern campaigns are focused on money. Coyne said the high cost of campaigning discourages many people from running for office.
Rahall said more people from the center of the spectrum need to get involved if the politics of division is to end. "When I first ran for office, you could only get on TV if you were a centrist," he said. "Now, you can only get on TV if you're an extremist."
In discussing political opponents, Coyne drew a comparison with tennis. In a tennis match, he said, both players want to win, but in the end, regardless of the outcome, they walk away with respect for one another.
"I never berated my colleagues [on the other side of the aisle] because I might need them to be my ally at some point," such as on an important vote, Coyne said.
Rahall said there is room for the parties to work together on issues such as infrastructure and immigration. "Compromise should be our most important tool," he said.
Both commended JMU's efforts at modeling civil discourse and encouraging listening and respect.
"There are some universities in this country where that's not the case," Coyne said.