Arts and Culture
Talking about writing
---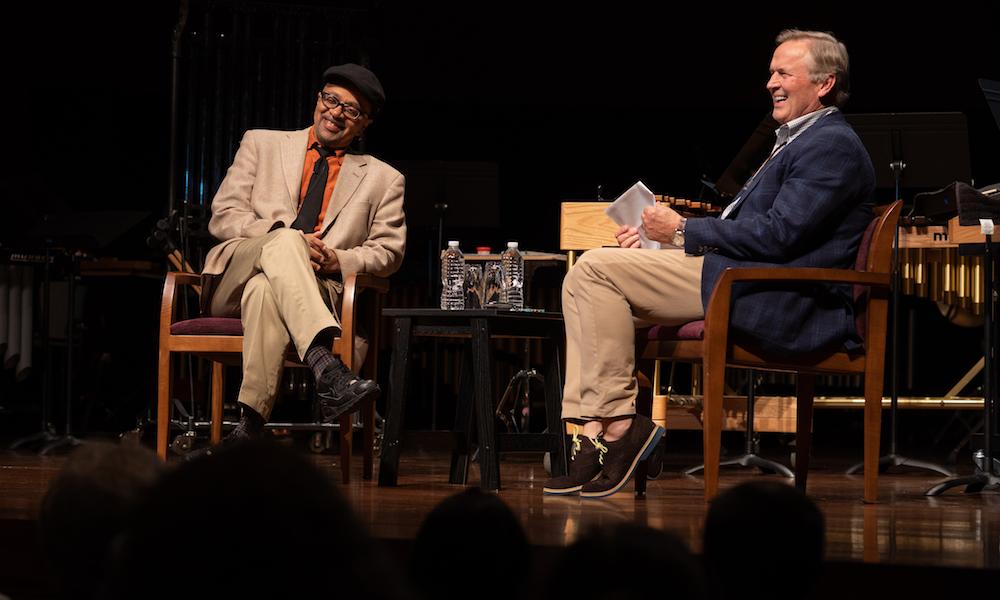 SUMMARY: The inaugural John Grisham Writers Hour featured James McBride, best-selling writer, musician and screenwriter.
---
Celebrated novelists James McBride and John Grisham chatted about books, family, religion and race at JMU on Oct. 17—and they let about 450 people listen in to learn about their creative processes.
The inaugural John Grisham Writers Hour spotlighted McBride, a New York Times best-selling writer, musician and screenwriter, and showcased Grisham's acumen for interviewing. While the writers discussed several of McBride's novels, including the 2013 National Book Award for Fiction-winning The Good Lord Bird, Miracle at St. Anna and Song Yet Sung, they delved deepest into The Color of Water: A Black Man's Tribute to His White Mother.
With its themes of race, tolerance and survival, The Color of Water developed from McBride's research into his mother's life in 1930s Suffolk, Virginia, and later in New York and Pennsylvania. Born in Poland, Ruth Shilsky and her Jewish family moved to Virginia when she was a young child. At age 18, immediately following high-school graduation, she left Virginia, never to return.
McBride, the eighth of 12 children, recalled his mother as a strong woman who did not trust outsiders and who valued education and religion. She married Andrew McBride, a preacher in Harlem, and converted to Christianity. "Your family and God care about you," she said, according to her son. All of her children earned college degrees, and at age 65, she graduated from Temple University with a degree in social work.
Swapping stories about their craft, McBride and Grisham agreed that writing is hard work. "Writing is not joyful," McBride said. They concurred that writing nonfiction is harder than fiction. "It's too much work," said Grisham, who has written one nonfiction novel, The Innocent Man. "And I got sued for that one," he said. The Color of Water drew another kind of criticism for McBride. "One of my siblings asked, 'Why did you say I was fat?'"
The John Grisham Writers Hour builds on the novelist's practice of interviewing local writers while on a recent book tour. Grisham's friend, JMU English professor and novelist Inman Majors, encouraged the Albemarle County, Virginia, resident to base the new series at JMU.
"We got John on the cool side of the mountain, where he belongs," Majors said when introducing Grisham.
Grisham will host author Alice McDermott in the Spring semester. Her 1998 novel, Charming Billy, won the National Book Award for Fiction and the American Book Award.
To view the entire conversation between McBride and Grisham, click here.
# # #